One in three university students wish they had chosen a different course, says study
Students studying architecture or business and administration courses were the unhappiest with their choice, the study says
Richard Garner
Wednesday 03 June 2015 21:16 Comments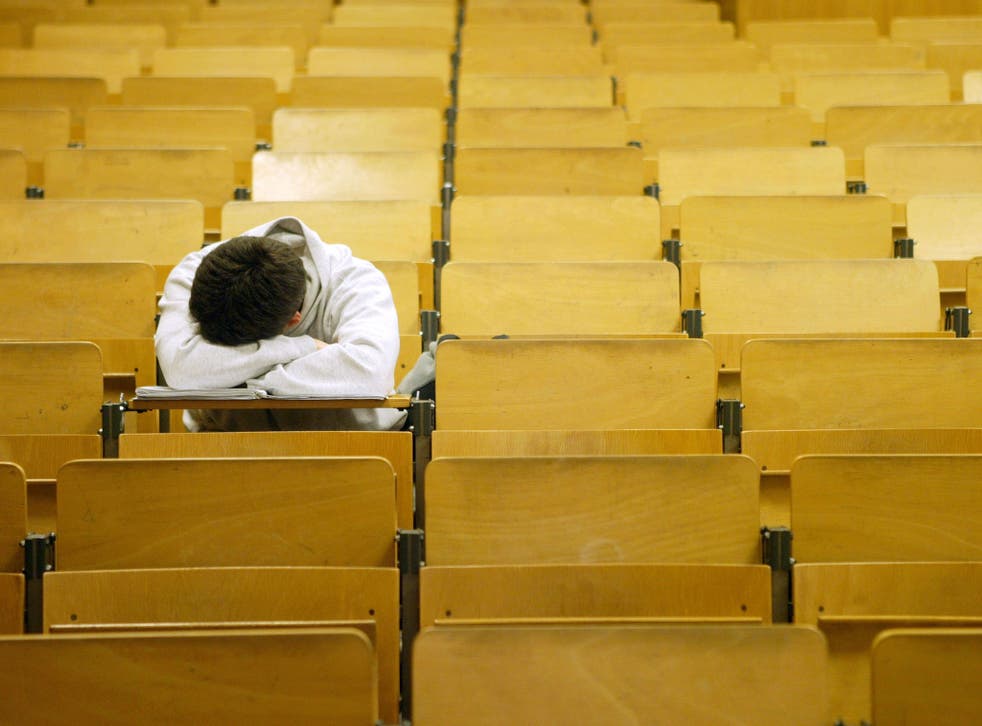 Nearly half a million university students believe they may have chosen the wrong course to study, according to a major new study.
One in three told researchers that - knowing what they now know about their university - they would have chosen a different course.
As the study - carried out for influential university think-tanks, the Higher Education Policy Institute and the Higher Education Academy points out: "Given that there are 1.4 million full-time undergraduates, this suggests there could be nearly 500,000 full-time students who believe they are on a sub-optimal course."
A breakdown of courses shows students who are studying architecture or business and administration courses that are the unhappiest - with 43 per cent saying they "definitely" or "maybe" should have chosen a different course.
The happiest students are those studying medicine and dentistry - where only 14 per cent would consider swapping courses.
One of the reasons students cite for their dissatisfaction is that they were not given enough information about their course before they signed on for it - 21 per cent saying the information they received was "vague" while a further 10 per cent said it was "misleading".
The proportion wanting to change, in general, is higher for those courses with fewer contact hours with lecturers.
Asked about their general wellbeing, students were less happy than the general population - with 73 per cent expressing satisfaction with their lives - compared with 78 per cent of the population and 79 per cent of all 20 to 24-year-olds.. Asked if they were happy yesterday, only 62 per cent replied: "Yes."
Overall, though, 87 per cent of the 15,129 students who responded to the survey said they were either "very" or "fairly" satisfied with their course. However, when it came to whether the course provided value for money, 34 per cent of students from England - now paying fees of up to £9,000 a year - felt they were getting "poor" or "very poor" value for money.
In addition, 75 per cent of students felt their university did not give them enough information as to how their fees were being spent.
Nick Hillman, director of the Higher Education Policy Institute, added that the survey showed the system was "in rude health".
However, he went on: "But nothing is perfect and there are clear lessons here for students. institutions and policy makers."
Register for free to continue reading
Registration is a free and easy way to support our truly independent journalism
By registering, you will also enjoy limited access to Premium articles, exclusive newsletters, commenting, and virtual events with our leading journalists
Already have an account? sign in
Join our new commenting forum
Join thought-provoking conversations, follow other Independent readers and see their replies