Michael Gove faces failure: Nick Clegg to veto return of O-levels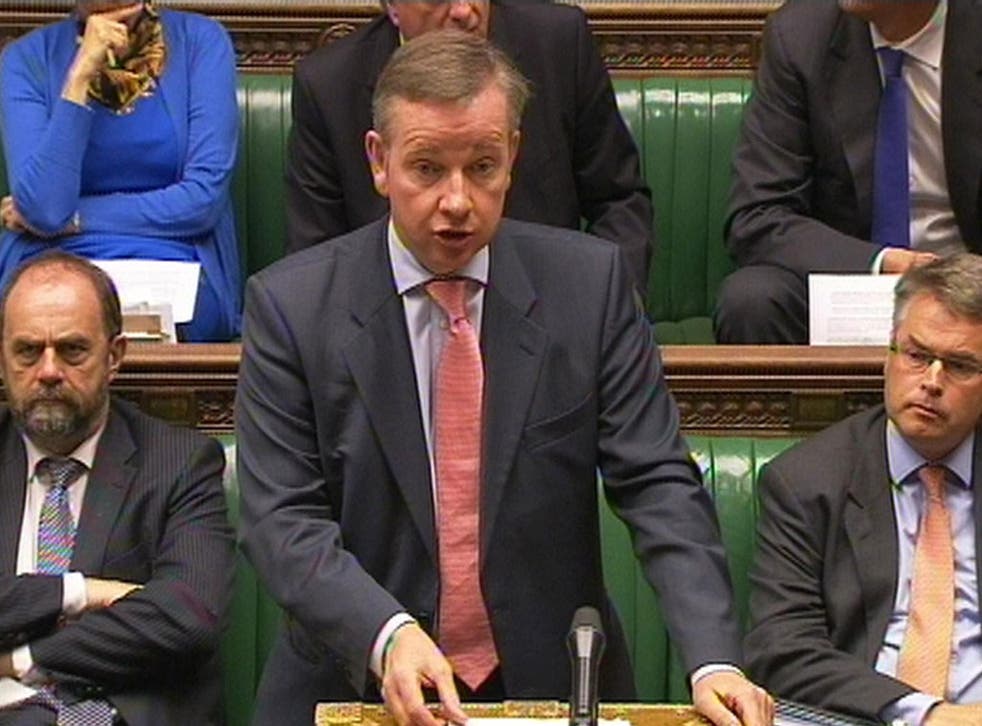 Michael Gove's plans to scrap GCSEs and replace them with old-style O-levels looked bound for the scrapheap last night after a furious Nick Clegg threatened to reject the idea.
One senior Liberal Democrat source described the Education Secretary's proposals as a return to a "1950s style of education" which would "do nothing to improve social mobility".
It is understood that Mr Clegg, who is in Brazil at the Rio+20 summit, made a heated telephone call to senior party officials in which he instructed them to condemn the plans. Last night, he insisted the proposals were "not government policy". He added: "Mr Gove is entirely entitled to come up with proposals and then if he wants to we can discuss them within the Government.
"I'm not in favour of anything that would lead to a two-tier system where children at quite a young age are somehow cast on a scrapheap. What you want is an exam system which is fit for the future, doesn't turn the clock back to the past and rewards hard work for the many ... not just for some and not just for the few."
Heavyweights within the Conservative Party, including Lord Baker, the architect of the national curriculum, and Graham Stuart, chairman of the influential Commons Select Committee on Education, also joined the chorus of disapproval. The concerns concentrated mainly on Mr Gove's proposal to run a less-exacting exam for lower-achieving pupils, reminiscent of the old Certificate of Secondary Education (CSE), alongside the tougher O-level-style papers. Abolishing the national curriculum for secondary schools was also suggested.
Liberal Democrats said the plans – understood to have been leaked by one of Mr Gove's advisers – had not been shared either with them or Downing Street, and suggested that "no one outside Michael Gove's private office" had any idea what he was about to announce.
"This looks like a huge upheaval for very modest gains," one source said. "In fact, his plan looks like it will actually lower the bar of aspiration for many young people who will be forced to accept mediocrity at a very young age."
Lord Baker, writing for The Independent, said the CSE had become "a valueless piece of paper" and urged the Government not to "resurrect a failure".
Mr Stuart, the Tory MP for Beverley and Holderness, said he was not sure a return to O-levels would "bring about some transformation" and that ministers would be called before his committee to explain the proposals. He added: "We are setting out a policy that appears to be more focused on the children who we serve relatively well ... and not focusing on the central problem we have, which is doing a better job for the children at the bottom."
Mr Gove was summoned to Parliament yesterday to answer an urgent question about the plans from Kevin Brennan, the shadow Schools minister. MPs from all parties accepted there was a need to reform GCSEs, which Mr Gove said had been "dumbed down" in a "race to the bottom" as a result of competition among examination boards, which want schools to sign up for their courses.
His proposal that there should be only one exam board per subject was welcomed. But Mr Brennan warned: "GCSEs may well need improving but a two-tier system is not the answer."
Mr Gove was also accused of being "coy" with his responses, a charge he accepted. He justified this by saying a consultation paper was being prepared for publication this summer.
In his answers to MPs' questions, he failed to confirm plans to scrap the national curriculum or introduce a lower-tier qualification like the old CSE. However, he stressed that in top-performing countries, such as Singapore, 80 per cent of pupils took "top-tier" exams. He suggested that 40 per cent of UK pupils were failed by existing GCSE exams because they did not earn five A* to C-grade passes.
Testing times: Evolving exams
1951 O-levels are introduced with A-levels to replace the School Certificate and Higher School Certificate. They are predominantly taken by independent and grammar school pupils.
1965 The CSE becomes the exam for less academic pupils, mainly taken in secondary modern schools. With the advent of comprehensive schooling, a mix of the two exams is taken by schools.
1986 The new GCSE exam is introduced. The last O-levels are sat in 1987.
2006 A growing number of schools – mainly in the independent sector – start to ditch GCSEs, claiming they do not stretch their pupils or prepare them for A-level study. They opt for the International GCSE – based on old O-level lines, which is still the main exam in many Commonwealth countries.
2010 Michael Gove agrees IGCSE results can be included in exam league tables as a number of state schools revert to taking it.
2012 Gove proposes GCSEs are to be scrapped and replaced by harder old-style O-level exams from 2014.
Join our new commenting forum
Join thought-provoking conversations, follow other Independent readers and see their replies