Auf Wiedersehen, pupils: UK's first Anglo/German state primary school opens
There are hopes that it will lead to a more enlightened attitude to learning languages, reports Richard Garner
Richard Garner
Wednesday 16 October 2013 20:39 Comments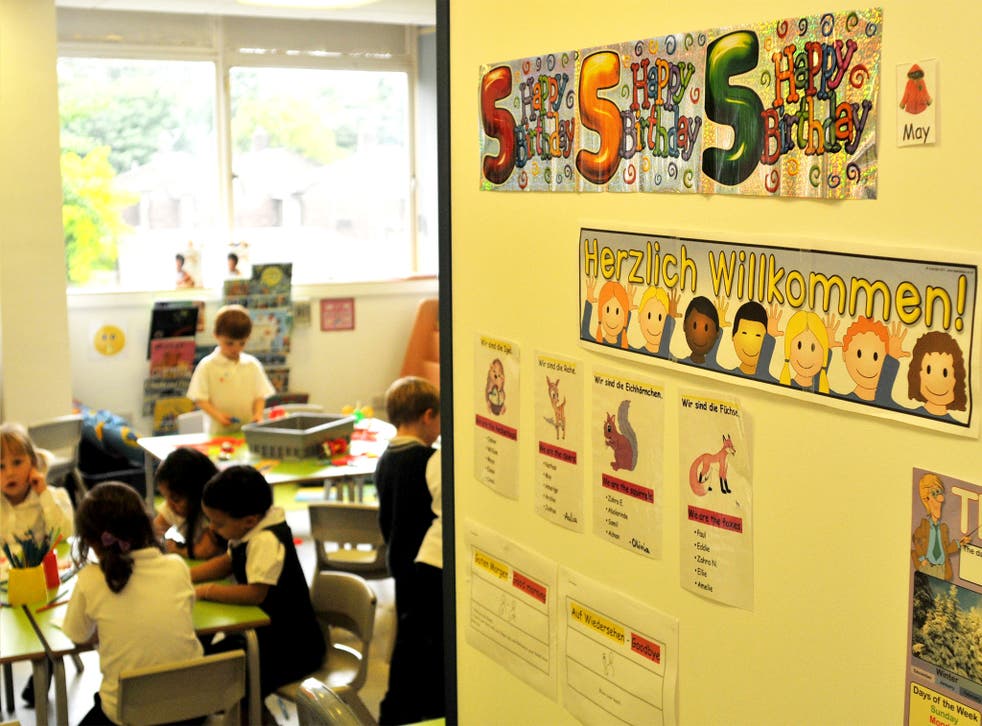 As they poke their heads round the door of their Year 2 classroom, the pupils are all given the same greeting from their teacher: "Setzen Sie hier, bitte." For their lesson on birds, the writing on the blackboard says "Guten Morgen, lieber Vogel" – with a picture next to it in case the six-year-olds can't recall the meaning of the word – and the walls all around them are covered in phrases in both German and English.
This is the country's first bilingual state school in German and English, which began taking pupils from the age of four at the start of the autumn term. For four-year-olds, the German is simple. Morning assembly brings with it a round of "happy birthday" for any child celebrating that day – and it is sung in both languages.
Judith Kerr Primary School in Herne Hill, south London, is one of the latest batch of free schools given the green light by the Education Secretary, Michael Gove. Named after the German-born children's author of The Tiger Who Came to Tea and the Mog series, who has formed links with the school, it was partly the brainchild of Peter Johnson, who is half-German and whose six-year-old son is a pupil at the school.
His son had already attended an Anglo-German nursery school in the area but Mr Johnson was worried that the bilingual nature of his upbringing would fizzle out once he moved into compulsory schooling.
"It was just a thought process – how could there not be opportunities to continue this into mainstream education?" he says. Mr Johnson could recall being spoken to and coached in German himself as a child, but then these lessons dying out due to a lack of time on the part of his parents as he started compulsory school.
His first bid to set up the free school failed to find favour with the Department for Education and it was only when he went into partnership with education consultants CfBT that the scheme was given approval. CfBT provided the educational administrative expertise that he lacked.
He is optimistic that there will be enough support for the school. "There are 40,000 German speakers in London," he says. "It will be fantastic for my children."
It is, though, the type of facility that has been all too rare in the English education system in the past – languages have been in decline ever since the decision of the previous Labour government just over a decade ago to abolish compulsory lessons in the subject for 14- to 16-year-olds. It was, true, accompanied by a move to promote languages in primary, school but this will not become compulsory until next September, and then only from the age of seven onwards.
The upheaval that language teaching has faced as a result means that schools such as Judith Kerr Primary have an uphill task in ensuring that their pupils get the right progression from the teaching. Secondary schools are now faced with intakes whose varying experiences of learning languages is similar to that experienced at Judith Kerr Primary – ie some have started learning from the age of four, some at seven – pre-empting their compulsory introduction – and others who have not studied the subject at all.
One of the tasks facing Basia Lubaczewska, Judith Kerr's head teacher, is to hold discussions with the primary's receiving secondary schools to determine whether they have the expertise to cope with fluent language speakers. That is for the future, though. At present, Judith Kerr has 81 pupils in its Reception, Year 1 and Year 2 classes as it attempts to build up to a total of 350 pupils by the time it is fully functional in four years.
"We decided we wanted to try to recruit between 80 and 100 this September," Ms Lubaczewska says. "We had 81 at the beginning of the third week, which is not bad since we didn't have the premises agreed until July." The school is housed in buildings previously used by King's College London for its science students. "It meant that every room looked like a laboratory," she added, "so we had to adapt them."
The pupils start with 80 per cent of the curriculum in the Reception year being taught in English and 20 per cent in German. This gradually changes to 30 per cent in German in Year 1 and 50 per cent by Year 2.
Not all 81 pupils come from bilingual German/English homes. They have a range of backgrounds, including Portuguese and Spanish speakers. Juliane Parthier, a full-time German teacher at the school, who was also involved from the start of the project, has frequently to split her class into two sets: one for bilingual students, and the other for beginners who have just a smattering of German.
For that reason, the school is also starting German lessons for parents in the evenings "so that they can keep up and help the children with their school work", Ms Lubaczewska says.
As could possibly be gleaned from her name, she herself does not come from a German/English background. Her second native language is Polish and she was head of a bilingual Czech and English school in Prague before she accepted the job in Herne Hill. She will be attending the out-of-hours German lessons along with the parents to improve her own fluency in the language.
From little acorns, though, big oak trees do grow – and the idea of the bilingual primary school is beginning to put down more roots in the English educational landscape.
In addition to Judith Kerr Primary, there are now three others up and running: Tiger Primary School in Kent, which puts the emphasis on Mandarin taught by specialists; the Bilingual Primary School in Brighton, which teaches the national curriculum simultaneously in English and Spanish; and the Europa School UK, a multilingual school in Oxfordshire for four- to 19-year-olds, which aims for all its pupils to be fluent in two languages. CfBT itself is planning to open a second bilingual school next year. All will be free schools.
"The emergence of bilingual schools is a great example of how free schools are responding to the demands of local parents and driving innovation in schools," says Natalie Evans, the director of the New Schools Network, the charity set up to help people planning free schools. "They are proving extremely popular with parents and pupils alike."
There are also signs of an increased take-up of languages among 14- to 16-year-olds – largely as a result of Mr Gove's introduction of the English Baccalaureate, under which schools are ranked in league tables according to the percentage of pupils achieving at least five A* to C grades at GCSE in English, maths, science, languages and a humanities subject (history or geography).
Judith Kerr Primary is confident that it can attain its aim of enrolling 350 pupils by the time it is fully operational in 2017. "There is definitely a demand for the school," Ms Lubaczewska said. "We had a call from Israel the other day from someone who had heard of us – there was a father just moving to work over here [who] wanted to know if he could send his child to Judith Kerr."
It and the other free schools dedicated to bilingualism hope they may be the forerunners of a more enlightened attitude towards learning languages than the country's education system has shown in the past.
Languages: Tongue-tied
Britain's exam boards have announced an inquiry into language teaching after disappointing numbers of pupils entered for A-level examinations in the subject this year. Figures showed the number of candidates taking French had slumped by 9.9 per cent to 11,272 and those taking German had fallen 11.1 per cent to 4,242. These were only partially offset by a 4.1 per cent rally in Spanish to 7,361.
Language provision has been in virtual free fall since the then Labour government announced in 2002 that the subject was no longer to be compulsory for 14- to 16-year-olds. In German, for instance, the take-up at GCSE level fell from 130,000 just over a decade ago to 57,000 last year. A partial rally does seem to be on the way at GCSE level, though, with German up 9.4 per cent to 63,000 this year and French up 15.5 per cent to 177,000. Spanish, indeed, has topped that increase with a 25.8 per cent rise to 91,000.
One of the reasons for this is said to be Education Secretary Michael Gove's decision to rank schools in exam league tables on an English Baccalaureate measure. Schools are ranked according to the percentage of pupils achieving top grade A* to C-grade passes in five subject areas – English, maths, science, languages and humanities (history or geography).
Meanwhile, attempts to make languages compulsory in primary schools from the age of seven are beginning to bear fruit. Labour first mooted this in the wake of its controversial decision to abandon compulsory lessons for 14- to 16-year-olds but the move to implement it – included in Labour's revised primary school curriculum – fell foul of the 2010 general election because legislation could not get through the Commons in time. Since then, Mr Gove has taken up the baton and it will be a compulsory subject for seven-year-olds from next September.
Register for free to continue reading
Registration is a free and easy way to support our truly independent journalism
By registering, you will also enjoy limited access to Premium articles, exclusive newsletters, commenting, and virtual events with our leading journalists
Already have an account? sign in
Join our new commenting forum
Join thought-provoking conversations, follow other Independent readers and see their replies