Birmingham Ormiston Academy offers alternative grounding in broadcasting skills
It might not sound like a traditional learning environment but an academy in the Midlands is proving that traditional academic achievement can be combined with an alternative grounding in broadcasting skills. Richard Garner tunes in
Richard Garner
Thursday 27 March 2014 00:30 Comments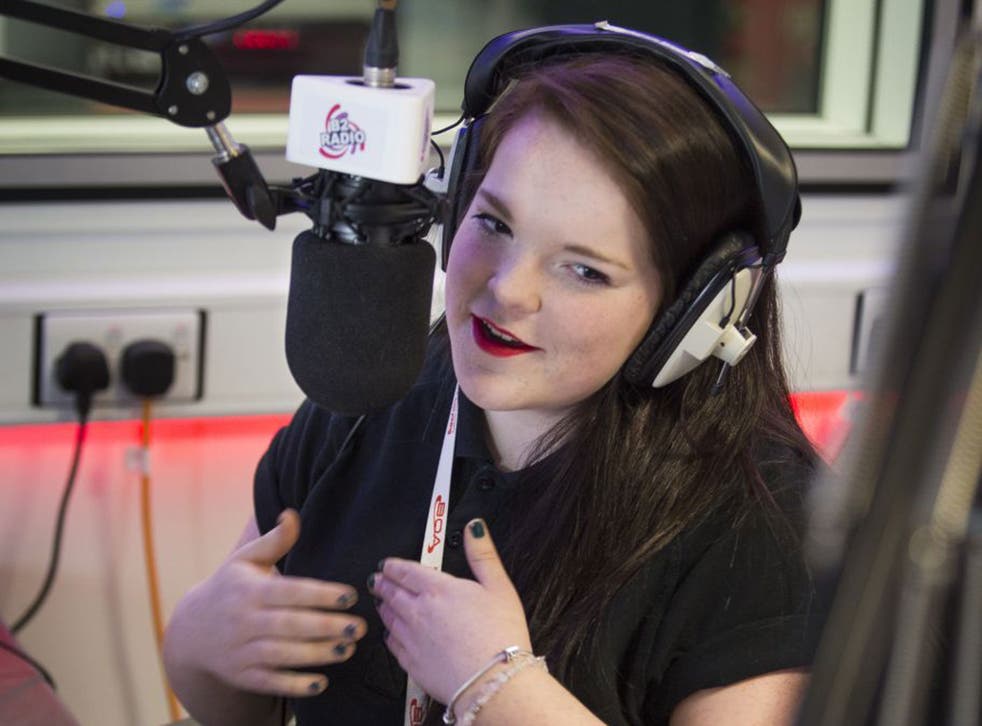 In the age of 24-hour broadcasting, a group of students is getting the best grounding possible – and they don't even need to stay up past their bedtimes to do it.
A radio station operates around the clock at Birmingham Ormiston Academy, manned entirely by the pupils themselves, with live programming from 8am to 6pm, and pre-recorded shows filling the rest of the timetable.
On the day I visit, student Rosie Mason is presenting the 11am to 1pm slot on B2 Radio, as the station is called. She hasn't decided what she wants to do when she leaves the academy, but is considering a career in either television or advertising – she believes her presentational skills as a radio host will be valuable assets.
"It's brilliant here," she enthuses. "There are a lot more opportunities than I thought. I thought it was all talk when they were telling us what we could get into – but it wasn't. I'm big into music, so listening to and going into the new music is just great for me."
The formula for the station is slick and professional, the first hour dedicated to music and reviews before moving on to film releases and general entertainment. At other times, it mirrors what is offered on successful commercial radio stations, with a drive-time show in the afternoon and two sports segments, "The Kick Off", during the week. The young sports show presenters have even negotiated a press pass to cover Birmingham City football club.
It may not sound or look like a traditional learning environment but these students, aged from 14 to 19, are learning the kinds of skills, such as presenting and technical know-how, that they hope will enable them to go straight into a job after leaving the academy without having to take up a university place.
Dan Guest, who is employed by the college as an engineer and makes sure everything is ticking over at the station, learnt his skills when he was a student at the college; now aged 19, he has a full-time job there.
He says of the opportunities: "Most students come in and say 'We want to do front of house'. I'm not very academically inclined, and this is one thing I thought I could be very good at."
Birmingham Ormiston Academy, which opened four years ago, is a specialist performing arts college which emerged out of Labour's academies programme – under which sponsors had to find a certain percentage of the funding (in this case £1.5m) to run an academy.
The academy has a multitude of supporters – including the Maverick TV channel and the lighting company PRG, which has supplied lighting for the London Olympics and The X Factor show and now provides lighting for the college. The academy's main backer is the Ormiston Trust charity, which supports a number of academies throughout the country. Maverick Television's boss, Jonnie Turpie, sits on the governing body.
The academy mixes the performing arts with a traditional academic curriculum – all pupils study double English (language and literature), two sciences and two maths subjects (maths and statistics) at GCSE. There is also the opportunity to study a language and a humanities subject (such as history) so pupils can qualify for Education Secretary Michael Gove's new English Baccalaureate – available to those who get five A* to C grades in these subject areas.
On top of this, though, the students have their own performing arts pathway – their own study area taken from one of the nine specialisms offered by the academy. These cover the creative, digital and performing arts – including dance, acting, musical theatre, music and music technology, broadcasting and television.
It takes pupils from a wide catchment area – Birmingham, the Black Country, Coventry, Staffordshire, Warwickshire and Gloucestershire. One pupil even came from distant Manchester and stayed in student accommodation while at the academy.
Not surprisingly, the academy is oversubscribed, with 1,000 applications last year. It has 950 pupils in total, recruiting 150 14-year-olds in the first year and 175 pupils post-16.
The academy's principal is Gaynor Cheshire, whose background is from the world of dance and who was head of a secondary school specialising in the arts in Cheltenham before coming to Birmingham Ormiston.
Ms Cheshire has just returned from a trip to New York with about 60 students from the academy, where they had the opportunity to work with some of the stars of the Broadway musical Kinky Boots. The principal has also just clinched a deal for her pupils to make a short film for the Maltese Tourist Board, aimed at making Malta a tourist attraction all year round rather than just in the summer. As a result, 30 students will be going to Malta to shoot the film.
The college is also undertaking to train Maltese people in areas such as production, costume and set design, so they can help with the film. A longer-term aim is to start up Malta's own college for the performing arts.
On arrival at the college, details of the impressive range of productions in which the students are involved flash up on a large screen. The college has just acquired its own theatre, too, as it has made a successful bid to take over Birmingham's Old Repertory Theatre.
At a time when controversy is raging over whether all teachers in state schools should be qualified (Labour says "yes"; Mr Gove says "no"), the college has an eclectic mix of trained teachers delivering the academic curriculum, and people from the arts world communicating their specialisms. Nicholas Bailey, an actor on Coronation Street and EastEnders, is giving acting classes; and Phil Upton, a West Midlands DJ, offers training for the radio station one day a week.
Nathan Dodzo, who heads the B2 radio station, is a former political journalist who worked for the BBC and Sky when he was based in South Africa.
"We're willing to take these gambles [in allowing the students to take over the airways]," he says. "People have to come and pitch their show ideas. You build on what they say and then it is often a question of just scheduling it at the right time."
Debate has been raging over whether Mr Gove's drive for a more traditional academic curriculum is stifling the arts. Birmingham Ormiston Academy has managed to set up a comprehensive blend of the performing arts and a curriculum suited to the new English Baccalaureate. It is showing it does not need to be an "either, or" situation.
Register for free to continue reading
Registration is a free and easy way to support our truly independent journalism
By registering, you will also enjoy limited access to Premium articles, exclusive newsletters, commenting, and virtual events with our leading journalists
Already have an account? sign in
Join our new commenting forum
Join thought-provoking conversations, follow other Independent readers and see their replies