Does God belong in the classroom?
Faith schools applying for 'free' status are one of Michael Gove's biggest headaches. In part two of his series, Richard Garner wonders how these institutions square with the Government's plans for multiculturalism
Thursday 24 March 2011 01:00 GMT
Comments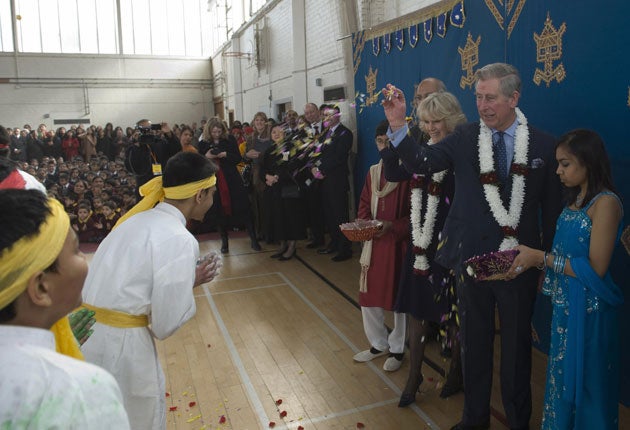 As many as 100 parents braved gale-force winds on a Sunday to find out more about the new primary school opening on their doorstep. It was a testament to the appeal of the new school – the first state-sponsored Hindu school to be proposed under Education Secretary Michael Gove's flagship "free" school policy. The school only has places for 60 pupils a year and will open its reception class for the first time this September.
The school, the Krishna Avanti primary school in Leicester, is modelled on an existing Hindu school already opened in Harrow, north-west London. It, like other faith school proposals for "free" schools, has its opponents, those that think the plethora of religious schools being opened under the Gove initiative will destroy community cohesion and increase segregation on racial and religious grounds among pupils.
Certainly, the aims of the new Leicester school are laudable in attempting to overcome that. Its mission statement insists it will select 50 per cent of its pupils on religious grounds, ie, they are members of the Hindu faith, and 50 per cent from non-Hindu backgrounds. It is not a disciple of the "free" school movement – choosing this route because it is "the only game in town" when it comes to getting the go-ahead for new schools.
Other Hindu schools are in the pipeline – a secondary school covering the Harrow/Barnet area in London, which is designed to become the first state-funded Hindu secondary school, and other projects in Barnet and Redbridge, east London.
The programme is intended to overcome the situation whereby there are a million Hindus in the UK but only 30 Hindu primary school places a year for them. It intends to follow the national curriculum – its religious education lessons will be taken up 50 per cent by learning about the Hindu faith and 50 per cent about other world religions. There will be a Hindu flavour to the culture of the school. Vegetarianism will be the order of the day and there will be an emphasis on yoga and meditation, aimed at calming children in preparation for their learning.
"This is a British school," Naina Parmar, head teacher of the Harrow school and project mentor to the new "free" school, told parents at the open evening." It is very important from the start that we talk about world-class learning for our pupils."
The trouble is, not every faith school is as open about its philosophy as Krishna Avanti. At Etz Chaim, a Jewish primary school in Mill Hill, north London, the project organiser, Adam Dawson, will not say anything about his school's plans. He says the project has felt the backlash from previous articles, that have led to project members being likened to "child abusers" and being told to "go back to where they came from". As a result, it does not believe in communicating through the media.
It is one of four faith schools in the first tranche of nine "free" schools approved by Gove - the others are the Leicester Hindu school and a Christian primary school school in Camden, north London – where there is a pressing problem of a lack of primary school places, and a second Christian school, the Discovery New School – an Anglican primary school in Crawley, West Sussex.
The Department for Education, in a résumé of the Etz Chaim project, says it will be "inspired by the beliefs of the Jewish faith with respect to ethics, morality and the importance of family, community and helping others". It says: "The Jewish studies and secular curriculum will be fully integrated, with the Jewish studies curriculum equipping and motivating pupils to engage with the Jewish way of life and with their Jewish heritage and culture." It adds: "Etz Chaim will be a modern, Orthodox Jewish, one form entry primary school."
There was initially some disagreement between the project organisers and the DfE over the Government's insistence that 50 per cent of places should be offered to non-Jewish families, but that has now been overcome. The project is backed by the Chief Rabbi, Dr Jonathan Sachs.
Then there is the proposal to open the Everyday Champions Academy in Newark, near Nottingham put forward by a Christian evangelist group which has creationism as the heart of its belief. It says it will not teach creationism through the science curriculum but that evolution will only be taught as another theory – in contradiction to the demands of the national curriculum (although the "free" schools will have the authority to ignore the national curriculum).
This is without doubt the most testing issue for Gove as he sifts through the proposals for "free" schools. Keith Porteous Wood, executive director of the National Secular Society, points out that – at the very least – such schools will have to be monitored very carefully once they have opened to ensure they are standing by any pledges they make. He says that it would be possible to teach evolution as a theory, but a "raised eyebrow" from the teacher could denote the attitude they really take to it. He is convinced there will be many more applications from "extreme religious groups", who would not be able to set up a state-funded school in any other way. "I think it holds a very worrying message for community cohesion," he says.
He also wonders how the spread of faith schools squares with Prime Minister David Cameron's recent pronouncement that the age of multiculturalism was dead and that all groups should embrace the British culture. He particularly blames it for fostering Islamic extremism. "It is the biggest mis-match [in policy] that I can remember in my 15 years of doing this," he says. "The Government is saying we must be concerned about multiculturalism but somehow – as far as schools are concerned – they are untouchable." He says he could accept that it was difficult after embracing Christian, Jewish and Muslim schools to refuse other mainstream religions the opportunity to run their own schools, but that what is emerging will lead to more of a divide among the young "on racial, ethnic, religious and cultural grounds".
Back to the Leicester school. Its organisers acknowledge that – despite their commitment to taking in 50 per cent of pupils from a non-religious background – that it will be difficult to attract such applications in the first year. They believe, though that if they succeed and gain a good reputation in the neighbourhood, that will follow.
It is true that all the parents at the open day appeared to come from a Hindu background. Sandhir Patel, who is considering the school for his four-year-old son, Kyan, though, said the emphasis on learning about all the faiths appealed to him.
One suspects, though, considering the Hindu school's commitment to trying to attract a diverse intake, it may be one of the easier applications for Gove to rule on. Others will be much harder.
Other religious free schools
Leicester's first state-funded Hindu primary school is just one of four applications from faith-based projects to be included in the first tranche of nine "free" school bids to be given the green light by Education Secretary Michael Gove, ready for opening this September.
The others include a Christian primary school in Camden, north London, in a church hall in an area where there are not enough places for the current primary school roll; the Mill Hill Jewish School, to be run upon Jewish Orthodox lines, and a second Jewish primary school in Haringey, also in north London.
Still lying in his pending tray is the bid for an evangelical Christian secondary school in Newark, Nottinghamshire, which has vowed that the creed of creationism will be central to its ethos.
Critics say that the weakness in the current "free" school policy is over the policing arrangements once the school is open. They argue that a school can make a commitment to having a diverse intake but that the proof of the pudding will be in the eating.
Join our commenting forum
Join thought-provoking conversations, follow other Independent readers and see their replies