Latin makes surprising comeback in state schools
Richard Garner
Monday 18 August 2014 18:44 Comments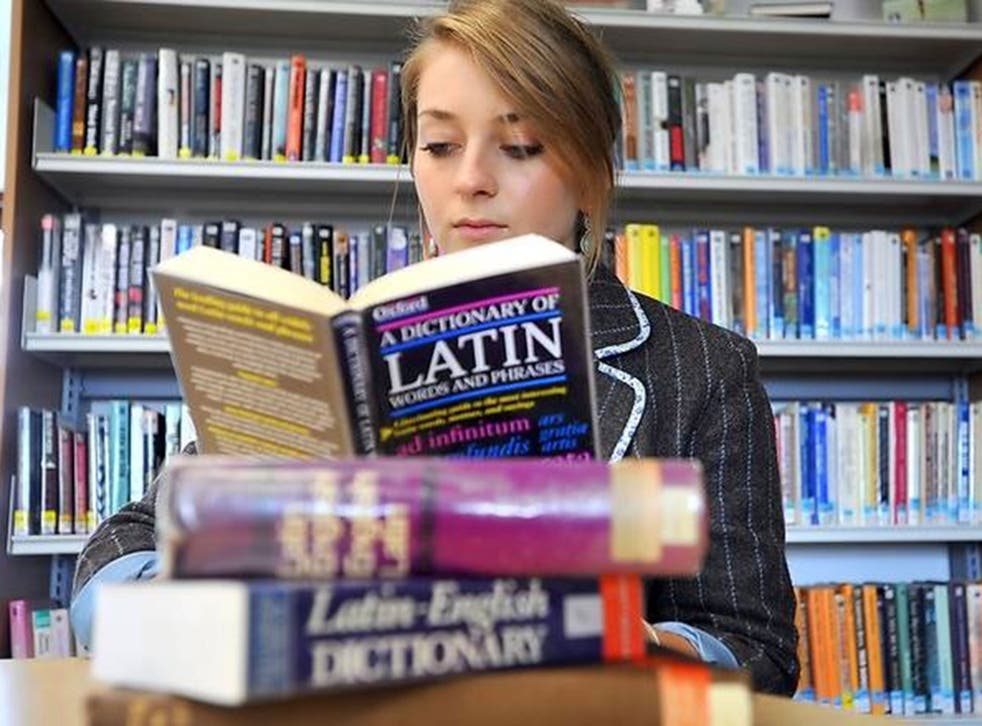 Latin has made a remarkable comeback in state secondary school classrooms, according to figures released today.
The number of non-selective state maintained secondary schools offering the subject to pupils has shot up from around 100 a decade ago to just over 600 today, according to the University of Cambridge Schools Classics Project.
The huge rise is down to Government funds being provided to allow the project to develop digital materials so that schools without a qualified Latin teacher could allow their pupils to study the subject online.
"Our new Key Stage Four Latin initiative is designed for any non-specialist teachers of Latin in state schools who seek a confidence boost or a development opportunity," said Will Griffiths, director of the project.
Now the CSCP has been given a £500,000 two-year grant to boost still further the take up of the subject by the Department for Education.
It will allow it to train a further 300 non-specialist teachers to teach Latin, building on a scheme jointly funded by the Classics Association which saw the training of 80 such teachers last year.
However, the CSCP warned that the revival could be short-lived, and that plans to revise the GCSE curriculum for Latin could end up killing off the subject in state schools.
Under the changes brought in in 2006, all students will be expected to read and discus original Latin literature within two years of starting their studies, a task that Latin teachers believe would take four years to master.
A survey of 100 Latin teachers by the CSCP revealed that none of them felt the new qualifications could be taught in the two years which many schools would have available for the subject.
One said: "The Department for Education proposals will kill Latin stone dead, end of story. The proposals are unachievable even by many abler students."
"Latin teachers do not tend to cry wolf," said Mr Griffiths. "The problems ahead are real and they are serious. Without serious solutions, the growth in Latin education that CSCP has achieved over the last decade will soon be lost."
A spokesman for the Department for Education said: "Whilst we make no apology for introducing rigorous new gold-standard qualifications which require a high level of learning, we know that secondary schools will teach Latin before GCSE, so pupils will already have accumulated knowledge of the subject.
"In fact under the new curriculum from this September pupils will begin learning languages from the age of seven - which can include Latin."
Register for free to continue reading
Registration is a free and easy way to support our truly independent journalism
By registering, you will also enjoy limited access to Premium articles, exclusive newsletters, commenting, and virtual events with our leading journalists
Already have an account? sign in
Join our new commenting forum
Join thought-provoking conversations, follow other Independent readers and see their replies