What does a maths teacher make?
Their colleagues jealous, if reports of 'golden hellos' such as cash and gym memberships for number crunchers are anything to go by. Simon Usborne learns more.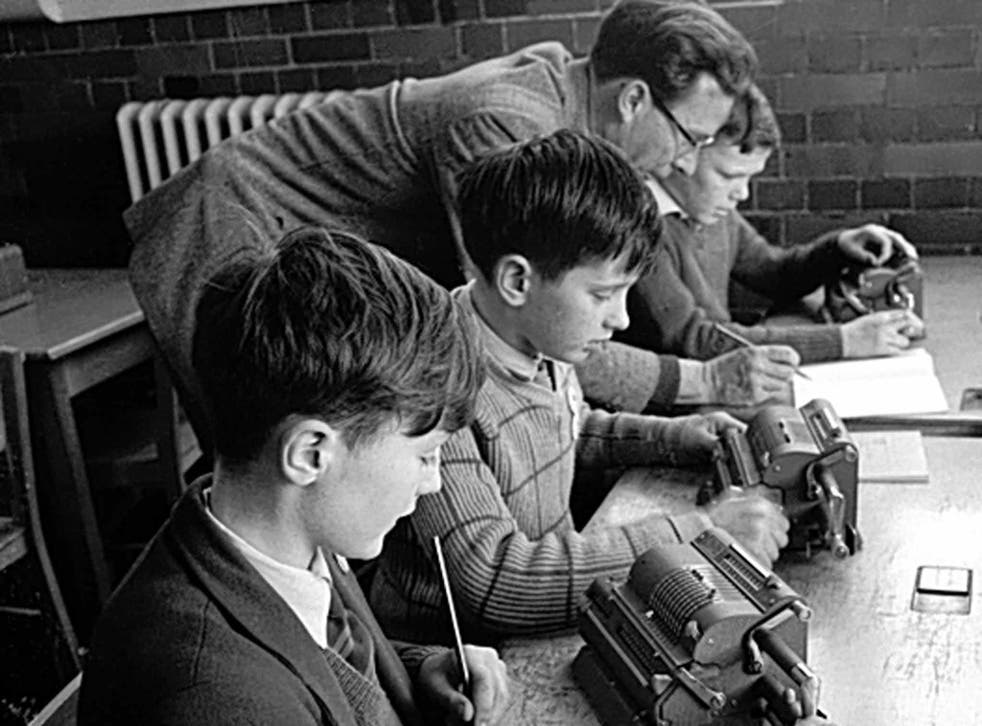 Those who can understand differential equations and quadratic polynomials tend not to teach them these days, because they can earn exponentially more in the private sector than they could as maths teachers. Now, there are reports that schools are employing corporate-style tactics as they – and other embattled public sector employers – attempt to beat a shortage of skilled recruits.
Gym memberships, health plans, accommodation costs and £5,000 "golden hellos" are being dangled in front of maths grads, as well as former teachers who have quit for jobs in the City and beyond, according to a recruitment agency. John Lewis vouchers worth £100 and commuting costs were also being offered, Eteach said this week.
"Last year, we were struggling to recruit maths teachers, as I'm sure is the case for many schools across the UK," Mike Clinch, a headteacher in Cardiff, told the Telegraph. "As we were not getting suitable teaching talent from the local area, we created a benefits package to appeal to potential candidates across the country."
Clinch offered each of the five maths teachers £5,000 as a welcome bonus and even agreed to pay the recruits' tolls for crossing the Severn Bridge. "We also stated that we would offer a higher salary than that of a standard maths teacher and pledged to invest in the successful candidates' continual professional development," he added.
Another recruitment agent says that the new tactics were part of a broader shift in public -sector employment culture. Jobs are still attractive for their perceived security and potentially more favourable hours and flexibility, says Dan Taylor, a board director at Morgan Hunt, which specialises in education, health, housing and local government recruitment, but as wages continue to go skywards in the private sector, bosses are having to be smarter with what they have.
"We've now got instances of golden hellos in social housing," he adds. "They're also definitely breaking their pay scales to attract people with private sector skills, particularly property asset management and finance."
Luring and keeping talent is also a growing problem in the civil service, where cuts, rigid pay bands, a one per cent cap on annual pay rises, and sensationalist "fat cat" headlines are leaving employers hamstrung, often forcing them to spend more on costly contractors.
Unions are concerned about the trend for incentives within the limits of the treasury's one per cent public sector pay cap. "The problem, obviously, across the public sector is that bringing in new people on better deals means taking money from other people," says Matthew Dykes, senior policy officer for public services at the TUC.
The talent drain is particularly acute in the classroom. Last month, the the Ofsted chief inspector Sir Michael Wilshaw called for teachers to be given cash incentives to remain in education, or "golden handcuffs", as schools reported shortages in several subjects.
For would-be teachers, the incentives start before they reach a blackboard, but vary hugely. For the next academic year, a trainee with a first-class degree or a PhD in maths or physics is eligible for a £30,000 bursary and a £30,000 scholarship. At the other end of the scale, a trainee with 2:2 in history, English or music is eligible for a total of nothing. You do the maths.
"When I was training last year, the maths guys were basically getting an ordinary salary, while I was paying £9,000 fees and only got a £4,000 bursary," says a new history teacher in England, who preferred not to be named (His 2:1 made him eligible for the bursary).
He was not aware of other perks for maths teachers, but says there is no divide or resentment in his school's staff room. "There are bigger problems for us all to worry about than whether one department is getting a golden hello," he adds.
Register for free to continue reading
Registration is a free and easy way to support our truly independent journalism
By registering, you will also enjoy limited access to Premium articles, exclusive newsletters, commenting, and virtual events with our leading journalists
Already have an account? sign in
Register for free to continue reading
Registration is a free and easy way to support our truly independent journalism
By registering, you will also enjoy limited access to Premium articles, exclusive newsletters, commenting, and virtual events with our leading journalists
Already have an account? sign in
Join our new commenting forum
Join thought-provoking conversations, follow other Independent readers and see their replies