Abroad syllabus: what Brexit means for the International Baccalaureate is unclear
The International Baccalaureate can often trump A-levels, says Rachael Pells – and its emphasis on 'global citizenship' seems to make for model Europeans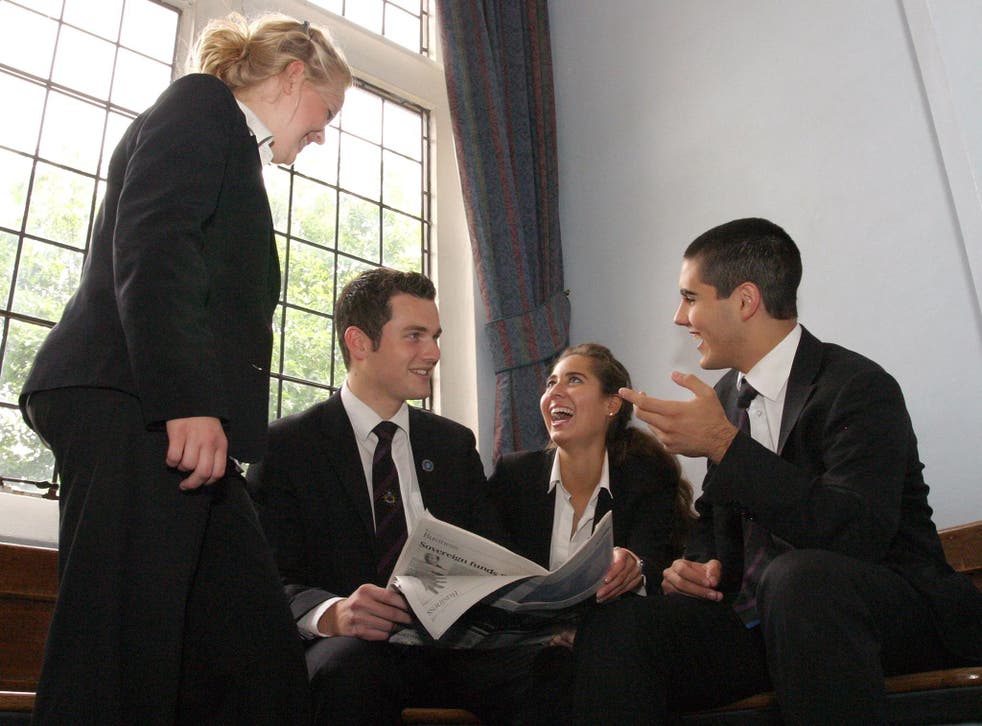 As the summer term comes to an end, sixth form pupils at Hockerill Anglo-European College prepare for summers abroad and await the all-important exam results that will allow them to go to university. These students are typically confident and creative: brought up to be "global citizens", they represent the best of European co-operation. Their teachers describe them as "outward looking", they debate Brexit and all are multi-lingual.
As one of just a handful of state boarding schools in the country, and a stone's throw from Stansted in Essex, Hockerill is one of secondary education's best kept secrets. Housing around 800 day and boarding students aged 11-18, from 26 different nationalities, the school enjoys consistently high Ofsted grades and impressive exam results without the public school fees.
But what makes the school so attractive to European students in particular – and perhaps helps to explain its largely word-of-mouth application system – is that pupils in Hockerill's sixth form all sit the International Baccalaureate (IB), the A-Level alternative picked out this month as the preferred qualification by university admissions officers for the third year in a row.
"The main difference for me is quality," says Hockerill head, Richard Markham. "Students want to differentiate themselves from the growing pool of university hopefuls and the IB in our eyes helps them to stand out in terms of skills and independence".
For head teachers like Markham, this broader approach to learning – whereby students take six subjects on to sixth form rather than the traditional three or four – is the only way to go, and, he believes, gives his students an added edge upon entering the ever competitive world of higher education.
Student news in pictures

Show all 34
Unlike traditional A-level courses, core elements to the IB include "theory of knowledge", as well as "creativity, action and service", where children are encouraged to become involved in theatre, musical activities sports or community service.
The scheme is more finely graded than its A-level counterpart, using a point system from 0-42 (plus an extra three points for a mandatory extended essay) which allows higher education institutes to grasp a more detailed understanding of a candidate's strengths and weaknesses.
In addition, the most recent report from the Higher Education Statistics Agency (HESA) concluded that IB students have a 57 per cent greater chance of attending one of the top two UK universities than those who study traditional A-levels.
"In the modern world it's important to maintain a degree of breadth," says Markham, "which studying three A-levels just doesn't allow you to do."
Originating in Geneva, the IB was introduced in the late 1960s as an alternative approach to educating the growing numbers of internationally mobile students. In the Cold War climate, the new diploma scheme boasted educational values that were not tied to any national government's agenda and aimed to develop students to be "inquiring, knowledgeable and caring young people who help to create a better and more peaceful world through intercultural understanding and respect."
Today, the IB is taught in more than 140 countries – the majority of which are European. Since its first introduction to the UK in 1971, interest in the IB has grown steadily among British pupils, and the diploma programme is now offered by 124 UK schools.
Hockerill is unusual in that it has only ever offered IB courses for its sixth-form students, unlike most other schools which have either switched from A-levels or adopted both options.
As a specialist language and music school, the vast majority of its pupils take two modern foreign languages (MFL) at GCSE and continue at least one of those languages through sixth form. Not only do pupils have the choice of secondary language courses at sixth form, but the school offers five native language courses – making it an attractive option to EU students without English as their mother tongue.
"We work hard to teach IB students that sixth form is about getting the qualifications necessary to get onto the course you want to study at university, but it's also about making sure when students get to university they prosper – and that is where the diploma has a solid reputation."
Teaching leaders like Markham argue that the skills needed from students at IB level are very applicable to those needed at undergraduate level. The ability to conduct independent research, the ability to manage independent time and think critically are all attractive qualities to university admissions teams.
Indeed, when questioned on the merits of the IB, a staggering 96 per cent of admissions officers surveyed said IB credentials signalled a candidate was highly likely to complete their degree, and 93 per cent said they believed IB candidates had the ideal skills to thrive at university.
"It is well known that the IB is the gold standard, or the best possible preparation for university study," insists Tim Jones, Deputy Head of Sevenoaks School, an independent school in Kent where the student body is made up of 50 different nationalities.
"In an increasingly global workplace, the IB students are simply better equipped for their professional futures than their A-Level counterparts. Indeed the A-Level curriculum which has a narrower subject-specific focus may afford in-depth knowledge, but for many students it's too just early to specialise at 16. Education should be exciting and a breadth of subjects keeps this alive."
While the breadth of subjects offered to IB students is often quipped as one of its benefits, the fact that less popular subjects such as maths and sciences are compulsory means the scheme has been labelled as elitist in the past. Obtaining the programme is costly for schools, and unlike A-Levels, the IB isn't modular – meaning pupils cannot retake modules and may have to retake a whole year if they fail.
"It's not a light undertaking, admits Markham, "the IB requires a substantial financial and philosophical undertaking – you've got to allow it to impact on the ethos and philosophy of the school."
The system still has its share of critics. A-level advocates argue that the IB encourages a skimmed knowledge across several topics instead of a deep understanding of few – therefore putting students at a disadvantage if they want to specialise or work in research.
Others have raised concerns that the "global citizen" mentality of the IB fails to instil any sense of national pride that more traditional UK-centric courses, such as an A-level in History might entail.
And yet it is seemingly difficult to find A-level teachers willing to directly criticise the IB method.
"I believe that both A-Levels and the IB have an important role to play in ensuring that institutions and students can make the right choices to fulfil their specific circumstance," says Dave Hutton, head teacher of high-performing state secondary, Northgate High School, in Ipswich.
"One relative benefit of A-Levels is that they can be successfully offered by a wide range of institutions, including those operating on only a medium scale post-16, such as 11-18 state schools trying to cater for a wide range of need with limited resources and little opportunity to benefit from economies of scale."
"For the students, who are increasingly being required to study a modern foreign language and either geography or history alongside English, mathematics and science at GCSE, A-Levels provide an opportunity to move to a more specialised post-16 programme of study, perhaps specifically targeted at likely higher education and career intentions."
The UK is certainly unusual in that it does not ask pupils to continue with numeracy and literacy after the age of 16 or 17 – a standard requirement for much of Europe and the US – something Markham considers concerning.
"Because of the skills that are inevitably going to be demanded of young people in their career – more so now than ever – I find it hard to believe they're not going to need numeracy, literacy, and some broader outlook beyond the age of 16," he says.
What the majority of IB-equipped schools appear to have in common is the philosophy that British education needs to become more "European" in its outlook in order for British teens to prosper in an increasingly global community.
As UK tuition fees continue to rise, a growing number of young people are looking to other European countries for university – and arguably fare a better chance of securing top places with the kind of skills the IB encourages.
French and German universities offer courses at a fraction of UK prices, and higher education in Denmark is free to EU students. What's more, many Danish courses are in English – not that that's a problem for many of Hockerill's students.
Drop out figures among IB students are also lower, despite fewer IB students going forward to university than A-level. But if the IB is so desirable, how would such an international school as Hockerill fare if Britain were to leave the EU? "Until the terms for a Brexit are agreed it is hard to determine the net impact," says Markham, "but I can reflect that some inquiries from overseas boarders have asked searching questions about the possible impact and anything, which reduces confidence in the UK economy would no doubt have an effect upon us."
The IB advocate's vote takes no second guessing. "The IB is about removing barriers and creating better global citizens," he says. "Education should be used as a means of achieving peace and as a means of achieving collaboration and international understanding. I cannot commend that sort of philosophy highly enough."
Register for free to continue reading
Registration is a free and easy way to support our truly independent journalism
By registering, you will also enjoy limited access to Premium articles, exclusive newsletters, commenting, and virtual events with our leading journalists
Already have an account? sign in
Register for free to continue reading
Registration is a free and easy way to support our truly independent journalism
By registering, you will also enjoy limited access to Premium articles, exclusive newsletters, commenting, and virtual events with our leading journalists
Already have an account? sign in
Join our new commenting forum
Join thought-provoking conversations, follow other Independent readers and see their replies