You're just Trots! Gove condemns opponents of his academy plan
Gove angers unions with remarks as he announces plans to downgrade vocational courses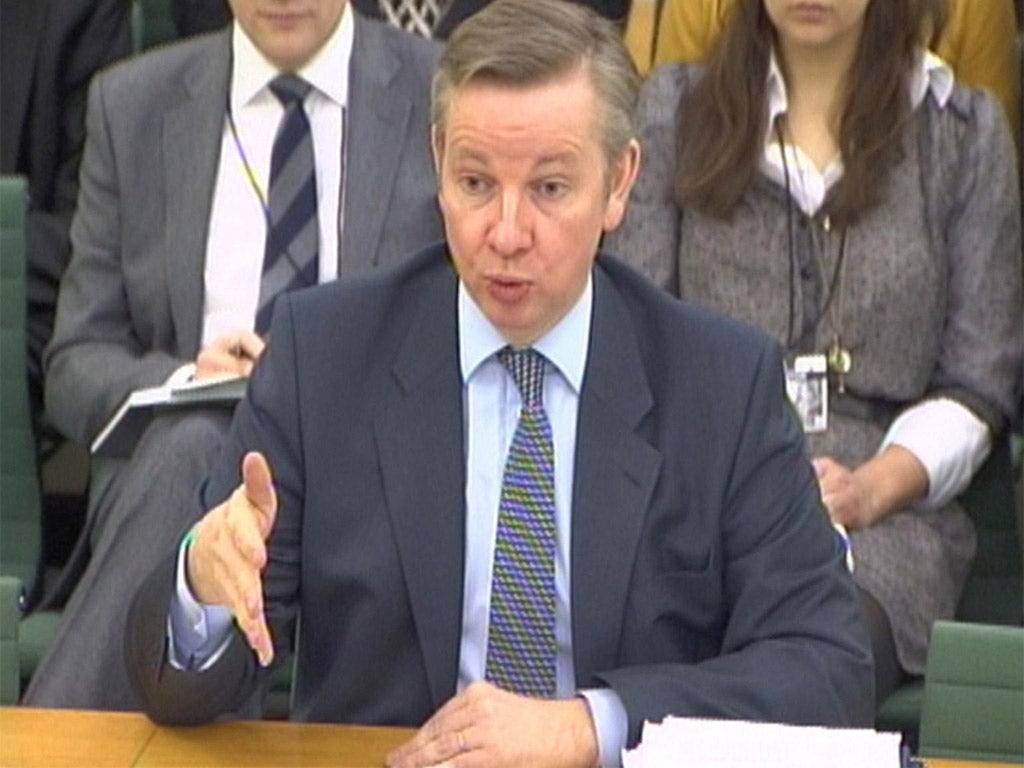 The Education Secretary provoked anger yesterday when he dismissed campaigners who were against turning a school into an academy as "Trots".
Michael Gove described opposition to plans to turn Downhills Primary School in north London into an academy as a "Trot campaign" and accused its supporters of being linked to the Socialist Workers' Party.
The Education Secretary was speaking to MPs on the Commons Education Select Committee. His comments were condemned by Chris Keates, general secretary of the NASUWT union, who said: "Regrettably, this comment exemplifies the combination of arrogance and ignorance which drives the Coalition's education policy."
Meanwhile, teachers and employers criticised Mr Gove's decision to strip thousands of vocational qualifications from the school league tables, arguing that it would reinforce the divide between academic and vocational courses. Among those being downgraded is the relatively new engineering diploma for 14- to 19-year-olds from its current value of five GCSEs to one. Business leaders said this would exacerbate the skills shortage and deter young people from studying engineering.
Currently 3,175 qualifications are treated as equivalent to GCSEs in the league tables. Schools have been accused of using vocational qualifications to improve their league table rankings. Mr Gove proposes to reduce the number to 125, with just 70 counting towards the main performance measure of five A* to C grades at GCSE.
The qualifications being dropped from the tables include the City and Guilds level 2 diploma in horse care, currently worth four GCSEs in league tables. A Btec in fish husbandry, worth two GCSEs, a level 2 certificate in nail technology, and a level 2 award in travel and tourism are among those being downgraded.
Adrian Prandle, from the Association of Teachers and Lecturers, said: "It is sad but true that league tables determine what schools do. In saying that some qualifications will not be included in the tables, the Government is effectively signing their death warrant."
Christine Blower, general secretary of the National Union of Teachers, said: "It should not be up to the Government to decide which exams are of more merit than others. This is something which should be assessed by major stakeholders such as the teaching profession and awarding bodies."
Are they worthless? Downgraded courses
Btec fish husbandry (worth two GCSEs)
Students need to understand fish health and learn about fish anatomy and physiology. Learners study common fish parasites, predators and the importance of good water quality and nutrition. They cover topics such as the methods used to examine fish for signs of ill health, common factors that cause ill health and steps to maintain fish health.
Level two certificate in nail technology (worth two GCSEs)
Students must learn basic anatomy and physiology and be able to describe the structure, main functions, main diseases and disorders of the skin and nail. Candidates must understand how to run a salon safely.
City and Guilds level two diploma in Horse Care (worth four GCSEs)
This course provides practical experience of caring for horses. Students need to recognise signs of health and ill-health in horses and understand how their posture, movement, behaviour and appetite may be affected. They need to demonstrate practical skills such as preparing a stable for a horse. They need also to be able to assess grazing land for the introduction of horses, including being able to identify poisonous plants.
Join our commenting forum
Join thought-provoking conversations, follow other Independent readers and see their replies