El Chapo trial: Joaquín Guzman defence team claims Sinaloa cartel bribed Mexican president
Heavy security and two jurors drop out on dramatic opening day of alleged kingpin's trial
Clark Mindock
New York
Wednesday 14 November 2018 01:36 Comments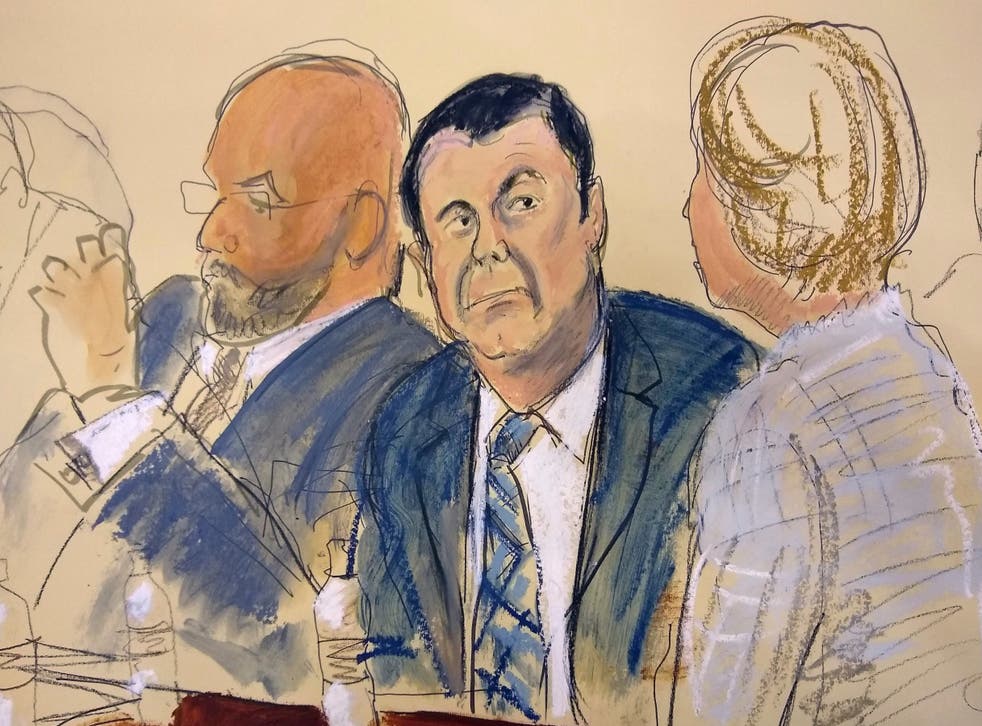 Joaquín "El Chapo" Guzman rose from modest marijuana seller to feared drug kingpin, a New York court heard on the dramatic opening day of his high profile trial.
His defence, meanwhile, claimed he was a scapegoat for the real leader of Mexico's Sinaloa Cartel, Ismael "El Mayo" Zambada – a man they claimed had bribed Mexican president Enrique Pena Nieto.
"He's blamed for being the leader while the real leaders are living freely and openly in Mexico," attorney Jeffrey Lichtman told a Brooklyn federal court. "In truth, he controlled nothing. Mayo Zambada did."
Zambada had been left free because he "bribes the entire government of Mexico including up to the very top, the current president of Mexico", he said.
A spokesman for the Mexican president said the claim was false.
Security was tight ahead of the trial. Bomb sniffing dogs and an increased number of police patrols could be seen outside the building.
Before the trial, a custom cell was designed for Guzman, who has escaped twice from maximum security prisons in Mexico.
Jurors were escorted to and from court by armed federal marshals.
Inside Mexico's top drug lord El Chapo's hideout

Show all 4
Opening statements were delayed for two hours when two of the jurors chosen last week dropped out of the case. One delivered a doctor's note to the judge which claimed that the trial had left her "too anxious and too upset" to serve on such an important jury.
Once two more were selected, Assistant US Attorney Adam Fels told the court that Guzman was ruthless in his business, had sent killers to wipe out competitors and waged wars against longtime partners – including his own cousins.
Mr Fels told the jury that Guzman started modestly in the early 1970s by selling marijuana in Mexico, but built his reputation by constructing tunnels across the border with the US to transport marijuana and cocaine so fast that he was no longer "El Chapo, the short one". Instead, he became known as "the speedy one".
Before long, Guzman was receiving 10 to 15 planes stuffed with cocaine from Colombia at landing strips in Mexico for transport to cities such as Los Angeles, Chicago and New York, Mr Fels said.
As his business flourished using the tunnels, trains, planes and boats, Guzman began taking aim at rivals in the early 1990s, leading to bloody wars, he said. In 1993, he fled to Guatemala but was captured and imprisoned in Mexico for eight years, where he continued running his drug empire.
The prosecutor said Guzman had twice escaped from prison and was planning a third when he was brought to the US.
Support free-thinking journalism and attend Independent events
He said that Guzman used some of his wealth to pay off the Mexican military and police and to finance assault rifles, grenade launchers and explosives to engage in "war after bloody war".
Facing 17 federal charges – including drug trafficking, money laundering, and firearms charges – if he is convicted, the 61-year-old could spend the rest of his life in American prison. He has pleaded not guilty to all the charges.
Mr Lichtman spent much of his opening statement attacking the credibility of witnesses who are set to testify against his client.
"Why is the government going so far in this case using these gutter human beings as the evidence?" he asked. "It's because the conviction of Chapo Guzman is the biggest prize this prosecution could ever dream of."
Urging the jurors to keep an open mind, he said they should consider that both Mexican and US law enforcement could be corrupt.
"They work together when it suits them, Mayo (Zambada) and the United States government," he said.
Earlier this week, Mr Guzman's lawyer Eduardo Balarezo told The Independent that his client was not interested in pleading guilty, cooperating with the government or seeking any benefit in exchange for his testimony as as have all the cooperators who will testify against him at trial.
He said: "The government saw fit to charge him in the United States, now they have to prove it. It's time to put up or shut up".
Beyond New York, Guzman faces charges in 10 legal cases in Mexico, as well as federal charges in Arizona, California, Texas, Illinois, Florida and New Hampshire.
The trial continues.
Register for free to continue reading
Registration is a free and easy way to support our truly independent journalism
By registering, you will also enjoy limited access to Premium articles, exclusive newsletters, commenting, and virtual events with our leading journalists
Already have an account? sign in
Join our new commenting forum
Join thought-provoking conversations, follow other Independent readers and see their replies