Eurostar chaos: Firm ignores own advice after last major shutdown of Eurotunnel trains
Eurostar hasn't taken the steps advised after the chaos of Christmas 2009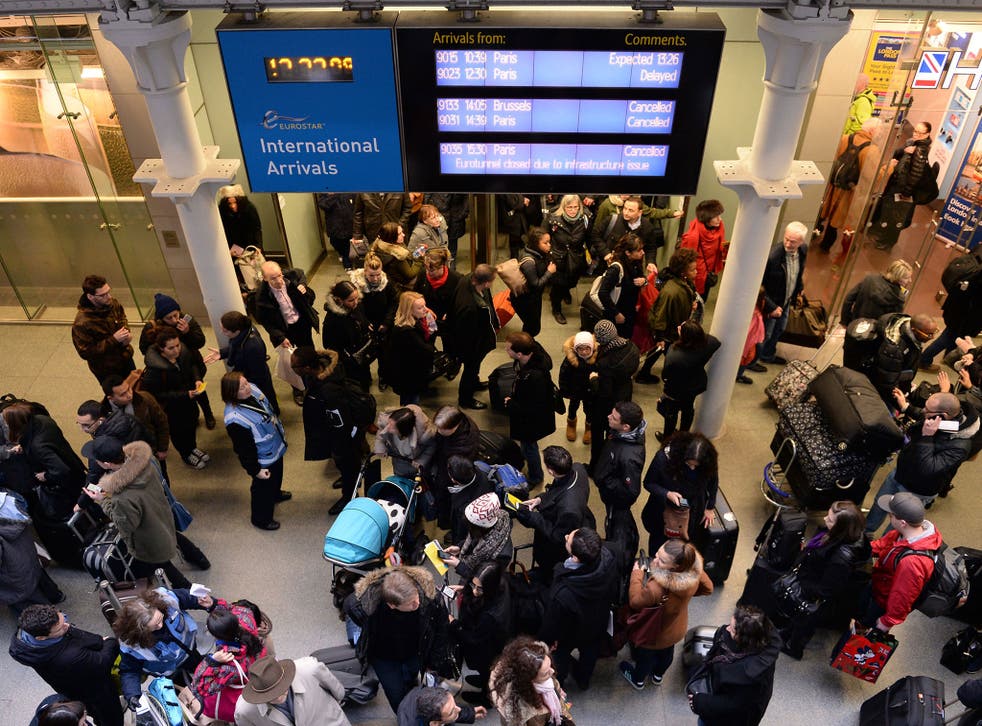 As thousands of Eurostar passengers endure a second night stranded in the wrong country, The Independent can reveal that the train operator has not followed the advice it sought after the snow-related chaos at Christmas 2009 about how to cope with disruption.
The firm that runs trains between London, Paris and Brussels Channel Tunnel train operator commissioned an independent inquiry to advise on improvements. The resulting report made three key recommendations for customer care when trains are cancelled: a 24-hour call centre; an emergency coach link between Kent and France, using ferries; and information on other transport options. None of these steps have been taken in the latest crisis.
Around 12,000 travellers were left stranded on Saturday when a fire on a Eurotunnel vehicle closed the link. As services were starting up again on Sunday, an unrelated power issue caused the cancellation of 11 trains that were due to carry around 8,000 passengers – many of them travellers whose journeys had been thwarted on Saturday.
While the closure was no fault of Eurostar, there has been scathing criticism on social media of Eurostar's inability to offer online re-booking for passengers with restricted tickets – and the firm's insistence that stranded travellers should wait until the call centre opened at 8am on Sunday morning to re-book.
The inquiry into the December 2009 events was led by Christopher Garnett, former commercial director of Eurotunnel, and Claude Gressier, inspector-general of bridges and roads in France. They concluded that the Eurostar call centre "should be able to offer a 24-hour service in emergency situations".
Travel chaos around the UK

Show all 6
A spokeswoman for Eurostar said: "Our contact centre extended its hours yesterday to support customers looking to re-book, refund or exchange and the same is happening today. We work very hard to increase the resources in this situation."
The inquiry also recommended "an emergency coach service that could be put in place between probably Ashford International and a suitable Eurostar station in France, making it possible to transport passengers by ferry."
The Eurostar spokeswoman said: "There simply isn't the capacity on ferries so that unfortunately isn't an option. It would be irresponsible to send customers on coaches to Dover/Calais when there isn't a ferry that they can then get on to cross the Channel."
Many other operators, from British Airways to Megabus, offer alternatives between London and the Continent. The inquiry had recommended Eurostar supply passengers with contact details. But on the leaflet handed out to stranded passengers at the Eurostar terminal at St Pancras, the only reference to alternative transport is: "To find an alternative route to your destination, contact our partners at Expedia via expedia.com."
Eurostar said: "We do provide information on alternative modes of transport to any customers who need it, whether that's at the station or over the phone/social media feeds, though we do find that the vast majority of customers already have this kind of information at their fingertips."
The Eurostar leaflet handed out to stranded passengers warns: "If you decide to abandon your journey and find an alternative way to your destination, do keep in mind that we won't be able to refund your onward travel or any expenses."
Register for free to continue reading
Registration is a free and easy way to support our truly independent journalism
By registering, you will also enjoy limited access to Premium articles, exclusive newsletters, commenting, and virtual events with our leading journalists
Already have an account? sign in
Register for free to continue reading
Registration is a free and easy way to support our truly independent journalism
By registering, you will also enjoy limited access to Premium articles, exclusive newsletters, commenting, and virtual events with our leading journalists
Already have an account? sign in
Join our new commenting forum
Join thought-provoking conversations, follow other Independent readers and see their replies