Barack and Michelle Obama tell students 'we have your back' on fight for tougher gun controls
The former First Lady is in 'total awe' of the Parkland, Florida students advocating for a ban on assault weapons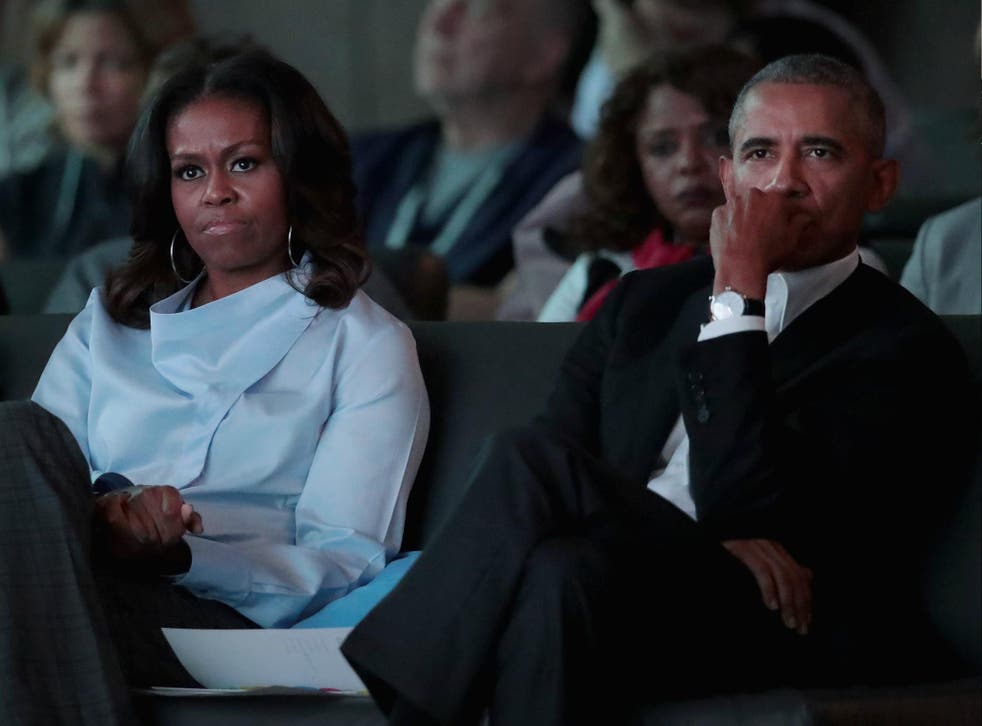 Former US President Barack Obama and First Lady Michelle Obama have expressed their support for the students advocating for gun control reform after 17 people were killed at their high school in Parkland, Florida.
Ms Obama took to Twitter to say the debate on gun control reform will take "unyielding courage and endurance" but that she and the former President are "behind [the students] every step of the way".
Mr Obama also tweeted that the kids are "inspiring" to see "so many smart, fearless students standing up for their right to be safe."
The former First Lady also said she was in "total awe" of the students from Marjory Stoneman Douglas High School.
Several of them have been passionately speaking to the media, interacting with politicians on Twitter, staging marches and lie-ins, participating in a town hall meeting with the powerful lobbying group the National Rifle Association (NRA), and speaking with US President Donald Trump on gun control reform just days after attending their friends' funerals.
Mr Obama added: "we've got your back".
The tweet was posted while the leader of the NRA, Wayne La Pierre, was speaking at the Conservative Political Action Conference (CPAC) in Washington, DC about how gun control reform advocates "hate freedom".
It was in 2012, the end of Mr Obama's first term in office, that the Newtown, Connecticut tragedy took place.
Florida student Emma Gonzalez passionately calls for gun control at rally after school shooting
Twenty children aged six to seven years old, as well as six adults, were killed in Sandy Hook Elementary School in the horrifying incident.
Mr Obama appeared on camera shortly thereafter with tears he wiped from his face in one of the most emotional moments during his time in office.
He had advocated for "common sense gun safety laws" then and tweeted about it again in the hours following the Parkland shooting as well.
"Most Americans want" some sort of gun control reform, according to Mr Obama.
Mr Trump held a listening session with Parkland parents students, as well as parents who lost children at Sandy Hook, the 1999 Columbine, Colorado, high school shooting, and parents of children killed in the Washington DC public school system.
During the meeting, he advocated for arming teachers with guns but did not discuss imposing a ban on assault-style weapons like the AR-15.
Assault-style weapons had been used in the December 2015 San Bernardino, California; the Pulse nightclub shooting in Orlando, Florida in 2016; and the Las Vegas massacre in October 2017 - the deadliest shooting in modern US history where 58 people were killed.
There was a federal ban on assault weapons from 1994 to 2004, when the legislation was not renewed.
Several school teachers took to Instagram using the hashtag #ArmMeWith to show that they do not want firearms and training, but books, supplies, technology, and mental health support for their students more than anything else.
Join our new commenting forum
Join thought-provoking conversations, follow other Independent readers and see their replies