Habitat 67: Photographer captures life in the housing estate 50 years on from its opening
Local photographer James Brittain chose to show everyday activity within the estate, instead of its futuristic exterior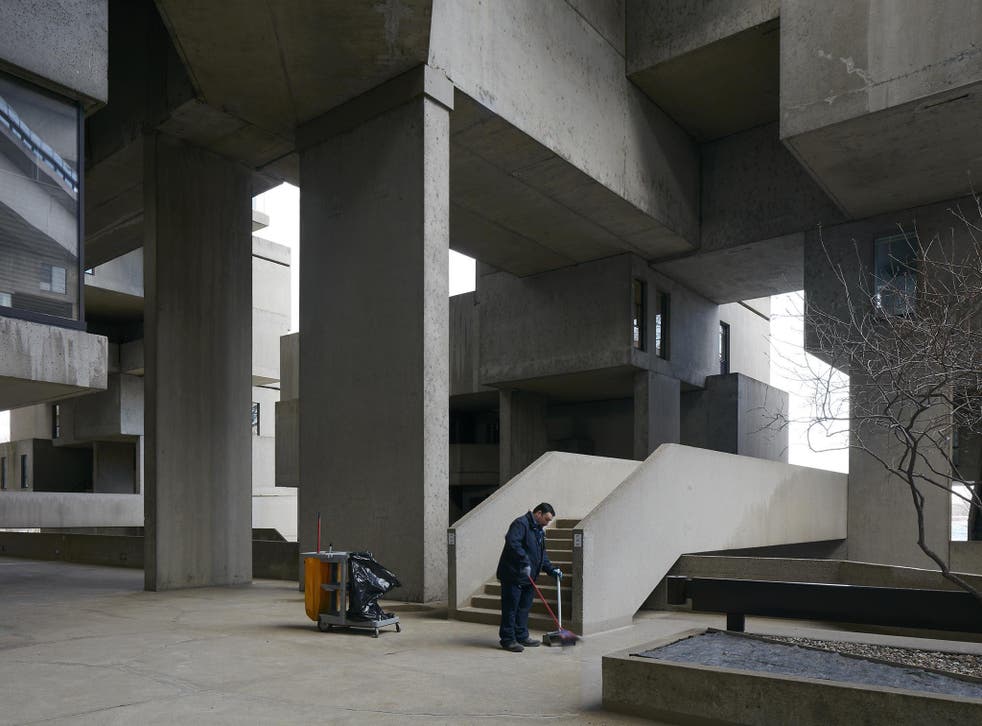 Photographer James Brittain has revisited the Habitat 67 housing estate in Montreal 50 years after it first opened. The building, designed by Israeli/Canadian architect Moshe Safdie, has become one of the world's best known examples of brutalist architecture – and a national landmark in Canada.
Habitat 67 was intended to revolutionise affordable living, its series of interlocking terraces and verandas were supposed to be a model for how pre-fabricated concrete structures could create both a natural environment and privacy within an urban setting. The design had a lasting influence over other brutalist forms; the elements of social integration and pre-fab modular developments seen in other structures from Sadfie's later contemporaries.
The building has become one of the most photographed in Canada, even featuring on a commemorative stamp late last year. Mr Brittain chose to photograph the building in a different light to celebrate this landmark – deliberately eschewing its harsh exterior and instead focusing on how residents have made Habitat 67 their own.
"I've been thinking about layers and traces of life left on architecture over time," said Mr Brittain. "I've also been considering the way Habitat 67 itself has aged, how it's used and inhabited, and how both public and private space at the complex has been adapted by the residents."
Mr Brittain photographed residents within their homes, as well as small artefacts that now litter the building and how the concrete structure has changed over time. Mr Brittain also wanted to create a response to the massive influence of "Instagram culture" on the architectural world, by turning people away from how dazzling the structure looks on social media.
Habitat 67, Montreal

Show all 10
"Mainstream photography of architecture has largely withdrawn from communicating the experience of buildings and spaces, and specific moments spent in places," said Mr Brittain. "The line between digital render and photograph has also become increasingly blurred. In the pursuit of standing out in the visual noise, much contemporary imagery of architecture has reduced itself to the ordinary – clean, similar and mundane."
The photographs will feature as part of a series of talks at Jonathan Tuckey Design, London – accompanied by archives from the Canadian Centre for Architecture, and the Canadian Architecture Collection at McGill University. For more information head to www.buildingonthebuilt.org/james-brittain-photography
Register for free to continue reading
Registration is a free and easy way to support our truly independent journalism
By registering, you will also enjoy limited access to Premium articles, exclusive newsletters, commenting, and virtual events with our leading journalists
Already have an account? sign in
Register for free to continue reading
Registration is a free and easy way to support our truly independent journalism
By registering, you will also enjoy limited access to Premium articles, exclusive newsletters, commenting, and virtual events with our leading journalists
Already have an account? sign in
Join our new commenting forum
Join thought-provoking conversations, follow other Independent readers and see their replies