Haiti jailbreak: Hundreds of inmates escape with prison director and gang leader among 25 dead
Reports suggest mass jailbreak was attempt to free powerful gang leader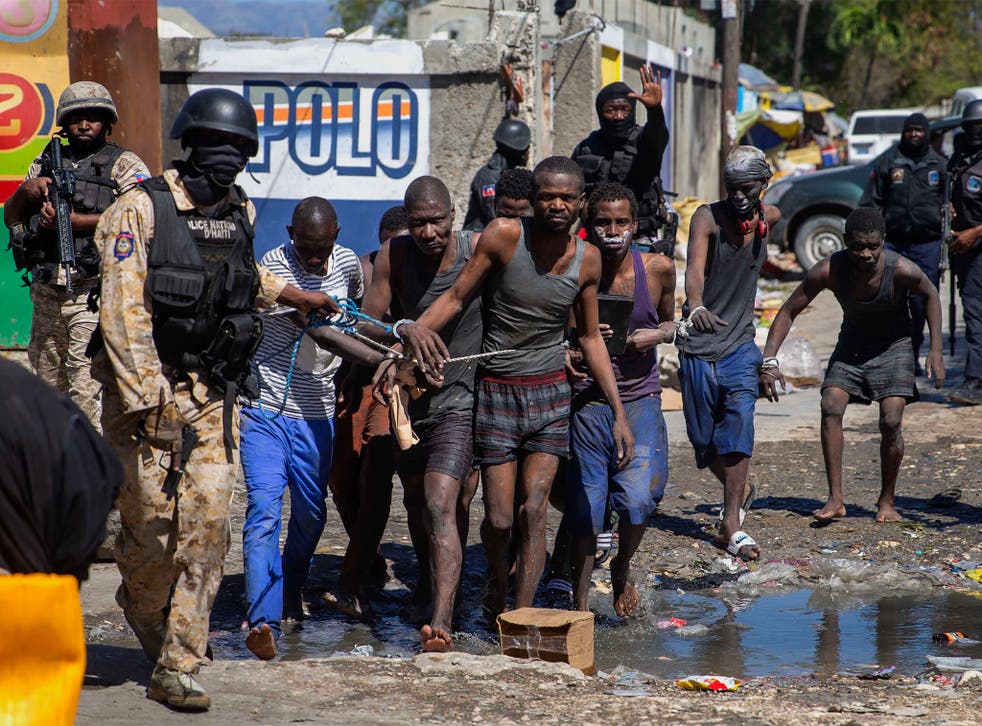 Leer en Español
More than 200 inmates in a Haiti prison broke out on Thursday, with 25 killed in the mass-escape including the prison director and a notorious gang leader.
Bystanders caught up in the violence as inmates fled the Croix-des-Bouquets jail were also among those dead.
The powerful gang leader Arnel Joseph, who was killed in the mass-jailbreak, was Haiti's most-wanted criminal prior to his arrest in 2019.
Still wearing his prison ankle cuffs, the gang leader fled as a passenger on a motorcycle that was later flagged down at a checkpoint, police spokesperson Gary Desrosiers said. Joseph turned a gun on the officers present who fatally shot him.
Some reports suggest a belief that the mass-jailbreak was an attempt to free Joseph, whose charges included rape, kidnapping and murder.
The gang leader ruled a shanty town called Village de Dieu, or Village of God, in Port-au-Prince along with some other communities in the region.
Though details of the mass-escape remain unclear, witnesses reported hearing bursts of gunfire at around midday on Thursday before inmates were seen fleeing from the prison. More than 400 prisoners were initially reported to have escaped.
Elsewhere, staff at a nearby clothing store said they had been forced to give items to the escaping prisoners.
The jail near Haiti's capital Port-au-Prince was opened in 2012 with a maximum capacity of 872 inmates. However, at the time of the breakout on Thursday, the jail was holding more than 1,500 prisoners.
Frantz Exantus, Haiti's communications secretary, told a news conference on Friday: "Twenty-five people died including six prisoners and Divisional Inspector Paul Hector Joseph who was in charge of the prison."
"Among those killed were some ordinary citizens who were killed by the prisoners during their escape," he added.
Mr Exantus said authorities have created several commissions and the ongoing investigation will look into who organised the breakout and why. He added in a Tweet on Friday that 60 inmates had so far been captured.
Helen La Lime, Haiti's special representative of the secretary general of the United Nations, said in a statement: "This prison break further highlights the problem of prolonged preventive detention and prison overcrowding, which remains a matter of concern that must be urgently addressed by Haitian authorities."
Prison escapes in Haiti, the poorest country in the Caribbean, are not uncommon. More than 200 of the 899 inmates at the Croix-des-Bouquets prison escaped in 2014, with some believing the jailbreak was designed to free the son of a prominent local businessman. After the mass-escape, officials said they were taking steps to increase security in the jail. 
Elsewhere, while police attended anti-government protests nearby, all 78 inmates of Aquin prison in Southern Haiti escaped in 2019.
Two years earlier, more than 170 inmates broke out of a prison in Arcahaie, north of Port-au-Prince.
The country's largest prison breakout was in 2010, following a devastating earthquake. More than 4,200 inmates escaped the national penitentiary prison in Port-au-Prince.
Register for free to continue reading
Registration is a free and easy way to support our truly independent journalism
By registering, you will also enjoy limited access to Premium articles, exclusive newsletters, commenting, and virtual events with our leading journalists
Already have an account? sign in
Register for free to continue reading
Registration is a free and easy way to support our truly independent journalism
By registering, you will also enjoy limited access to Premium articles, exclusive newsletters, commenting, and virtual events with our leading journalists
Already have an account? sign in
Join our new commenting forum
Join thought-provoking conversations, follow other Independent readers and see their replies