Nearly half of the 56 million abortions performed worldwide every year are unsafe, health experts say
Women in poor countries facing even higher risk after Donald Trump's cuts to family planning programmes abroad
Tom Embury-Dennis
Thursday 28 September 2017 19:05 Comments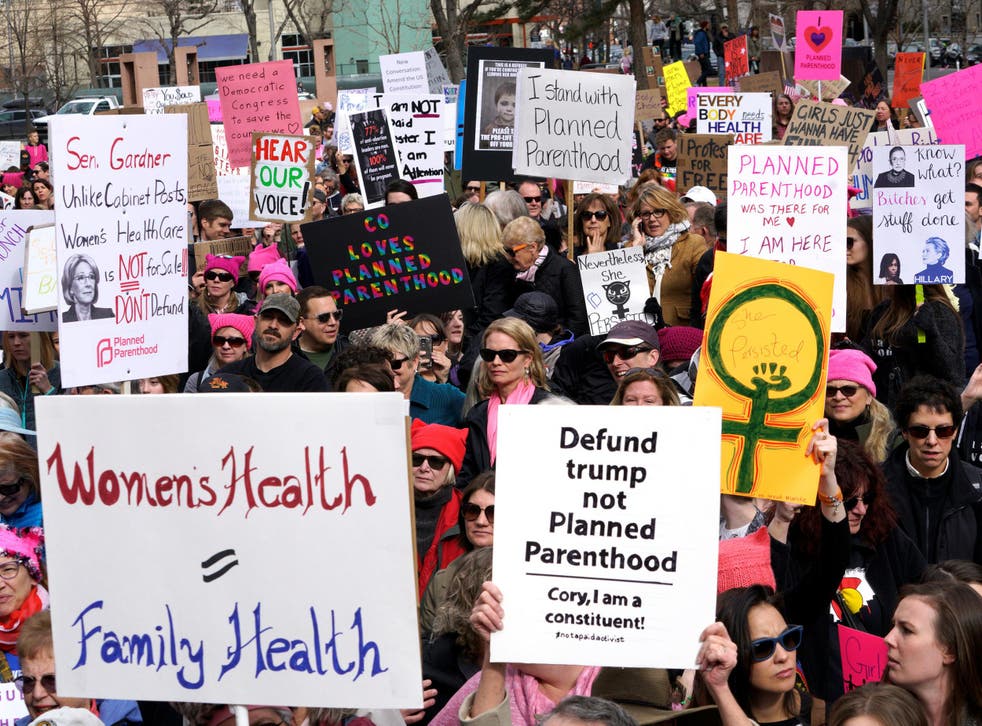 Nearly half of the estimated 56 million abortions performed worldwide every year are unsafe, health experts say.
Women in poor countries face the highest risks, with the issue set to be worsened by the US Government's cuts to family planning programmes abroad.
Donald Trump signed an executive order in February reinstating a "global gag rule" that blocks aid groups from performing or giving advice about abortions if they receive US funding.
Worldwide, 25 million unsafe abortions occurred every year between 2010 and 2014, according to a report by the World Health Organization (WHO) and the Guttmacher Institute. Some 97 per cent of those are in Africa, Asia and Latin America.
"Nearly half of abortions in the world are unsafe. And that is surprising because safe abortion is a simple intervention, scientifically speaking," said Dr Bela Ganatra of WHO's department of reproductive health and research.
"There is an association between highly restrictive laws and unsafe abortion," she told a news briefing.
All women and girls need access to sex education and effective contraception to avoid unwanted pregnancies and get safe abortion services if desired, Dr Ganatra said.
Uruguay, Nepal and Ethiopia have made safe abortion accessible in recent years, she added. Ireland plans to hold a referendum next May or June on whether it should loosen some of the world's strictest abortion laws, Prime Minister Leo Varadkar said on Tuesday.
The UK's own abortion ban, explained in 3 minutes
Around 88 per cent of abortions occur in developing countries, where contraception is often lacking, said Dr Gilda Sedgh, principal research scientist at the Guttmacher Institute, speaking from New York.
Dr Sedgh, asked about the impact of Mr Trump's executive order, said it bans US health assistance to foreign NGOs if they provide abortion services, counselling or referrals, "even if they use non-US funds for those activities".
"Funding cuts to USAID, which is the channel through which family planning assistance is provided, has also been proposed in the US budget," she said.
Supreme Court strikes down abortion restrictions

Show all 23
"We don't have hard evidence yet of the impact of those policy changes and proposed budget cuts."
But a more limited so-called "gag rule" was imposed by previous Republican administrations, Dr Sedgh said. Studies indicated that in sub-Saharan Africa this had led to an increase in abortions after clinics were forced to close.
"So looking ahead, we can only speculate based on the past, that it's possible that this policy will again compromise women's access to family planning services and put them at greater risk of abortion, including unsafe abortions."
Additional reporting by Reuters
Register for free to continue reading
Registration is a free and easy way to support our truly independent journalism
By registering, you will also enjoy limited access to Premium articles, exclusive newsletters, commenting, and virtual events with our leading journalists
Already have an account? sign in
Join our new commenting forum
Join thought-provoking conversations, follow other Independent readers and see their replies