Alfie Evans's father dreamed son could follow in Wayne Rooney's footsteps
 'I don't think there was a happier person than Alfie to be part of Everton,' Tom Evans says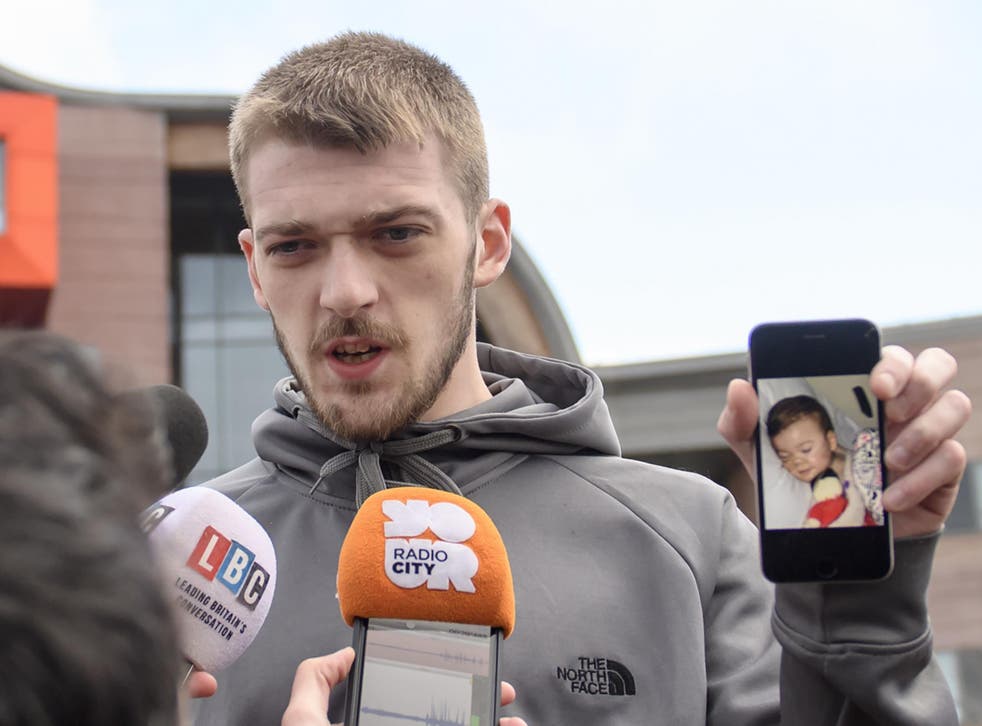 The father of Alfie Evans, the toddler who recently passed away after a months long court battle over the withdrawal of his life support, has said he dreamed that his son would play for Everton like Wayne Rooney.
At his first public appearance since his son's death, Tom Evans was presented with Blue Blood Award by the club's chairman Bill Kenwright.
"My dream as a child was to play for Everton. I remember watching Rooney score that goal against Arsenal in my brother's bedroom and I wanted to follow in those footsteps.
"Then when we had Alfie I wanted the same for him. I wear the badge with pride no matter the situation and Alfie wore his no matter his situation."
He added: "Alfie really wanted to go to a game and as soon as we went to a game, he was screaming. I don't think there was a happier person than Alfie to be part of Everton, Alfie wore the badge with pride through his situation."
Mr Kenwright, he said, had told him in a phone call: "Anything you need, anything".
He said he had replied: "I just want Alfie's name to be known around Liverpool."
After presenting him with the award, Mr Kenwright said: "Tom has just whispered in my ear, 'He would be proud, wouldn't he?' Well Tom, every second he was proud of you."
Alfie Evans' case gained worldwide attention as his parents fought a long-running legal battle over his care.
Health news in pictures

Show all 40
Born on 9 May 2016, was admitted to Alder Hey Children's Hospital in Liverpool with seizures in December 2016.
Doctors diagnosed him with a degenerative brain condition and remained there ever since, falling into a semi-vegetative state.
Parents Kate and Tom Evans clashed with the hospital over decisions about Alfie's treatment.
Specialists argued that further treatment for Alfie would have been futile and that it was best to turn off his ventilators, but his parents wanted to take the Alfie to Italy to continue treatment
The hospital blocked their attempts, taking the case to the High Court in Liverpool to argue carrying on life support was not in the toddler's best interest and won the case.
The Court of Appeal upheld the decision, the Supreme Court denied the family another attempt at lodging an appeal and the European Court of Human Rights also chose not to intervene.
Alfie's life support was switched off on 23 April as protesters gathered outside Alder Hey in support of Alfie's parents and tried to storm the hospital.
His family received support from across the world, with Pope Francis saying he was "moved by the prayers and immense solidarity" shown to the youngster.
The toddler died on 28 April.
Press Association contributed to this report.
Register for free to continue reading
Registration is a free and easy way to support our truly independent journalism
By registering, you will also enjoy limited access to Premium articles, exclusive newsletters, commenting, and virtual events with our leading journalists
Already have an account? sign in
Register for free to continue reading
Registration is a free and easy way to support our truly independent journalism
By registering, you will also enjoy limited access to Premium articles, exclusive newsletters, commenting, and virtual events with our leading journalists
Already have an account? sign in
Join our new commenting forum
Join thought-provoking conversations, follow other Independent readers and see their replies