Revealed: Ambulance delays cause 'severe harm' to record 6,000 patients a month
Exclusive: More than two-thirds of patients do not trust they will get life-saving care on time, poll reveals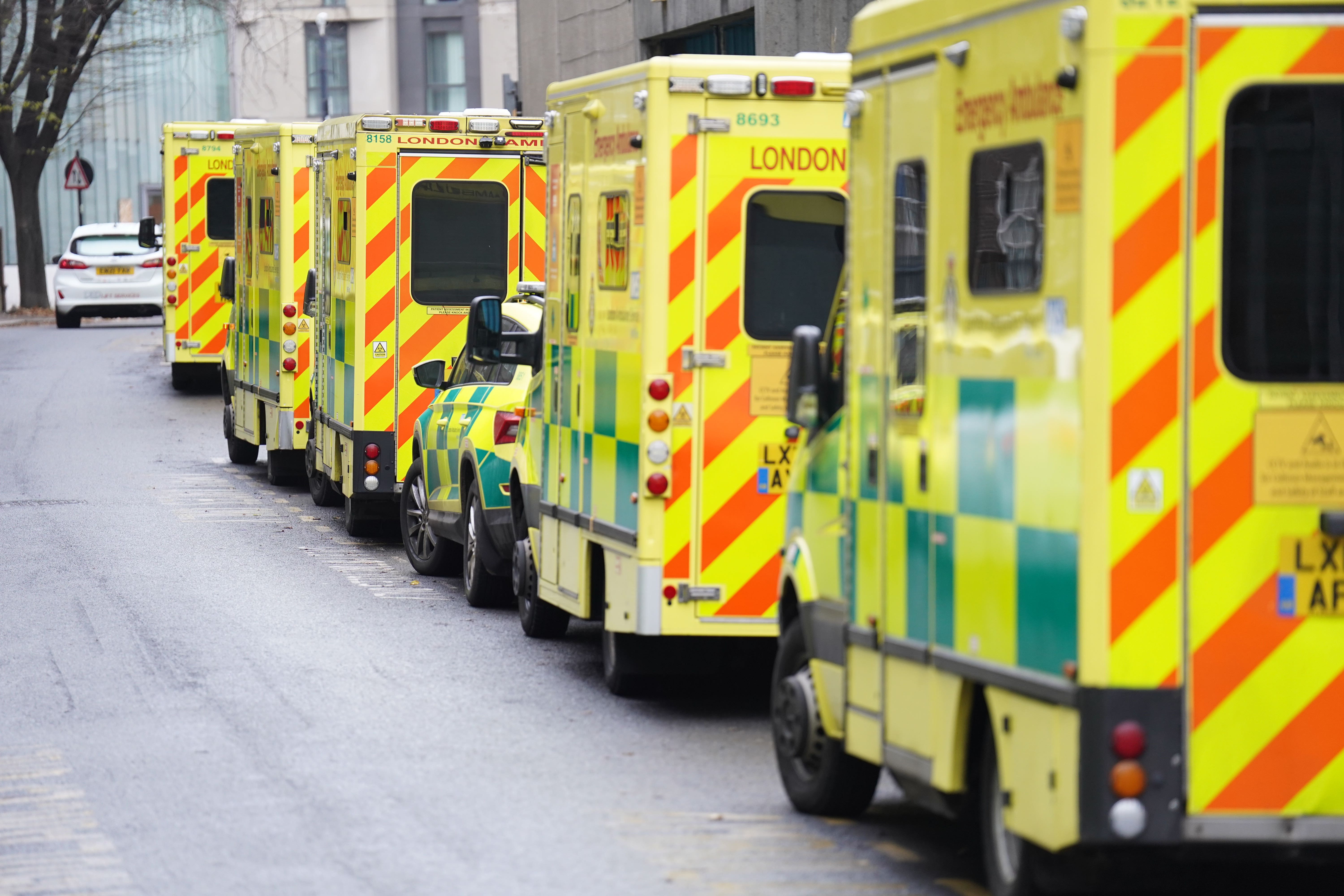 A record number of patients suffered "severe harm" as a result of ambulance delays in December, soaring by nearly 50 per cent in just one month as the NHS crisis deepened.
Almost 6,000 suffered permanent or long-term harm due to long waits to hand over patients outside A&Es – up from just over 4,000 in November.
A further 14,000 patients were likely to have suffered "moderate harm", an analysis by The Independent of NHS ambulance data and estimates of harm by the Association of Ambulance Chief Executives (AACE) found.
Have you been impacted by this story? email rebecca.thomas@independent.co.uk
This includes incidents that resulted in patients needing further treatment or procedures, the cancelling of treatment, or being transferred to another area.
The NHS is facing unprecedented strike action this winter, including on 6 February when more than 10,000 ambulance staff are set to walk out alongside nurses.
The crisis has been described as 'the worst ever' in emergency care.
Miriam Deakin, director of policy and strategy at NHS Providers, said the figures are a "worrying reminder of the huge pressure the NHS is under".
She said: "Trust leaders are doing everything they can to provide patients with safe, high-quality care but they know patients face lengthy handover delays far too often, contributing to avoidable harm."
The AACE's estimates on harm, based on a clinical review, show that 9 per cent of handover delays lasting more than 60 minutes result in "severe harm", while 23 per cent lead to "moderate harm".
Figures last week revealed ambulance response times had hit record low levels in December as patients with the most urgent and life-threatening conditions waited 10 minutes for an ambulance on average. Response times to these patients should be seven minutes.
Patients in the second most urgent category, those with suspected strokes, waited 90 minutes – the worst on record.
Almost 64,000 patients waited more than an hour to be moved from ambulances into A&Es according to the latest NHS England data. That was the worst on record and far higher than October's record of 52,000, according to figures from AACE.
The figures come as an exclusive Savanta poll for The Independent reveals that 71 per cent of patients were not confident they would be seen at A&E within a reasonable timeframe and 70 per cent were not confident they would get an ambulance on time.
Only half of those surveyed said they were confident they would get life-saving care on time.
On Thursday, the House of Lords' public services committee published a report calling for the government to initiate a Cobra committee over A&E and ambulance delays. It said the nation's health services were facing a "crisis" and patients delayed at every point are being put at "unacceptable risk".
One woman told the committee that her mother waited 21 hours on a cold kitchen floor for an ambulance to arrive.
The report said: "The crisis in emergency healthcare is a symptom of fundamental weaknesses arising from inadequate capacity across primary, community, and hospital and social care settings."
Baroness Armstrong of Hill Top, chair of the public services committee, said: "We have called on the government to treat this crisis with the urgency it deserves and address it as a national emergency. A referral for consideration by a Cobra committee is the only appropriate way to begin to remedy the crises and we urge the government to take this first step and follow the other recommendations in our report."
Earlier this month, The Independent revealed a record 50,000 patients a week waited more than 12 hours in A&E in December.
A Department of Health and Social Care spokesperson said:"We are taking urgent action to improve access and last week, the Health and Social Care Secretary announced up to £250 million of funding to immediately reduce hospital bed occupancy, alleviate pressures on A&E and unblock delays in handing patients over from ambulances.
"This is on top of the £500 million Discharge Fund to speed up the safe discharge of patients who are medically fit to leave hospital, and the NHS is creating the equivalent of 7,000 more beds as well as establishing 24/7 data driven system control centres in every local area to manage demand and capacity."
Join our commenting forum
Join thought-provoking conversations, follow other Independent readers and see their replies