Map shows areas of England where the most antidepressants are prescribed
Doctors made more than 64 million prescriptions of antidepressants in 2016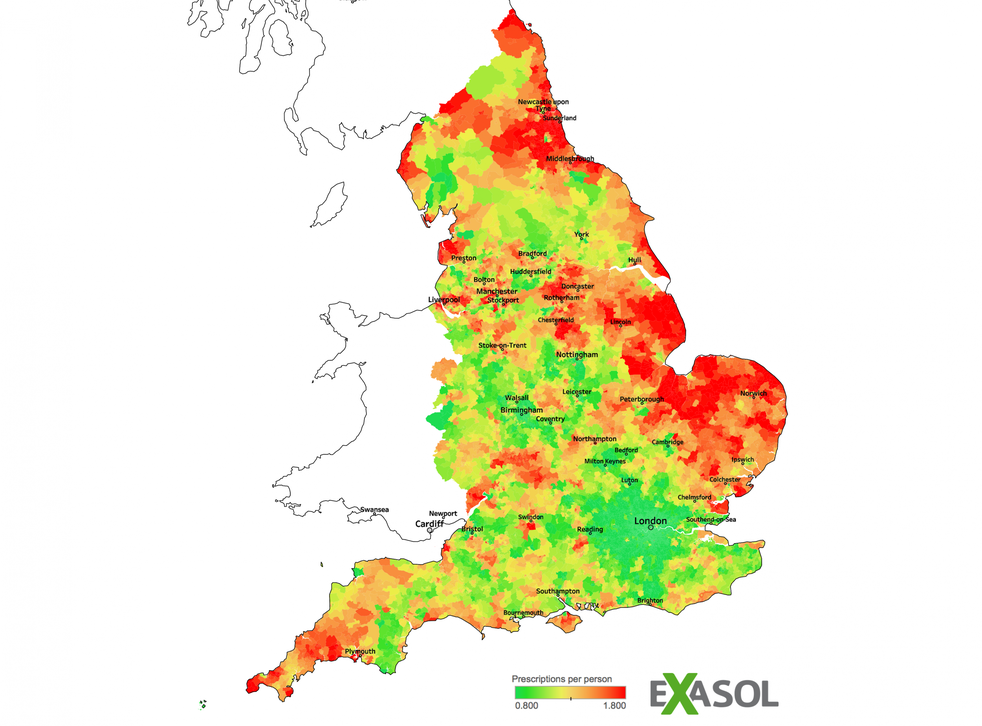 The number of antidepressants prescribed in England has risen sevenfold in the last 25 years, new analysis of NHS data has revealed.
Researchers looked at prescription data for different regions in the country and found twice as many antidepressants are prescribed per person in the North East as in the South East and London.
Doctors made more than 64 million prescriptions of antidepressants in 2016, according to database company Exasol, which conducted the research.
Antidepressant use in Britain has been growing for years, with just nine million prescriptions made in 1991, reported the BBC in 2012, when nearly 47 million antidepressant prescriptions were issued.
In the North East, doctors made 1.73 of the prescriptions per person in 2016, while in the South East and London, the rate was 0.82 prescriptions per person.
Using data on every GP prescription dispensed at pharmacies in England, the company zoomed in on each district to discover the place with the highest rate of antidepressant use was Blackpool, with 2.11 prescriptions issued per person last year.
The second highest was Sunderland and East Lindsey in Lincolnshire, both with 1.99 prescriptions per person, followed by Durham with 1.91.
The regional disparities were plotted on a map of the country, with the researchers saying there was "a clear link to deprivation in the North and East of England."
Blackpool is one of the poorest districts in England, according to the Department for Communities which uses information on employment, housing, health, crime and income levels to monitor deprivation levels.
Antidepressants are used to treat clinical depression and other conditions including obsessive compulsive disorder (OCD), anxiety and post-traumatic stress disorder (PTSD).
Join our new commenting forum
Join thought-provoking conversations, follow other Independent readers and see their replies