WHO assessing AstraZeneca vaccine
Why are countries suspending AstraZeneca vaccine rollouts? Everything we know so far
Overwhelming scientific opinion is that there is no certain link between blood clots and the vaccine, and reported cases could easily be coincidental
Leer en Español
Germany, France, Spain and Italy are among a growing list of countries to have temporarily suspended the rollout of AstraZeneca coronavirus vaccines over reports of blood-clotting.
Concern was raised last week when authorities in Denmark, Norway and Iceland halted use of the jab and several others stopped using specific batches of the AstraZeneca drug while investigating any possible link to coagulation disorders.
The EU regulator, the European Medicines Agency (EMA), has said there is no indication that the events were caused by the inoculation, a view that was echoed by the World Health Organisation (WHO).
The EMA is due to announce the findings from its investigation into the AstraZeneca jab later on Thursday.
Which countries have suspended rollout of the AstraZeneca vaccine?
Some countries have implemented a suspension affecting all AstraZeneca doses, while others have targeted specific batches. No vaccines produced by other drug firms are affected.
Last week, Denmark, Norway, Iceland and Bulgaria announced they were pausing the rollout of the AstraZeneca vaccine after reports of cases of blood clots forming, including one death.
Read more:
The move, which was described by Danish officials as "precautionary", came after Austria stopped using a batch of AstraZeneca doses while investigating a death from coagulation disorders, and an illness from a pulmonary embolism – which occurs when a dislodged blood clot causes a blockage in the lungs.
Thailand became the first country outside Europe to delay use of the vaccine, followed by the Democratic Republic of Congo. Health officials in Bangkok have since given the green light for AstraZeneca jabs to be administered and the Thai prime minister has received a dose.
Estonia, Lithuania, Luxembourg and Romania have stopped using particular batches while an investigation continues.
On Sunday, Ireland "temporarily deferred" the rollout of the AstraZeneca Covid vaccine following a recommendation by Irish health officials.
Prof Karina Butler, chair of Ireland's National Immunisation Advisory Committee, called it a "precautionary move".
She said: "This vaccine is proven to be very effective against severe Covid-19 disease, which is associated with a risk of clotting events. We have taken this step out of an abundance of caution."
The Netherlands also said on Sunday that it was suspending use of the vaccinations as a precaution for two weeks.
On Monday, Germany, Italy, Spain and France announced they were pausing administration of the AstraZeneca jab as a "precaution" until an EMA ruling which could come on Tuesday afternoon.
Meanwhile, prosecutors in the northern Italian region of Piedmont said they had seized a batch of 393,600 doses of the AstraZeneca vaccine following the death of a man hours after he had received a jab.
By Tuesday, Sweden and Latvia followed suit with a temporary pause on all AstraZeneca jabs.
World news in pictures

Show all 50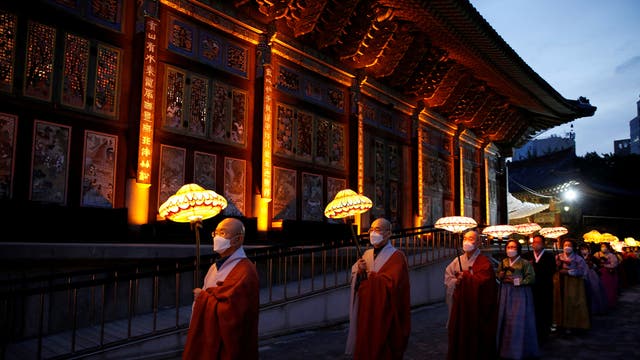 Why have they suspended AstraZeneca vaccines?
The rollout of the AstraZeneca vaccine has been affected by reports of possible harmful effects centering on blood clotting.
Serious clotting in adults in Norway left several people in hospital and there were also reports of lowered levels of blood platelets in people aged under 50.
As of 10 March, 30 cases were reported in the EMA's database of side effects following vaccination of close to 5 million people in the European Economic Area.
Reported cases include a 57-year-old woman from a village in southern Bulgaria who died of heart failure 15 hours after receiving an AstraZeneca jab.
In Austria, a 49-year-old woman died as a result of severe coagulation disorders, while a 35-year-old woman developed a pulmonary embolism and is recovering.
However, nearly every country that has issued a suspension has acknowledged that it has no evidence to prove that the vaccine caused the blood clots.
Health experts have pointed out that the people most likely to currently be receiving Covid vaccinations are also more likely to have other health problems, which could put them at higher risk for blood clots.
What do the experts say?
The overwhelming scientific opinion is that there is no certain link between blood clots and the vaccine, and the reported cases could easily be coincidental.
Most argue the risks from Covid-19 far outweigh any potential side-effects from the jab, with many saying blood clots are fairly common, regardless of vaccination.
The WHO has said it is looking into the issue but said there was no reason not to use the drug, while Europe's EMA medicines regulator backed it and said the benefits outweigh the risks.
Dr Kate O'Brien, who heads the WHO's department of immunisations and vaccines, told a news conference: "I think the reassurance to the public is that regardless of whether or not the committee ultimately assesses that there may be an association between these events and the vaccine, that in any event, these are very rare events."
Britain's medicines regulator also said it had not received any reports of blood clots in people that were caused by the AstraZeneca vaccine. More than 11 million doses of AstraZeneca have been administered in the UK.
Dr Phil Bryan, vaccines safety lead for the UK's Medicines and Healthcare products Regulatory Agency, said: "Reports of blood clots received so far are not greater than the number that would have occurred naturally in the vaccinated population."
England's deputy chief medical officer, Professor Jonathan Van-Tam, said there is no evidence of increased risk of blood clots with the AstraZeneca jab, adding that "vaccines don't save lives if they're in fridges".
"Behind the scenes, there is a lot of work going on to look at whether there is a signal in relation to what we call venous thromboembolic events, clots, VTE for short," he told a Downing Street briefing on 17 March. "There's a lot of evidence emerging now that is reassuring, that there is no overall excess signal or increased risk. I expect, without prejudice to their absolute findings, those to be the final conclusions of the EMA and the MHRA in due course."
He added: "So, no evidence of increased risk, but ... a lot of evidence that the vaccine is actually saving lives."
The head of Oxford University's vaccine group, Andrew Pollard, said there was "very reassuring evidence that there is no increase in a blood clot phenomenon here in the UK, where most of the doses in Europe have been given so far".
He said it was important that reports of blood clotting were looked at closely but cautioned that the UK alone would ordinarily see around 3,000 cases of blood clots every month. 
"When you put a vaccination campaign on top of that, clearly those blood clots still happen, and then you've got to separate out when they occur whether they are at all related to the vaccine or not," he said.
Silvestro Scotti, a doctor in Naples and head of the Italian Federation of General Practitioners, said: "The crazy thing is that, even if the correlation between the vaccine and blood clots were proved, it would be a rate of 0.007 out of 1,000.
"To give an example: the birth control pill, which is used widely and doesn't worry anyone, has a proven risk rate of 0.6 in 1,000. Even in the worst-case scenario, the risk/benefit ratio for this vaccine is extraordinarily favourable. That needs to be explained to people."
Stephen Evans, professor of pharmacoepidemiology at the London School of Hygiene and Tropical Medicine, described the suspension of vaccinations as a "super-cautious approach based on some isolated reports in Europe".
He said: "The problem with spontaneous reports of suspected adverse reactions to a vaccine are the enormous difficulty of distinguishing a causal effect from a coincidence.
"This is especially true when we know that Covid-19 disease is very strongly associated with blood clotting and there have been hundreds if not many thousands of deaths caused by blood clotting as a result of Covid-19 disease. The first thing to do is to be absolutely certain that the clots did not have some other cause, including Covid-19.
"A sensible approach is to investigate and be sure that the benefit and risk balance is in favour of the vaccine.
"Since we know with great certainty that the vaccine prevents Covid-19 with its attendant disease, and we are almost totally uncertain that the vaccine can have caused this problem, the risk and benefit balance is still very much in favour of the vaccine in my view.
"If, however, there is no shortage whatsoever of alternative vaccines, then an extreme precautionary approach as taken in Denmark may be justified; if however this action stops some people getting the vaccine who are then vulnerable to Covid-19, then it is a mistaken use of precaution.
"As far as one can tell there has not been a 'signal' of such problems in the UK and even if there were a 'signal', based on spontaneous reports, there needs to be a proper, rapid, epidemiological study to see if it is coincidence or not."
Coronavirus: Empty streets across the world

Show all 29
What does AstraZeneca say?
The British-Swedish pharmaceutical company said it had found no evidence of an increased risk of pulmonary embolism or deep vein thrombosis after analysing safety data.
In a statement published on their website, AstraZeneca said: "A careful review of all available safety data of more than 17 million people vaccinated in the European Union and UK with Covid-19 Vaccine AstraZeneca has shown no evidence of an increased risk of pulmonary embolism, deep vein thrombosis (DVT) or thrombocytopenia, in any defined age group, gender, batch or in any particular country.
"So far across the EU and UK, there have been 15 events of DVT and 22 events of pulmonary embolism reported among those given the vaccine, based on the number of cases the Company has received as of 8 March.
"This is much lower than would be expected to occur naturally in a general population of this size and is similar across other licensed Covid-19 vaccines.
"Furthermore, in clinical trials, even though the number of thrombotic events was small, these were lower in the vaccinated group. There has also been no evidence of increased bleeding in over 60,000 participants enrolled."
The company also said there were no confirmed issues related to any batch of their vaccine used across Europe, or the rest of the world.
"Additional testing has, and is, being conducted by ourselves and independently by European health authorities and none of these re-tests have shown cause for concern," they said.
"During the production of the vaccine more than 60 quality tests are conducted by AstraZeneca, its partners and by more than 20 independent testing laboratories.
"All tests need to meet stringent criteria for quality control and this data is submitted to regulators within each country or region for independent review before any batch can be released to countries."
Ann Taylor, AstraZeneca's chief medical officer, added: "The nature of the pandemic has led to increased attention in individual cases and we are going beyond the standard practices for safety monitoring of licensed medicines in reporting vaccine events, to ensure public safety."
What is the EMA investigating?
Europe's medicines regulator is primarily concerned about cases of blood clots in the head, a rare condition called cerebral venuouss thrombosis (CVT).
It is also investigating reports of 30 cases of unusual blood disorders, out of 5 million people who have received the AstraZeneca jab in the EU.
The EMA will assess the likelihood of an increased risk of the condition and weight that against the benefits of fighting Covid-19 and providing relief for health systems. It has said it remains for now "firmly convinced" that the benefits of the AstraZeneca vaccine outweighs any risks.
Additional reporting by agencies
Join our new commenting forum
Join thought-provoking conversations, follow other Independent readers and see their replies