Billy Caldwell: Medical cannabis oil named after 11-year-old boy with severe epilepsy
Billy used to have up to 100 seizures per day, but is now 250 days seizure-free after having product prescribed on NHS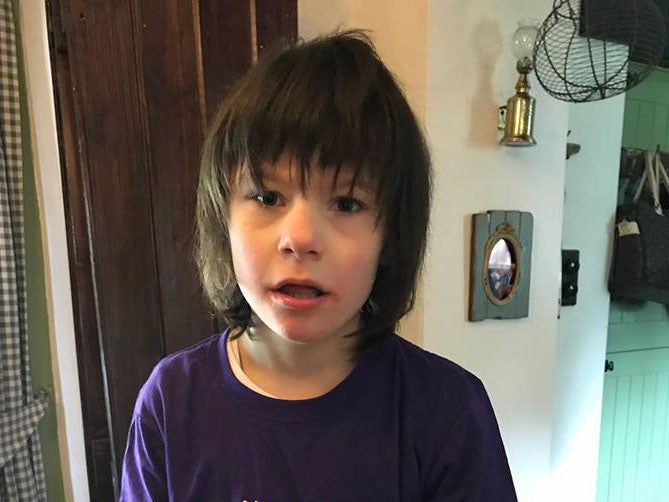 An 11-year-old boy with severe epilepsy has become the poster child for a "miraculous" medical marijuana product after his family claim it saved his life.
Billy Caldwell began taking cannabis oil for his seizures after seeing a childhood epilepsy expert in California, where medical marijuana is legal, last year.
When he returned home to Northern Ireland, he became the first person to receive an NHS prescription for medical marijuana in the UK.
Now the medicine, which contains a compound found in cannabis plants known as CBD, has been named Billy's Bud after the youngster.
Charlotte Caldwell, Billy's mother, said his family was "crying happy tears" over his "incredible" progress.
"I just feel absolutely over the moon that at last we can announce some good news, it's been a real struggle for us," she told The Independent.
"This is massive. This little bottle of oil has actually done this for my little boy, so the company said they wanted to name the oil after Billy - we're just absolutely honoured and privileged, these people saved Billy's life. It's incredible."
Billy suffers from status epilepsy, a severe form which means he is unable to come out of seizures by himself.
In June 2016, Ms Caldwell took Billy to a specialist epilepsy centre in Los Angeles where they found a lesion on the left temporal lobe of his brain.
Due to its positioning, doctors were unable to operate without causing catastrophic damage to his speech and memory. Instead, he was referred to a medical cannabis specialist.
"Billy tried it for eight months, supervised by a medical doctor, it took a while but it worked," Ms Caldwell said.
"Before, Billy could have had up to 100 seizures per day, he was dying. Billy is now 250 days seizure free - it's just incredible."
Billy from Castlederg, Northern Ireland, also suffers from autism, which Ms Caldwell said has also improved with use of the oil.
"His eye contact has got really good, he used to have to wear special needs boots to support his ankles, but now he is wearing trainers," she said.
"For some parents this wouldn't be a big deal but for us it was massive. His balance and his walking is so much better, he can now go up and down steps whereas before he couldn't do that, his concentration has got much better, before he couldn't concentrate for long."
Scientists have called for further research into the medical use of marijuana – an "area of huge untapped potential", according to an Oxford associate professor involved in a new academic programme in the field.
Health news in pictures
Show all 40
But they have also warned stories such as Billy's do not prove the efficacy of cannabis as a medicine until properly controlled clinical trials have taken place, as there could be a number of reasons for a patient's recovery.
The oil was supplied by Dublin-based pharmaceutical start-up GreenLight Medicines, which develops cannabis-based medicine.
Cannabis is a Class B drug in the UK, but the cannabidiol CBD, which does not create the 'high' associated with recreational use, is legal and has been reclassified as a medicine by the Medicines & Healthcare products Regulatory Agency (MHRA).
Billy currently takes two types of cannabis oil – one containing CBD and the other made from the compound tetrahydrocannabinolic acid (THCA), which is illegal in the UK due to its association with the psychoactive effects of cannabis.
Billy's Bud will be legal in the UK and available for purchase worldwide.
Currently there is one licenced cannabis-based medicine in Britain, designed to reduce muscle spasms in people with multiple sclerosis (MS).
The mouth spray, called Sativex, contains two chemical extracts taken from the cannabis plant.
It was licenced for use in the UK in 2010, but is not usually available on the NHS in England as it is deemed too expensive. It is, however, available to MS patients in Wales.
Epilepsy, a brain condition that causes recurrent seizures, affects around 600,000 people in the UK, according to charity Epilepsy Action.
Join our commenting forum
Join thought-provoking conversations, follow other Independent readers and see their replies