New breast cancer blood test could improve treatment options in more serious cases
'Liquid biopsy' detects tumour DNA and can track alterations in 13 different genes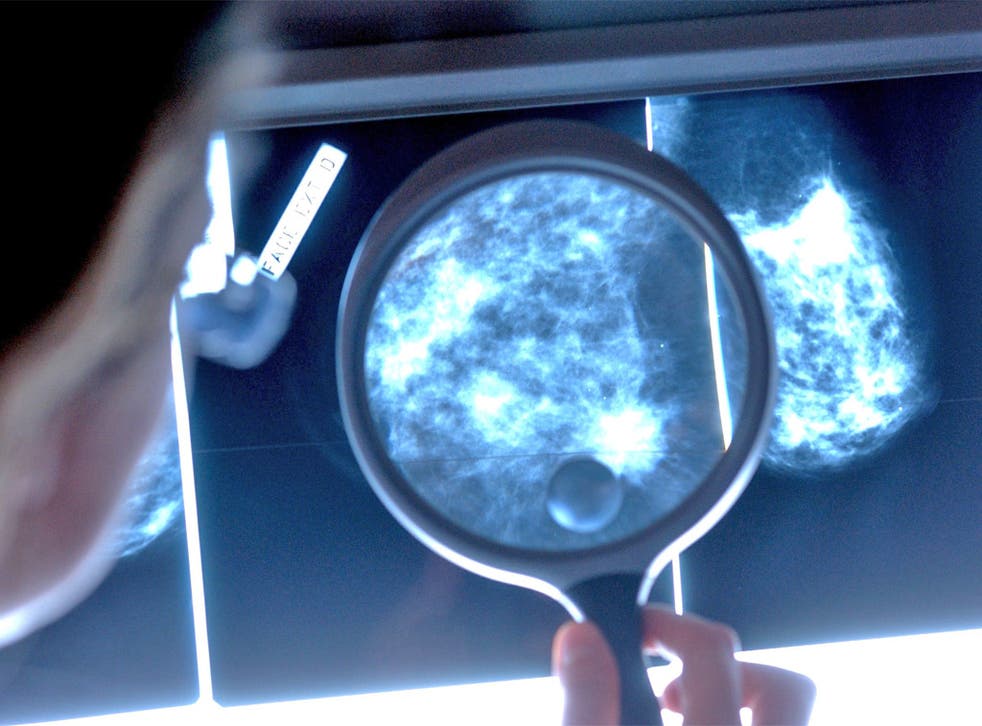 Women with advanced stages of breast cancer could receive potentially life-extending personalised treatment after taking a new blood test that detects tumour DNA.
The test, known as a "liquid biopsy", can detect and track alterations in 13 different genes, including some of the most important drivers of the disease.
Breast cancer is the most common type of cancer in the UK, with around 150 new cases diagnosed every day.
For patients whose cancer has spread beyond the breast and nearby glands – the most deadly stage of the disease – the new test could be used to improve and individualise their treatment as the disease progresses, researchers have said.
Around 10 per cent of women have metastatic, or stage four, breast cancer at the time of their diagnosis, according to cancer support charity Macmillan. The average survival rate is around two years.
This is the first time scientists have been able to analyse two kinds of acquired DNA mutation in a single blood test.
The study, published in the journal Clinical Chemistry, described how the researchers first looked at cells grown in a laboratory before analysing DNA in blood donated by 42 women with advanced breast cancer.
Five nutrition lies ruining your health
Cancer-specific genetic changes were detected in half the women. In the case of one in five patients, information from the tumour DNA could have been used to alter treatment.
None of the mutations were found in the blood of nine healthy women that was also tested.
One gene that can be examined for changes using the new blood test is called HER2. It usually makes proteins that control the growth of healthy breast cells, but also plays a role in the development of around 15 to 25 per cent of breast cancer cases.
These "HER2 positive" breast cancers can be targeted with the drug Herceptin.
In addition, the test can spot mutations in the oestrogen receptor gene ESR1, linked to resistance to anti-hormone therapies such as aromatase inhibitors.
Once a patient is known to have these mutations, she can be offered other forms of treatment such as chemotherapy.
"By analysing blood plasma to measure for cancer-specific changes to key breast cancer genes – including the HER2 and oestrogen receptor genes – we hope this test could help doctors and patients choose the best treatment at the best time," said Dr David Guttery, from the University of Leicester.
Somatic "point" mutations occur when DNA molecules are shuffled in the wrong order. Copy number alterations (CNA) are another type of mutation involving extra copies of genes that produce too much protein.
"We have developed a novel blood test that can simultaneously detect somatic mutations and copy number alterations that are integral in driving the growth of breast cancer," said Dr Guttery.
"This study represents proof of concept, and further validation is now needed to confirm the clinical usefulness of this test before any test could be rolled out."
Health news in pictures

Show all 40
The study was funded by two charities, Breast Cancer Now and Cancer Research UK.
Baroness Delyth Morgan, chief executive of Breast Cancer Now, said: "If validated by further research, this blood test could help tell us how a patient's secondary breast cancer is evolving.
"Analysing the genetic make-up of tumours could enable us to identify women who might benefit from changing their treatment, ensuring that breast cancer patients receive the most personalised therapy possible."
Dr Justine Alford, senior science information officer at Cancer Research UK, said: "While survival for women with early breast cancer has greatly improved, the outlook for patients with advanced disease is still poor, something we urgently need to change. This early research could help achieve this.
"The researchers may have developed a way to track breast cancer as it grows, allowing doctors to act swiftly and give patients the treatments that are right for them as early as possible. On top of that, such a tailored approach could spare patients receiving drugs, and the side effects that go with them, that aren't likely to work."
Additional reporting from Press Association
Register for free to continue reading
Registration is a free and easy way to support our truly independent journalism
By registering, you will also enjoy limited access to Premium articles, exclusive newsletters, commenting, and virtual events with our leading journalists
Already have an account? sign in
Register for free to continue reading
Registration is a free and easy way to support our truly independent journalism
By registering, you will also enjoy limited access to Premium articles, exclusive newsletters, commenting, and virtual events with our leading journalists
Already have an account? sign in
Join our new commenting forum
Join thought-provoking conversations, follow other Independent readers and see their replies