NHS no deal Brexit plans will be activated 'before Christmas' if MPs vote down May's deal, health secretary says
Matt Hancock also fails to 'guarantee' no deal would not lead to deaths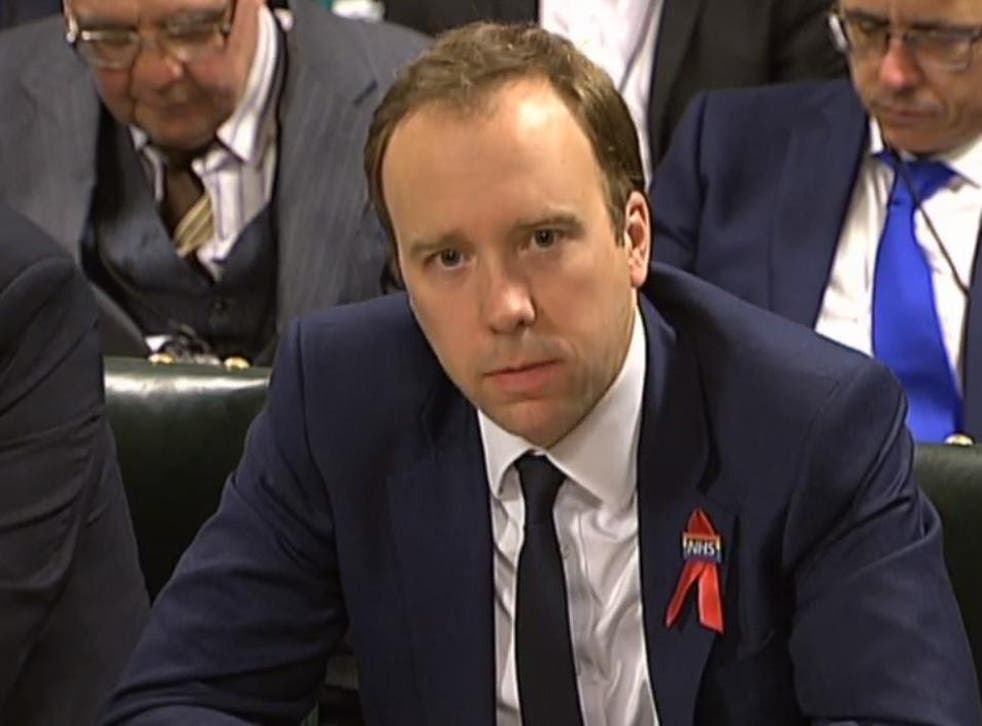 Contingency plans to ensure the supply of medicines and other health services will be triggered before Christmas if Theresa May's Brexit deal fails to get MP's backing next month, the head of NHS England has admitted.
Simon Stevens, told the Commons Health Committee that plans for a no deal Brexit, some costing "tens of millions of pounds", would need activating within weeks if the transition plan is voted down on 11 December.
Contracts to take on additional warehouses and refrigerator capacity for drug stockpiles and other biological materials would be included in these expenses.
"In my view, the planning has been extensive, but aspects of these plans will need to be given the go ahead this side of Christmas and some early in the New Year," Mr Stevens said. "Contingencies that have been drawn up by pharmaceutical and other companies, are pretty well advanced but there are particular instructions that we would need to issue to GPs, NHS hospitals and others.
"Over time the NHS will adjust to any new arrangement, but in terms of transitions, there are a set of decisions that need to be made this side of, or very shortly after, Christmas to mitigate some of the ongoing issues we've discussed."
His comments came a week after leaked reports suggested that health and social care secretary Matt Hancock told a cabinet meeting that people would die in the event of a no deal.
UK news in pictures

Show all 50
Asked about these remarks by the committee, Mr Hancock said that the government "doesn't comment on leaks" but nonetheless insisted that he had been misquoted.
Asked if that meant he could guarantee there would not be additional deaths in the event of a no deal he said: "As my permanent secretary tells me, we shouldn't use words like guarantee."
He added: "We have been very clear that if everyone does what they need to do we can guarantee supply," he said of the contingency plans."
Mr Hancock also maintained that he was "quite prepared to spend reasonable amounts of money" on preparations to avert the worst consequences if the UK leaves without a deal on 29 March 2019.
He said the government had nearly concluded the contract negotiations for providing additional cold storage capacity in the NHS and had already asked drug makers to stockpile six weeks of medicines.
"There are different costs at different points," he said. "The low tens of millions of pounds will be activated when we sign the tender to start building additional refrigeration capacity. I'd rather not spend money that isn't going to be used, but there's endless areas of the health services that we spend money we don't want to be used."
He also confirmed to the committee's chair Conservative Dr Sarah Wollaston that the £20.5bn "Brexit dividend" for the NHS would occur "come what may" and was not dependent on leaving the EU.
Register for free to continue reading
Registration is a free and easy way to support our truly independent journalism
By registering, you will also enjoy limited access to Premium articles, exclusive newsletters, commenting, and virtual events with our leading journalists
Already have an account? sign in
Register for free to continue reading
Registration is a free and easy way to support our truly independent journalism
By registering, you will also enjoy limited access to Premium articles, exclusive newsletters, commenting, and virtual events with our leading journalists
Already have an account? sign in
Join our new commenting forum
Join thought-provoking conversations, follow other Independent readers and see their replies