GPs could start performing caesarean births under proposals for stretched maternity unit
Proposal modelled on a rural delivery service where mothers may not be able to reach a hospital, branded 'unsafe' by GPs
Alex Matthews-King
Health Correspondent
Sunday 30 September 2018 21:06 Comments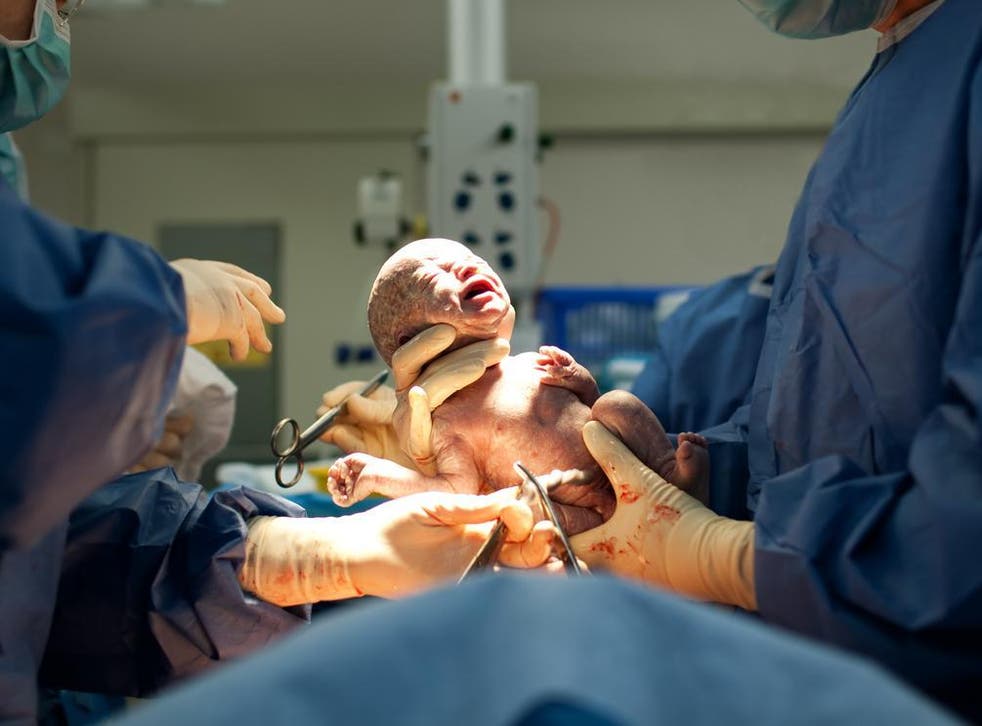 GPs should be given extra training on performing caesarean sections, according to a proposal being considered by managers of a health trust for staffing a local maternity unit.
One of nine options being considered by Oxfordshire health chiefs, the proposal is modelled on a rural or remote maternity service where women may not be able to access a dedicated obstetrician at short notice.
It is hoped that this could address a serious shortage of obstetricians that led to caesarean births and other procedures at Horton General Hospital, Banbury, being suspended over safety concerns.
Local doctors however, called the proposal "unsafe" and said it would also be hampered by a national shortage of GPs.
The scheme was debated at a meeting of the Horton Health Overview and Scrutiny Committee, which campaigners hope will allow a fully staffed labour and delivery service to be reinstated at the Hospital.
But Oxfordshire Cinical Commissioning Group (CCG) said that it had not yet shortlisted any options and all suggestions submitted by the public and other stakeholders were included at this early stage "for completeness".
Horton General Hospital (HGH) maternity service has not had a consultant-led birth unit since 2016, meaning women requiring more complex care or a caesarean have to travel from Banbury to John Radcliffe Hospital (JRH) in Oxford – 45 minutes further away.
The CCG had applied to make the change permanent after a recruitment drive was unable to uncover any more doctors.
However, an intervention from former health secretary Jeremy Hunt in March 2018 ordered a "more detailed appraisal of the options" before the unit was downgraded permanently.
NHS at 70: demonstration and celebration march to mark anniversary

Show all 18
In a letter, Mr Hunt recommended that Oxfordshire Clinical Commissioning Group (CCG) and Oxfordshire University Hospitals NHS Foundation Trust should not proceed without first consulting councillors and patients in neighbouring south Warwickshire and Northamptonshire who also use the hospital.
The proposals were spotted among meeting documents by the Banbury Guardian. They state: "This means there would be obstetric units at the John Radcliffe Hospital and Horton General Hospital. The staffing model at the HGH would be specialist GPs – local GPs given extra training to be able to perform caesarean sections – with access to on-call support from the JRH."
Other options would see only elective caesareans or other procedures where there isn't a medical complication or necessity, carried out at the Horton site.
But local GP Dr Hugh Gillies told the paper: "GPs are not a safe alternative to experienced middle grade obstetricians. It's not a viable option and anyway, there would not be enough GPs to cover 24-hours a day."
A spokesperson for Oxfordshire CCG said: "We have included the views of public and stakeholders about potential options for the delivery of obstetrics at the Horton General Hospital. As such, one of the options included is modelled on something similar to that described by the National Maternity Review - Better Births as a remote and rural service.
"Out of respect to those who suggested this option, it has been included at this early stage (before shortlisting) for completeness as part of the work to address the Secretary of State's recommendations on obstetric services at the Horton General Hospital."
Register for free to continue reading
Registration is a free and easy way to support our truly independent journalism
By registering, you will also enjoy limited access to Premium articles, exclusive newsletters, commenting, and virtual events with our leading journalists
Already have an account? sign in
Register for free to continue reading
Registration is a free and easy way to support our truly independent journalism
By registering, you will also enjoy limited access to Premium articles, exclusive newsletters, commenting, and virtual events with our leading journalists
Already have an account? sign in
Join our new commenting forum
Join thought-provoking conversations, follow other Independent readers and see their replies