Blood test for cancer that is 10 times more sensitive developed by scientists
Development could lead to pinprick test that can be administered at home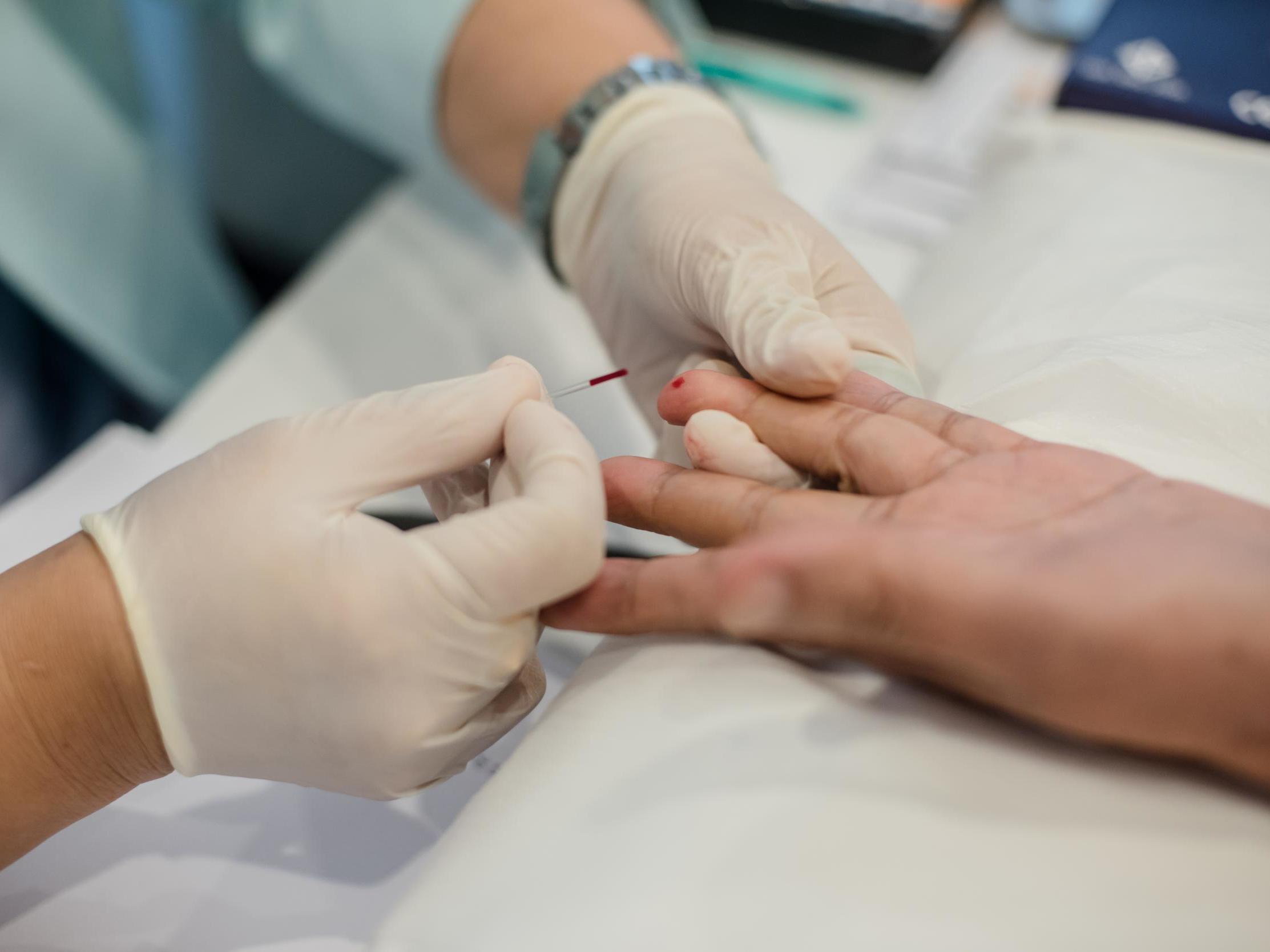 A new blood test for cancer that is 10 times more sensitive than existing technology has been developed by Cambridge scientists – potentially paving the way for pinprick tests that can tell whether patients are relapsing.
The scientists developed the approach using personalised genetic testing of a patient's tumour to search blood samples for hundreds of genetic mutations in tumour DNA released by cancer cells into the bloodstream.
The technique is so sensitive that in some cases experts pinpointed a single mutant DNA molecule among a million pieces of DNA. They say it could lead to tests that more accurately determine if a patient is likely to relapse after having treatment.
Nitzan Rosenfeld, senior group leader at the Cancer Research UK Cambridge Institute, who led the team at Cambridge University carrying out the research, said: "Personalised tests that can detect if cancer is still present, or find it early if it is returning, are now being tested in clinical trials.
"While this may be several years away from clinical use, our research shows what is possible when we push such approaches to an extreme.
"At present this is still experimental, but technology is advancing rapidly, and in the near future tests with such sensitivity could make a real difference to patients."
Detecting circulating tumour DNA in blood samples is known as a liquid biopsy and is a key part of monitoring patients, in particular after they have received treatment, as it can show if it has been successful or if they are at risk of a relapse.
However, the approach is dependent on having a high enough number of mutant pieces of DNA to detect. If it is too low, it could produce a negative test even if patients have residual cancer.
The research, published in the journal Science Translational Medicine, said that, by analysing the genetic make-up of an individual's tumour and targeting personal mutations, the biopsies can become more sensitive.
Until recently, liquid biopsies searched for up to 100 mutations at most, but the new technique looks for hundreds and sometimes thousands of mutations in each blood sample, increasing the chances of success.
Researchers hope the approach will eventually mean less blood is required, enabling tests to be carried out on pinprick blood samples carried out by patients at home and sent to a laboratory for analysis.
This would mean patients travelling fewer times to hospital for checks and allow them to be tested more often.
Michelle Mitchell, chief executive of Cancer Research UK, which funded the research, said: "Liquid biopsies have the potential to revolutionise all aspects of cancer care from early detection to personalised treatment and monitoring."
Join our commenting forum
Join thought-provoking conversations, follow other Independent readers and see their replies