CBD in cannabis could reduce psychosis risk from high strength skunk, study shows
Buffer effect could point to a protective mechanism that may help 'treat disorders like psychosis and addiction'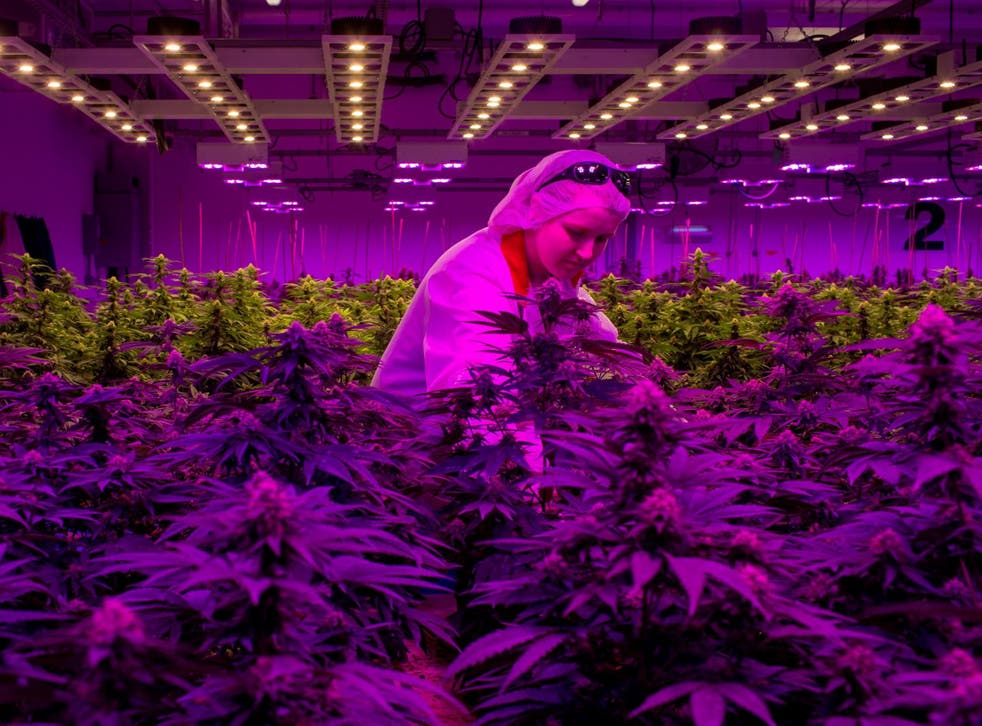 Cannabidiol (CBD), a chemical derived from the cannabis plant, can counteract the effects of high strength "skunk" strains and may help to reduce the risk of serious mental health conditions like psychosis, according to a new study.
After using scans to study the effects of different strains of cannabis on the brain for the first time, the team from the University College London said boosting levels of CBD could act as a "buffer" to ill effects.
They found that strains with the same level of THC, the chemical which causes users to get "stoned", but higher CBD caused less disruption to parts of the brain linked to addiction and psychosis.
Users also reported a reduction in feelings of being high and experts said this lent support to using high-CBD strains for medicinal uses.
"Over the last two decades, rates of addiction and psychosis linked to cannabis have been on the rise, while at the same time stronger strains of cannabis with more THC and less CBD have become increasingly common," said Dr Matt Wall, lead author of the study which was published in the Journal of Psychopharmacology.
Health news in pictures

Show all 40
He added: "We have now found that CBD appears to buffer the user against some of the acute effects of THC on the brain."
Cannabis contains hundreds of chemicals known as cannabinoids, with THC (tetrahydrocannabidiol) being the most abundant in modern strains followed by CBD.
In the UK, where recreational cannabis remains illegal and medicinal use in its infancy, the prevalence of skunk has been blamed for London having the highest rates of psychosis in Europe.
Meanwhile CBD oils are increasingly sold in health shops for an array of ailments despite limited evidence, thanks in part to decades of prohibition.
The UCL trial used MRI scans to study activation of different parts of the brain after using two strains, equivalent to a "skunk" strain with low CBD and a higher level.
It found that the low-CBD "skunk" strain disrupted signals from neurons in a region of the brain called the posterior cingulate and this led to users reporting feeling more stoned.
There was also interference in the network of neurons which underpin emotional and sensory information, known as the salience networks.
Support free-thinking journalism and attend Independent events
Disrupting these areas has been linked to addiction and psychosis, but CBD helped alleviate this and could point to a protective or medicinal use.
"If CBD can restore disruption to the salience network, this could be a neuroprotective mechanism to explain its potential to treat disorders of salience such as psychosis and addiction," said Professor Val Curran.
Register for free to continue reading
Registration is a free and easy way to support our truly independent journalism
By registering, you will also enjoy limited access to Premium articles, exclusive newsletters, commenting, and virtual events with our leading journalists
Already have an account? sign in
Register for free to continue reading
Registration is a free and easy way to support our truly independent journalism
By registering, you will also enjoy limited access to Premium articles, exclusive newsletters, commenting, and virtual events with our leading journalists
Already have an account? sign in
Join our new commenting forum
Join thought-provoking conversations, follow other Independent readers and see their replies