High carbohydrate, low protein diets may help people stay mentally fit in old age, study shows
With no treatment for dementia in sight 'it's exciting that we are starting to identify diets that are impacting how the brain ages', authors say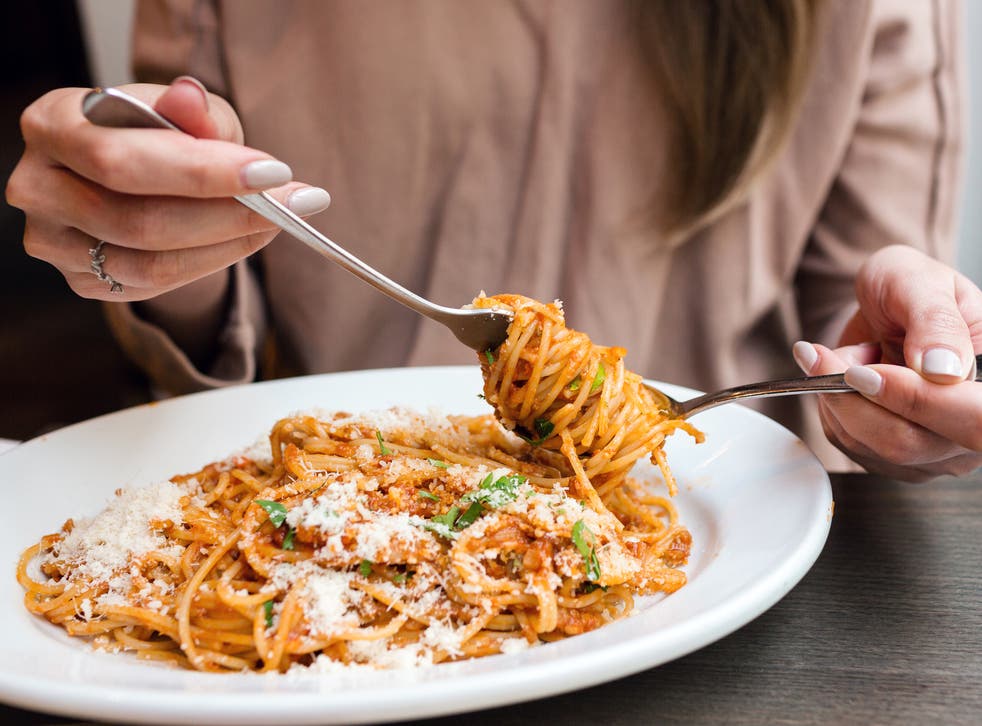 Diets which allow comfort foods like pasta, toast and other carbohydrates but limit red meat and protein may help keep dementia at bay, according to a study on brain ageing.
Despite the popularity of low-carb living among health fanatics and those seeking to maintain a trim figure, it appears the secret to keeping mentally fit in your later years might lie in restricting protein, researchers in Australia found.
While the study was conducted in mice, it is modelled on diets in parts of the world with some of the longest healthy life expectancy, such as Okinawa in Japan and in the Mediterranean.
It found that diets where protein was kept to around 5-10 per cent but calories from carbohydrates were increased had the best results. The authors say this could be a more palatable option than giving up starchy staples.
"There are currently no effective pharmaceutical treatments for dementia – we can slow these diseases, but we can't stop them – so it's exciting that we are starting to identify diets that are impacting how the brain ages," said Devin Wahl, author of the study published in the journal Cell Reports.
Mice were fed a calorie-controlled diet where fat intake was fixed but starchy carbohydrates and protein, from the casein protein that is found in cheese and milk, varied.
Mice on the lowest protein diet performed best in problem solving tests in mazes at all ages, though the best results were seen in females. They also studied their hippocampus, the region of the brain responsible for learning and memory.
"The hippocampus is usually the first part of the brain to deteriorate with neurodegenerative diseases like Alzheimer's," said Professor David le Couteur, who led the study at the University of Sydney.
"However, the low-protein high-carbohydrate diet appeared to promote hippocampus health and biology in the mice, on some measures to an even greater degree than those on the low-calorie diet."
Very low calorie diets have been extensively studied as a way to live longer, and crucially to avoid mental decline and Alzheimer's in later life.
Portraits of people living with dementia around the world

Show all 8
However the most robust results have come from nuns and religious orders who regularly fast, with the monastic devotion to calorie restriction making the diet unsuitable for improving the health of the general population.
"The majority of people have a hard time restricting calories, especially in Western societies where food is so freely available," Mr Wahl added.
"It shows a lot of promise that we have been able to replicate the same kind of gene changes in the part of the brain responsible for memory that we also see when we severely restrict calories."
The group has previously shown how low-protein high-carbohydrate diets can increase life expectancy, largely by promoting healthier hearts, and this study adds to these findings.
In particular they found that mice on the 5 per cent protein diet had higher levels of a hormone called FGF-21, which is closely linked with reduced risk of heart disease, as well as metabolic conditions like diabetes and obesity.
The latter two conditions increase the risk of dementia which can be caused by strokes and heart attacks that deprive the brain of oxygen, as well as long term damage from elevated blood pressure that can harm the fine capillaries in the brain.
Dr James Pickett, head of research at Alzheimer's Society, said: "This diet appears to promote some aspects of healthy brain ageing in mice, but we don't know if it would have the same effects in people or whether it could impact the risk of developing dementia.
"Although this study looked at brain ageing generally and not dementia specifically, mounting evidence highlights the relationship between lifestyle factors such as diet and dementia risk, so Alzheimer's Society is funding a long-term study of 700 people at risk of dementia to better understand these links.
"With nothing yet to slow or stop dementia, prevention is key – and we know simple changes like eating healthily and exercising regularly can reduce our risk, so why not swap box sets and biscuits for a brisk walk."
Join our new commenting forum
Join thought-provoking conversations, follow other Independent readers and see their replies