The Independent's journalism is supported by our readers. When you purchase through links on our site, we may earn commission.
Children needing specialist mental health treatment up by a third over three years
'Schools are increasingly referring children for specialist mental health treatment, often when the child is at crisis point'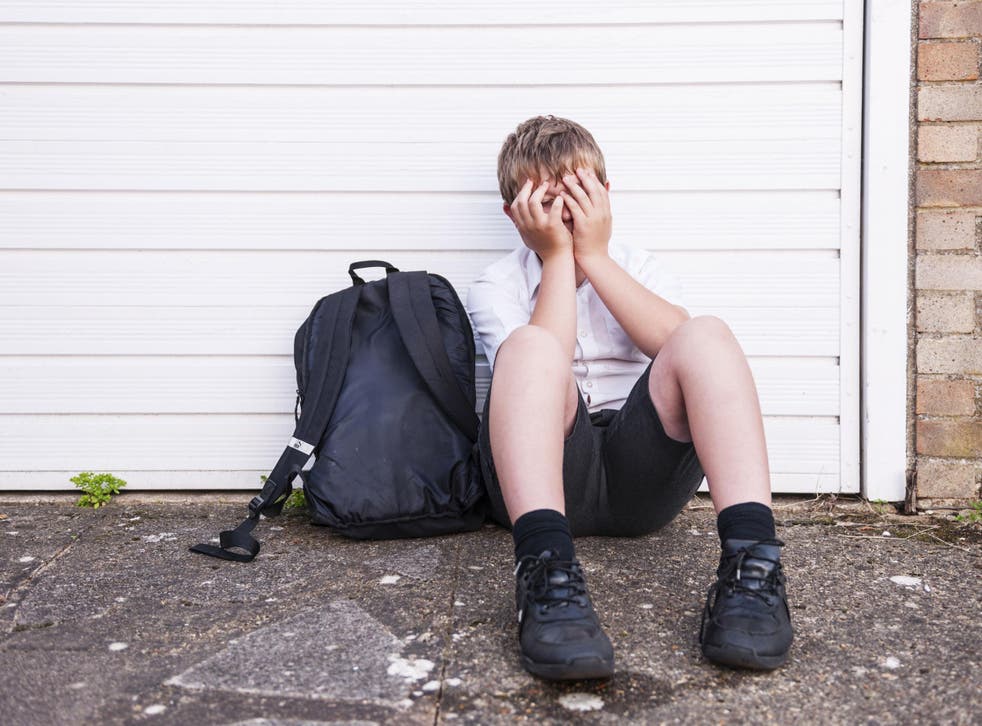 The number of children referred by their schools for mental health treatment has spiked by a third in the past three years.
Of those referred, nearly a third were denied treatment as they did not meet the criteria for support, leading to calls for more funding to help children who are struggling.
These figures were obtained through a Freedom of Information request to NHS Trusts in England made by the National Society for the Prevention of Cruelty to Children (NSPCC).
The charity has warned that an increased demand for mental health services from young people, combined with the lack of funding and services, could be putting thousands of children at risk.
Of the nearly 124,000 referrals NHS Child and Adolescent Mental Health Services (CAMHS) made since 2014-2015, 56 per cent came from primary schools.
Over this period, CAMHS referrals have been increasing steadily, with close to 200 on average being made every day over the past year.
"Our research shows schools are increasingly referring children for specialist mental health treatment, often when the child is at crisis point," said Peter Wanless, chief executive of the NSPCC.
Last year the government pledged to reform mental health services for children with a £300m injection.
However, a recent report by two select committees, Education and Health and Social Care, concluded the current plan "lacks ambition and will provide no help to the majority of children who desperately need it."
UK news in pictures

Show all 50
Due to the slow rollout of the government's plans, the authors concluded support would only reach between a fifth and a quarter of the country by 2022-2023.
"Young people are falling through the gaps and not receiving the services they need as they enter adulthood," the report stated.
To deal with the increase in demand for mental health services, the NSPCC has called for the government to increase the funding it provides to Childline – a specialist counselling service provided by the charity for children and young people.
Over the past four years, the service has seen a 26 per cent increase in the number of counselling sessions it provides to children with mental health issues.
"Childline plays a vital role in supporting children with their mental and emotional health, and many turn to us when they are struggling to get access to specialist treatment," said Mr Wanless.
"We have seen a marked increase in counselling about mental health, and fully expect it to continue.
"It is vital that government urgently provides more funding to Childline and helps children who don't have access to support elsewhere."
Chiming with the new figures obtained by the NSPCC showing the number of children being denied treatment, some young people have told Childline they have only received support when they reach crisis point.
One 17-year-old girl told Childline: "I suffer with anxiety and panic attacks and find it difficult to leave the house or get out of bed.
"I was referred to CAMHS but I was on a waiting list for eight months and during that time my anxiety got worse so I never went because I was too scared."
Some callers have had to ask Childline counsellors to act on their behalf to get help faster.
Dame Esther Rantzen, founder and president of Childline, said: "Young people are telling us they are overwhelmed with mental health issues, such depression and anxiety, which is taking many of them to the brink of suicide.
"Our counsellors are literally saving lives, and it concerns us that we cannot help every child who desperately needs us.
Time to Change 'Be in Your Mate's Corner'- campaign highlights the importance of talking about men's mental health
"We must make sure that Childline is adequately funded so it isn't left vulnerable and can be there for the children who have nowhere else to turn."
The NSPCC and four young campaigners handed a petition containing over 22,000 signatures to Number 10 calling for more funding to Childine as part of their "Are You There?" campaign.
In response to the calls for more support from the NSPCC, a government spokesperson said: "Making sure children and young people get the right support when they need it is imperative.
"That is why we are allocating £300m, over and above the additional £1.4bn being invested in specialist services, to provide more support linked to schools. This includes new mental health support teams to provide trained mental health workers to work closely with schools – including primary schools – to provide quicker support to children.
"We know we need to do more which is why we have extended our schools and NHS link pilot to deliver training in 20 more areas of the country this year. This will improve links between up to 1,200 schools and their local specialist mental health service."
In response to the select committees' report released in early May, a government spokesperson said they "completely reject any suggestion that our plans lack ambition".
For confidential support call Samaritans on 116 123.
If you have been affected by this story, you can contact the following organisations for support:​
www.childline.org.uk/
www.mind.org.uk/
www.nhs.uk/livewell/mentalhealth
Register for free to continue reading
Registration is a free and easy way to support our truly independent journalism
By registering, you will also enjoy limited access to Premium articles, exclusive newsletters, commenting, and virtual events with our leading journalists
Already have an account? sign in
Register for free to continue reading
Registration is a free and easy way to support our truly independent journalism
By registering, you will also enjoy limited access to Premium articles, exclusive newsletters, commenting, and virtual events with our leading journalists
Already have an account? sign in
Join our new commenting forum
Join thought-provoking conversations, follow other Independent readers and see their replies