Health warnings on individual cigarettes could deter smokers, study suggests
Colouring cigarettes green and printing health warnings on papers could dissuade smokers, research says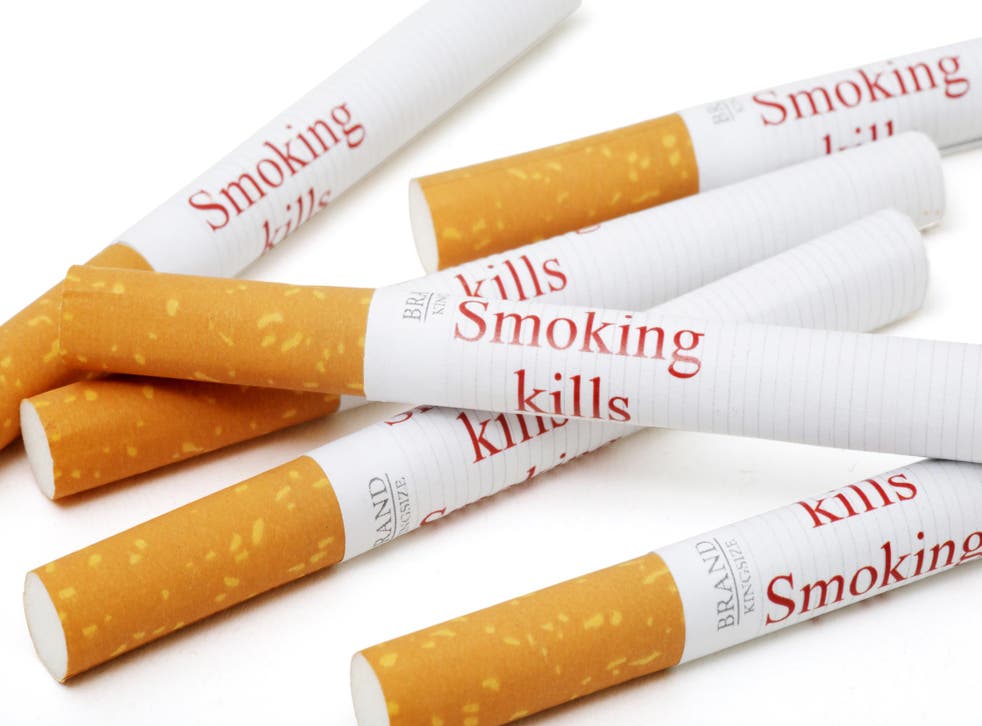 Warnings that "smoking kills" printed on individual cigarettes and rolling papers were three times more likely to deter young smokers than the traditional plain design.
A study funded by Cancer Research UK (CRUK) tested the impact of off-putting colours and health warnings emblazoned on each cigarette as a way of preventing people picking up the habit, which is often continued into adulthood.
Smoking is the biggest cause of preventable death and cancer in the UK and the charity has warned that too many young people are still getting addicted.
While overall rates are down, one in six 16 to 24 year olds is a smoker in the UK and in Scotland it's as high as one in five.
Smoking lobby groups said that "heavy-handed scaremongering" was not the answer and the public should be encouraged on to "harm reducing" e-cigarettes instead.
The study, published in the Nicotine and Tobacco Research journal, surveyed nearly 1,000 16 to 24 year olds and found that current smokers were more likely to find the printed warning off-putting.
The participants rated a conventional cigarette, one printed with a health warning, and one with a green paper and filter, on various measures of desirability. Participants said they would be less likely to try both modified forms.
Previous interventions in the UK have focused on health warnings on packets, and since May all tobacco products are sold in standardised plain green packaging – described by researchers as "the ugliest colour in the world".
Is smoking still defensible?

Show all 4
This research suggests that tampering with the classic cigarette design itself could be another step in the effort to stamp out smoking.
Dr Crawford Moodie, Cancer Research UK-funded scientist and lead author on this paper, said the cigarettes are another "communication tool" and "altering their appearance can make them less desirable".
He added: "Young people who start smoking are likely to continue to do so into adulthood, so anything that may deter smoking among this group could help to tackle the potential health repercussions in later life."
George Butterworth, Cancer Research UK's senior policy manager said: "We need to continue to explore innovative ways to turn young people off cigarettes to ensure that youth smoking rates continue to drop.
"This study shows that tactics like making the cigarettes themselves unappealing could be an effective way of doing this."
But smoking groups said cutting smoking needed carrots not sticks.
Simon Clark director of pro-smoking pressure group Forest said: "Printing a warning on the cigarette will achieve nothing other than highlight the failure of existing policies. Clumsy and heavy-handed state interventions that rely on scaremongering invariably fail because the health risks of smoking are already well known."
Mr Clark added that "more regulation" was not the solution, and instead the Government should "encourage consumers to switch voluntarily to harm reduction products like e-cigarettes."
Register for free to continue reading
Registration is a free and easy way to support our truly independent journalism
By registering, you will also enjoy limited access to Premium articles, exclusive newsletters, commenting, and virtual events with our leading journalists
Already have an account? sign in
Register for free to continue reading
Registration is a free and easy way to support our truly independent journalism
By registering, you will also enjoy limited access to Premium articles, exclusive newsletters, commenting, and virtual events with our leading journalists
Already have an account? sign in
Join our new commenting forum
Join thought-provoking conversations, follow other Independent readers and see their replies