Coronavirus pandemic is 'still accelerating', WHO director-general warns
Virus is 'not under control' for most of world, he says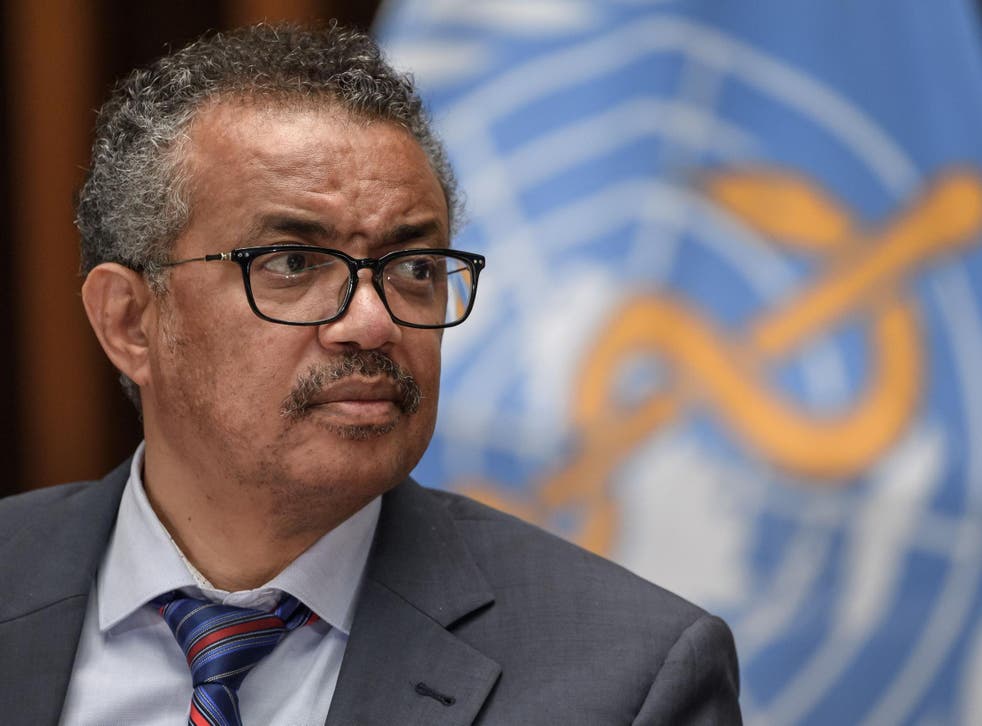 The coronavirus pandemic is "still accelerating", the head of the World Health Organisation (WHO) has warned.
Dr Tedros Adhanom Ghebreyesus, WHO's director-general, said the virus was "not under control" in most parts of the world.
"It is getting worse," he said on Thursday.
Speaking at a weekly member state briefing, he said more than 11.8 million Covid-19 cases had been reported to the WHO.
"And the pandemic is still accelerating," he said. "The total number of cases has doubled in the last six weeks."
The US has seen the worst outbreak in the world to date, with more than 3 million cases recorded to date.
Some American states have started reimposing lockdown amid a surge in cases.
Other countries – including China and Australia – have tightened measures in recent weeks in local areas where numbers were rising again.
Brazil has reported more than 1,000 daily deaths over the past few days, and has seen more than 1.75 million infections.
Across the world, more than 551,000 have died after contracting the virus, according to a Reuters global count.
Dr Tedros also announced the global body was setting up an independent panel to review its handling of the Covid-19 pandemic and the response by governments.
Helen Clark, an ex-prime minister of New Zealand, and Ellen Johnson Sirleaf, a former Liberian president, have agreed to head the panel and chose its members, Dr Tedros told the virtual meeting with representatives of WHO's 194 member states.
"This is a time for self-reflection," the director-general said, noting that WHO's member states in May called unanimously for an evaluation of the global response to the pandemic.
Additional reporting by Reuters
Register for free to continue reading
Registration is a free and easy way to support our truly independent journalism
By registering, you will also enjoy limited access to Premium articles, exclusive newsletters, commenting, and virtual events with our leading journalists
Already have an account? sign in
Register for free to continue reading
Registration is a free and easy way to support our truly independent journalism
By registering, you will also enjoy limited access to Premium articles, exclusive newsletters, commenting, and virtual events with our leading journalists
Already have an account? sign in
Join our new commenting forum
Join thought-provoking conversations, follow other Independent readers and see their replies