Coronavirus: NHS hospitals accused of using crisis as excuse to deny women caesarean sections
Exclusive: 'We are concerned that in some places coronavirus is being used as an excuse to dictate to women how they should give birth,' says human rights charity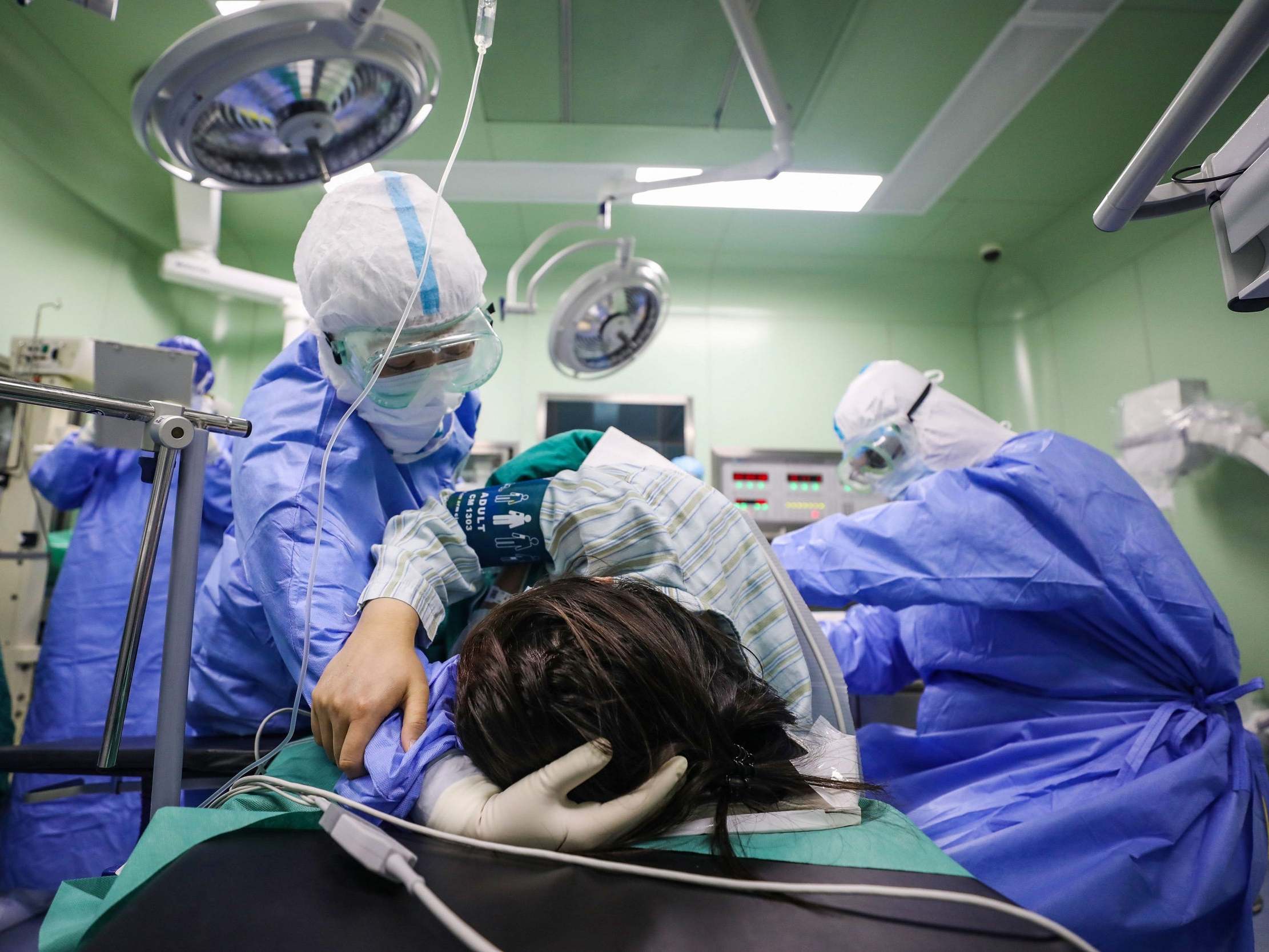 Hospitals have been refusing requests for caesarean sections during the Covid-19 outbreak despite official guidance and NHS England advice that they should go ahead.
Multiple NHS trusts have told women preparing to give birth since March that requests for a caesarean section will not be granted due to the viral pandemic.
It has led to accusations from the charity Birthrights that the coronavirus outbreak is being used as an excuse to promote an ideology that more women should have a natural birth.
During the coronavirus crisis some women have been forced to give birth alone due to bans on partners attending hospital. Hospitals changed their policy after new visiting rules were released.
Maria Booker, from Birthrights, told The Independent: "We continue to be contacted by women being told they cannot have a maternal request caesarean and we are concerned that in some places coronavirus is being used as an excuse to dictate to women how they should give birth, which contravenes Nice [the National Institute for Health and Care Excellence] guidance.
"Women don't choose caesarean births lightly. In the last few weeks we have been contacted by women who have heart conditions, pelvic issues, mental health conditions, and who have previously lost a baby who have all been denied caesareans."
Official guidance from Nice says women should be offered a caesarean section where they insist it is what they want.
NHS England has warned hospitals they need to "make every effort" to avoid cancelling caesarean sections and work with neighbouring trusts to transfer women if necessary.
It said surgery should only be suspended in "extreme circumstances" where there is a shortage of obstetricians or anaesthetists.
In the UK, around one in four of all births are caesareans, including both emergency and pre-planned operations.
At Milton Keynes University Hospital a policy document shared with The Independent by Caesarean Birth, said requests for caesarean sections would be refused.
The standard operating procedure document, dated April, said: "Women should be advised that during the Covid period, the directorate has taken the decision not to offer elective caesarean sections for maternal request."
It added: "It has also been agreed that when the surgeon confirms the consent for caesarean sections pre-op, they will specifically advise the women of the risks of caesarean section and women will be encouraged not to have a caesarean section for maternal request."
In a letter to mothers at the start of the outbreak The Princess Alexandra Hospital, in Essex, warned all cases, including those already booked for a caesarean section, would be reviewed.
It added: "Unless there is a medical reason for the caesarean, please be aware that the caesarean will not be able to go ahead."
Sharon McNally, director of nursing at the trust, said that since this letter was issued the demands on the NHS had been less than expected, adding: "We are pleased that we have subsequently not needed to cancel any elective c-sections ⁠– all C-sections have and continue to go ahead as planned."
At Oxford University Hospitals Trust, women have routinely been referred to other hospitals when requesting C-sections, but during the coronavirus outbreak this has not been possible. The trust refused to say whether it had denied C-sections to women in recent weeks.
Pauline Hull, founder of Caesarean Birth, said she was contacted by a woman who had been denied a C-section by the Milton Keynes hospital.
She said: "There is no evidence that the risk for women or babies having a planned caesarean during Covid-19 is increased compared with other birth plans.
"I am aware of other women who are being told their maternal request caesarean will not be supported, at other trusts, and so I suspect there may be other policies in England like the one at Milton Keynes."
Maria Booker added the Milton Keynes University Hospital NHS Trust had told Birthrights all the hospitals in its local maternity system had stopped maternal request C-sections due to perceived higher risks.
She said: "If there are increased risks, it is the duty of the trust to explain these to the pregnant woman so they can make an informed choice. Caesareans should only be withdrawn in the dire circumstances of the trust, and wider region, having insufficient capacity to provide them."
A spokesperson for the Milton Keynes hospital said: "We carefully reviewed and adapted our procedures around maternal requests for caesarean section as a result of Covid-19, and the increased risks associated with operative delivery during the pandemic.
"We have continued to honour all maternal requests for caesareans made prior to this change in policy, where medically possible, and continue to consider requests where there is either a medical or psychological reason to have a caesarean section."
The statement added restrictions may be lifted as the trust emerged from the coronavirus crisis.
Catherine Greenwood, clinical director of maternity at Oxford University Hospitals, said requests were considered on an individual basis and "in usual times, if no clinical indication is found, then a woman would be referred to an obstetrician at a neighbouring trust who is happy to support these requests. This is in line with Nice guidance.
"However, at the present time, all hospitals are under considerable pressure. For this reason, the referrals for caesarean section for women who have no pregnancy complications are not always accepted by our partner organisations in the way that they usually are. We very much hope to be able to reinstate the usual pathway as soon as possible."
Join our commenting forum
Join thought-provoking conversations, follow other Independent readers and see their replies