'Putting lives at risk': Ministers deny coronavirus tests for care home inspectors
Hundreds of care homes will be visited by inspectors in the next six weeks
Shaun Lintern
Health Correspondent
Tuesday 20 October 2020 09:03 Comments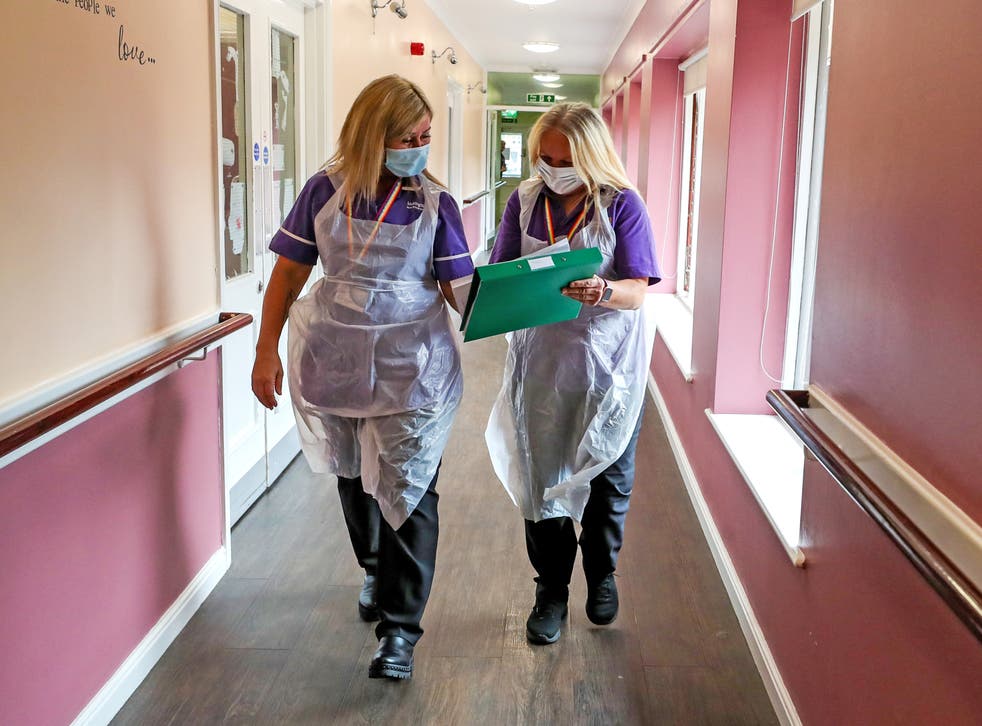 Ministers have denied care home inspectors access to weekly testing for coronavirus - despite fears they could contribute to the spread of Covid-19 as cases rise across the country, The Independent can reveal.
The Care Quality Commission (CQC) was told by the Department of Health and Social Care last month it could not have access to regular testing for inspection teams as the watchdog prepares for 500 inspections of care homes during the next six weeks.
Officials said the teams, who are assessing care conditions for the vulnerable and elderly, did not get close enough to people to present a risk.
Labour MP Barbara Keeley told The Independent that the "deeply concerning" decision would put lives at risk.
During the first wave of the virus, after Public Health England initially said there was no risk to care homes, an estimated 16,000 residents died from the virus.
At the height of the crisis up to 25,000 NHS patients were discharged to care homes by the NHS, with many not having been tested for the virus.
Labour MP Barbara Keeley said: "The refusal of the Department of Health and Social Care to treat CQC inspectors in the same way as other staff going into care homes puts lives at risk."
The MP for Worsley & Eccles South constituency, near Manchester, spoke out after raising concerns with the CQC from a care home in her local area.
UK news in pictures

Show all 50
She said: "In the first stage of this pandemic, we saw tens of thousands of avoidable deaths in care homes after Covid-19 was introduced to the care system, and there is a real risk that we see a repeat of this over the coming months.
"Inspectors go into many different care homes, often coming into contact with residents and staff. With Covid-19 case numbers rising, this poses an inevitable risk of spreading this virus within the care system."
In an interview with The Independent earlier this month Kate Terroni, the CQC's chief inspector of social care, reiterated the importance of care homes following infection prevention rules.
She said the watchdog would back homes that refused to admit patients with coronavirus from hospitals if they couldn't care for them safely and she revealed the regulator would be carrying out 500 inspections before the end of November looking specifically at infection prevention.
None of its inspection teams visiting these care homes will have regular testing to make sure they don't have the virus.
"While the CQC are rightly looking to resume regular inspections, they cannot risk introducing Covid-19 back into care homes," said the Labour MP.
"The government must act now to ensure that CQC inspectors have the same access to asymptomatic testing as other health and care staff. Until they do so, the CQC must do everything possible to ensure that any inspector with Covid-19 symptoms stops carrying out face-to-face inspections."
Last week NHS England said it had agreed to trial testing of NHS staff in high risk areas amid concerns that many patients in hospitals could catch the virus from staff.
A leaked NHS report seen by The Independent last week showed there were at least 70 outbreaks reported in NHS services in the northeast and Yorkshire last week with some hospitals dealing with multiple outbreaks.
Barbara Keeley added: "Throughout this crisis, the government has displayed a worrying ignorance of the realities of the social care system. They failed to provide adequate PPE for care homes, and knowingly discharged patients with Covid-19 into care homes which couldn't contain an outbreak.
"They are still failing to give care homes the funding they need and implementing blanket bans on visits which cause immense distress to residents. Their latest 'Winter Plan' doesn't match the scale of the challenges facing social care and there is now an urgent need for substantial support to care homes to ensure they can survive this pandemic."
The CQC confirmed it had asked the DHSC again to test its inspection teams but this was denied.
A spokesperson said: "DHSC has advised us that CQC inspectors do not meet the criteria for regular weekly asymptomatic testing, as inspectors are not required to undertake 'hands on' close personal contact with people. We remain in regular contact with DHSC on this and will continue to keep this under review.
"All CQC staff engaging in inspection and registration visits must undertake a risk assessment prior to the visit. They must use the PPE identified, have gone through training on its use, and have completed the infection prevention and control training."
They added that should a member of the inspection teams develop symptoms they will isolate and not take part in any inspections or visits.
A Department of Health and Social Care spokesperson said: "Our testing policy is based on scientific advice to limit the spread of Covid-19 and save lives, and prioritises health and care staff who are in direct, personal contact with patients and residents.
"CQC inspectors are not required to make personal contact however everyone working in care homes including inspectors, should follow proper infection prevention and control measures including correct use of PPE and hand washing to stop the spread of the virus."
Register for free to continue reading
Registration is a free and easy way to support our truly independent journalism
By registering, you will also enjoy limited access to Premium articles, exclusive newsletters, commenting, and virtual events with our leading journalists
Already have an account? sign in
Register for free to continue reading
Registration is a free and easy way to support our truly independent journalism
By registering, you will also enjoy limited access to Premium articles, exclusive newsletters, commenting, and virtual events with our leading journalists
Already have an account? sign in
Join our new commenting forum
Join thought-provoking conversations, follow other Independent readers and see their replies