Coronavirus: Care homes still expected to take Covid-19 hospital patients as deaths mount
'We are now seeing almost as many deaths in care homes as hospitals which will be putting an incredible amount of strain on overburdened care services'
Shaun Lintern
Health Correspondent
Wednesday 06 May 2020 13:43 Comments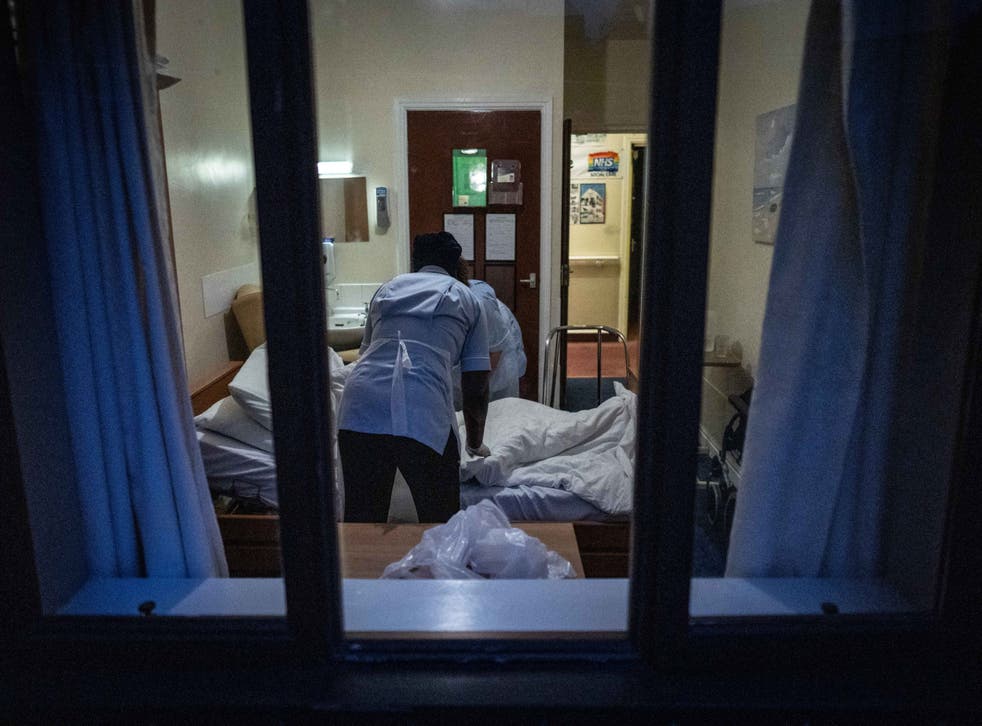 Hospitals are continuing to discharge patients infected with Covid-19 into Britain's struggling care homes, despite new figures showing deaths in the care sector still rising while those in hospitals are falling.
Deputy chief scientific adviser Dame Angela McLean revealed the government was now seriously concerned about the scale of the outbreak in care homes.
She said the number of deaths was now almost half of those in hospitals adding: "There is a real issue that we need to get to grips with."
The latest statistics show 5,890 care home residents died in the week ending 24 April, an increase of 2,500 compared to the week before, according to the Office for National Statistics.
The ONS said the total number of deaths in care homes increased 8 per cent on the previous week.
The care regulator, the Care Quality Commission said it had been notified of 6,391 care home deaths in England between 10 April and 1 May, with more than 2,000 occurring in the week to 1 May.
In March care homes were told they had to accept thousands of patients discharged from hospitals to help hospitals free up 33,000 beds ahead of the coronavirus surge. But due to a lack of community testing it was not possible to test all patients, meaning the virus may have been able to spread without detection.
Public Health England data last week showed the virus has now established itself in more than 4,500 care homes across the country.
Sarah Scobie from the Nuffield Trust health think tank said: "The vulnerable social care sector is now becoming the epicentre of the Covid-19 pandemic in this country. Despite a very small decrease in overall deaths from the previous week, the numbers in care homes are still growing.
"In the week up to 24 April there were nearly four times more deaths registered in care homes than we would typically expect. We are now seeing almost as many deaths in care homes as hospitals which will be putting an incredible amount of strain on overburdened care services."
The Department of Health and Social Care confirmed hospitals were continuing to discharge patients who tested positive for coronavirus to care homes, but said homes would now be told which patients were positive for the infection so they can take protective measures.
The scale of the problem has also been acknowledged by NHS chiefs who have brought forward from October plans to launch a new service to support care homes which will be announced in coming days.
NHS England chief executive Sir Simon Stevens has also called on local hospitals to help train care home staff in using protective equipment and to send younger returning NHS staff as well as volunteers into care homes to boost staffing levels.
Ministers are planning to outline new support measures for care homes, including extra help from the NHS and local councils.
A Department of Health and Social Care spokesperson said: "Social care is on the frontline of our fight against coronavirus and the safety of staff and residents is our top priority.
"All care home residents discharged from hospital will be tested before being admitted into their care home. For those who have tested positive, care homes should follow guidance on effective isolation strategies or cohorting, and where this isn't possible alternative accommodation should be found through local authorities for the remainder of their isolation period.
"To further help control the spread of the virus within social care we have also strengthened our advice around isolation for asymptomatic residents discharged into care homes, and are using our increased testing capacity to test all symptomatic care home residents, care staff, and their families."
Register for free to continue reading
Registration is a free and easy way to support our truly independent journalism
By registering, you will also enjoy limited access to Premium articles, exclusive newsletters, commenting, and virtual events with our leading journalists
Already have an account? sign in
Join our new commenting forum
Join thought-provoking conversations, follow other Independent readers and see their replies