Coronavirus: What is a global health emergency and how is the world responding?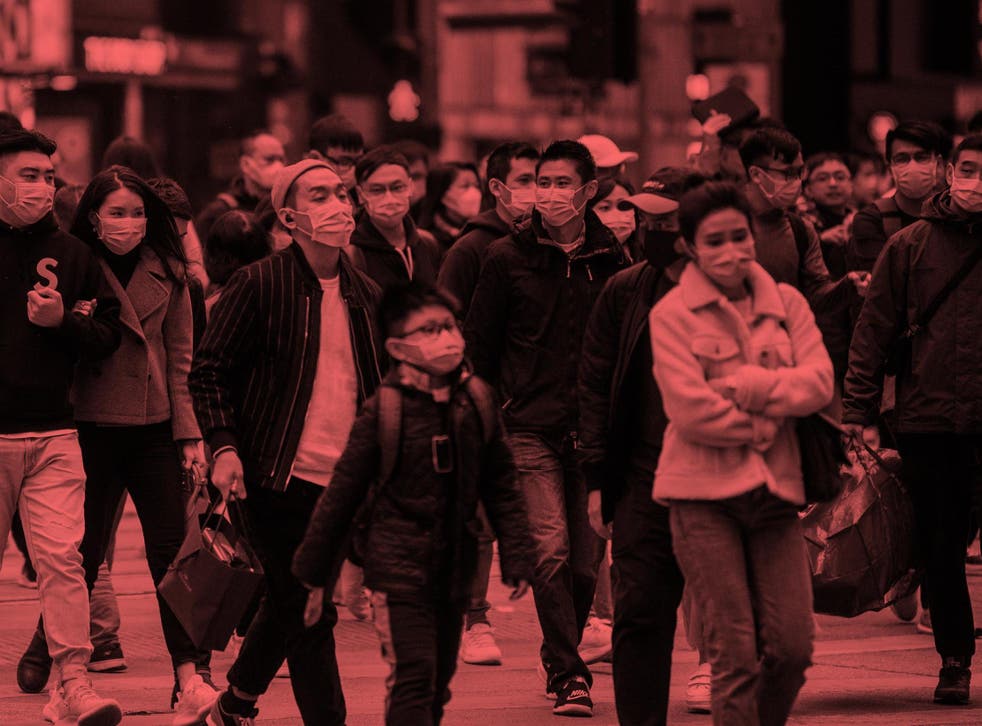 (AFP via Getty Images)
The Coronavirus outbreak, which has now killed more than 200 people, and spread from China to countries around the world including the UK, has been declared a global health emergency by the World Health Organisation.
Almost 10,000 people are now known to have been infected by the virus, and on Thursday the WHO called "on all countries to take urgent measures to contain the respiratory disease".
The organisation said over 1,300 cases in China are officially described as severe, while a total of 124 people have recovered following infection and have now been discharged from hospital.
Outside China, there are more than 100 confirmed cases in at least 23 different countries. Of those cases, just seven infected people are believed to have contracted the virus without having travelled to China.
"There has been human-to-human transmission in three countries outside China", according to a statement released by WHO's Emergency Committee. "One of these cases is severe and there have been no deaths."
WHO chief Tedros Adhanom Ghebreyesus said: "The main reason for this declaration is not what is happening in China, but what is happening in other countries."
He praised the "extraordinary measures" taken by Chinese authorities. The concern now is how more vulnerable countries handle outbreaks of the virus.
What is a global health emergency?

The WHO describes a global health emergency as "an extraordinary event which is determined to constitute a public health risk to other states through the international spread of disease and to potentially require a coordinated international response".

This definition implies a situation that is:

serious, sudden, unusual or unexpected;

carries implications for public health beyond the affected state's national border; and

may require immediate international action.

Why has this warning been issued?

The aim of the international health regulations adhered to by the WHO is "to help the international community prevent and respond to acute public health risks that have the potential to cross borders and threaten people worldwide."

"The purpose and scope of the IHR is to prevent, protect against, control and provide a public health response to the international spread of disease in ways that are commensurate with and restricted to public health risks, and which avoid unnecessary interference with international traffic and trade."

The WHO emergency declaration comes as the US has warned its citizens not to travel to China because of the risks of infection. The US State Department said: "Do not travel to China due to novel coronavirus first identified in Wuhan, China."

The Italian prime minister Giuseppe Conte has said all air travel between Italy and China is to be suspended in an effort to stop further spread of the virus in Europe. Israel has also barred all flight connections with China, Papua New Guinea has banned all visitors from "Asian ports" and North Korea has also said it is suspending all flights and trains to and from China.

Large firms, including Google, Ikea, Toyota, Starbucks and Tesla have also paused operations in China.

How unusual is such a declaration?

The WHO has previously issued such declarations in just a handful of cases.

These are:

The 2009 Swineflu outbreak, which originated in Mexico, and killed more than 200,000 people

A 2014 resurgence in Polio when there were 359 reported cases of wild poliomyelitis, spread over 12 countries including Pakistan. 

The 2016 Zika virus in South America, which caused severe brain anomalies in unborn babies and raised questions about the safety of the Rio de Janeiro Olympic games that year.

The Ebola outbreaks in west Africa in 2014 and again in the Democratic Republic of the Congo in 2019. Between 2014 and 2016, 1,310 deaths were reported in Guinea, Liberia, and Sierra Leone. This week the WHO reported there have been over 2,200 deaths from Ebola in the Democratic Republic of the Congo since the current outbreak began last year.

Can the new coronavirus be contained?

The WHO's emergency committee said it believes it is still possible to interrupt the spread of the virus spread, provided countries "put in place strong measures to detect disease early, isolate and treat cases, trace contacts, and promote social distancing measures commensurate with the risk."

Following the declaration, Mr Tedros said: "We must remember that these are people, not numbers.

"More important than the declaration of a public health emergency are the committee's recommendations for preventing the spread … and ensuring a measured and evidence-based response."

Should travel and trade with China and other countries affected be suspended?

The WHO has insisted travel and trade should continue as normal.

Mr Tedros said there remains "no reason for measures that unnecessarily interfere with international travel and trade.

"We call on all countries to implement decisions that are evidence-based and consistent."

He added that the "WHO stands ready to provide advice to any country that is considering what measures to take."

The Committee said evidence has shown that restricting the movement of people and goods during public health emergencies "may be ineffective and may divert resources from other interventions.

"Further, restrictions may interrupt needed aid and technical support, may disrupt businesses and may have negative effects" on the economies of those countries affected.
Register for free to continue reading
Registration is a free and easy way to support our truly independent journalism
By registering, you will also enjoy limited access to Premium articles, exclusive newsletters, commenting, and virtual events with our leading journalists
Already have an account? sign in
Register for free to continue reading
Registration is a free and easy way to support our truly independent journalism
By registering, you will also enjoy limited access to Premium articles, exclusive newsletters, commenting, and virtual events with our leading journalists
Already have an account? sign in
Join our new commenting forum
Join thought-provoking conversations, follow other Independent readers and see their replies