Coronavirus: Hospital beds must be ring-fenced for thousands on waiting lists, say surgeons
NHS England has instructed hospitals to review the four million waiting for surgery to identify those most in need
Shaun Lintern
Health Correspondent
Tuesday 06 October 2020 08:11 Comments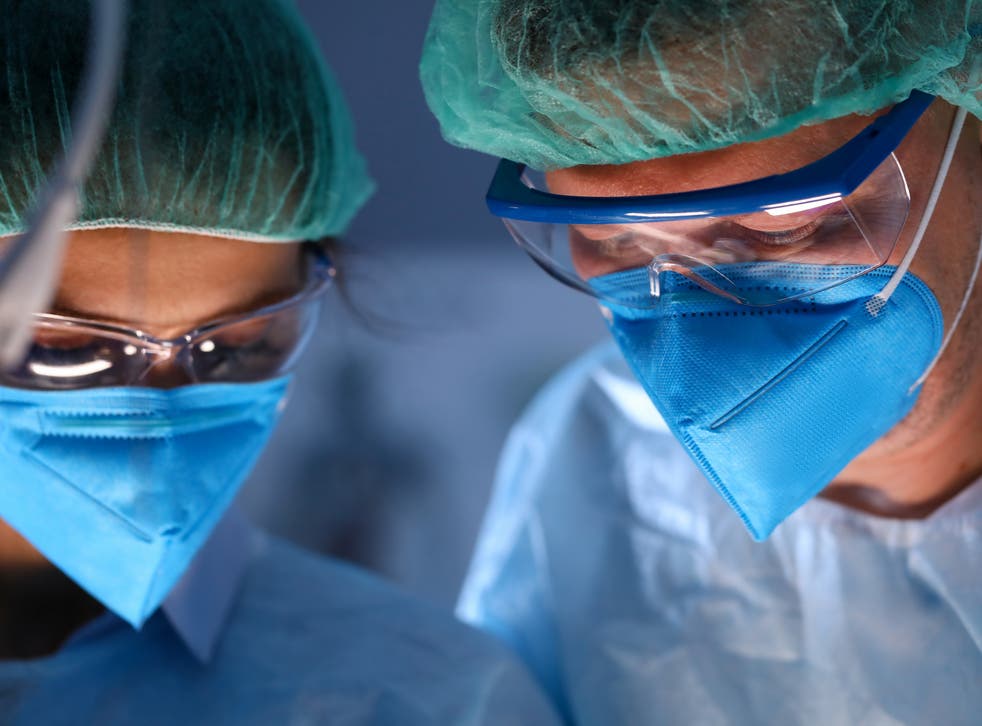 Hospital beds should be ring-fenced for patients waiting for routine surgeries this winter to prevent a second 'tsunami of cancellations' from a second wave of coronavirus, the Royal College of Surgeons has said.
As hospitals has been told to review their growing waiting lists to prioritise the more than four million patients waiting for treatment, the RCS has warned NHS trusts will miss the target of returning to 80 per cent of its pre-pandemic levels of surgery at the end of last month.
NHS England had wanted hospitals to restore services to 90 per cent of pre-Covid levels this month but the RCS says hospitals are falling short.
Earlier this year The Independent revealed the difficulties in hospitals keeping patients safe from infection in hospital meant significant delays in operations and some hospitals having to removed beds and split their sites. This meant some hospitals operating at just 50 to 60 per cent of normal capacity.
Experts predict waiting lists could rise to more than 10 million before the end of the year and take the NHS years to recover.
For the first time, more than two million people in England have been waiting longer than 18 weeks, with 83,000 waiting more than a year.
New NHS figures due to be released later this week will show the problem getting worse.
In a survey of almost 1,000 surgeons last month, the RCS said only 14 per cent of surgeons can treat the same number of patients with almost half saying the need more theatres to avoid "down time" during cleaning.
UK news in pictures

Show all 50
Two fifths of doctors said planned surgery was running at less than 50 per cent of that seen last year with around half reporting activity of between 50 and 80 per cent of 2019 levels.
Just a quarter of surgeons thought it was possible to hit the 80 per cent target.
Professor Neil Mortensen, president of the Royal College of Surgeons said: "Patients waiting for operations cannot be left behind indefinitely by the Covid crisis. Many are in serious pain, with their conditions deteriorating while they are on the list.
"As the virus becomes more prevalent again, there is a real risk of a tsunami of cancelled operations unless surgical beds are funded and protected. That means building up theatre capacity and designating beds exclusively for those who need an operation. These facilities must be kept 'Covid-light' with a rigorous regime of testing for patients and staff."
In a letter to hospitals sent on 18 September hospital bosses were told to begin a process of prioritising patients on their waiting lists to identify the most clinically urgent patients for surgery first.
Hospitals will be asked to manage waiting lists at a regional level between hospitals, opening up the prospect of patients moving between NHS trusts for surgery instead of hospitals competing with each other.
The letter from Pauline Philip, national director of emergency and elective care for NHS England said: "Managing elective waiting lists at system level will play a critical role in recovering elective activity. The first stage of this process is establishing a validated waiting list.
"The priority is to clinically review all patients on an admitted patient care pathway to be completed by 23 October."
Register for free to continue reading
Registration is a free and easy way to support our truly independent journalism
By registering, you will also enjoy limited access to Premium articles, exclusive newsletters, commenting, and virtual events with our leading journalists
Already have an account? sign in
Join our new commenting forum
Join thought-provoking conversations, follow other Independent readers and see their replies