Coronavirus: Seven in 10 survivors still suffering symptoms months after leaving hospital
Latest research adds further evidence of the burden of long Covid on society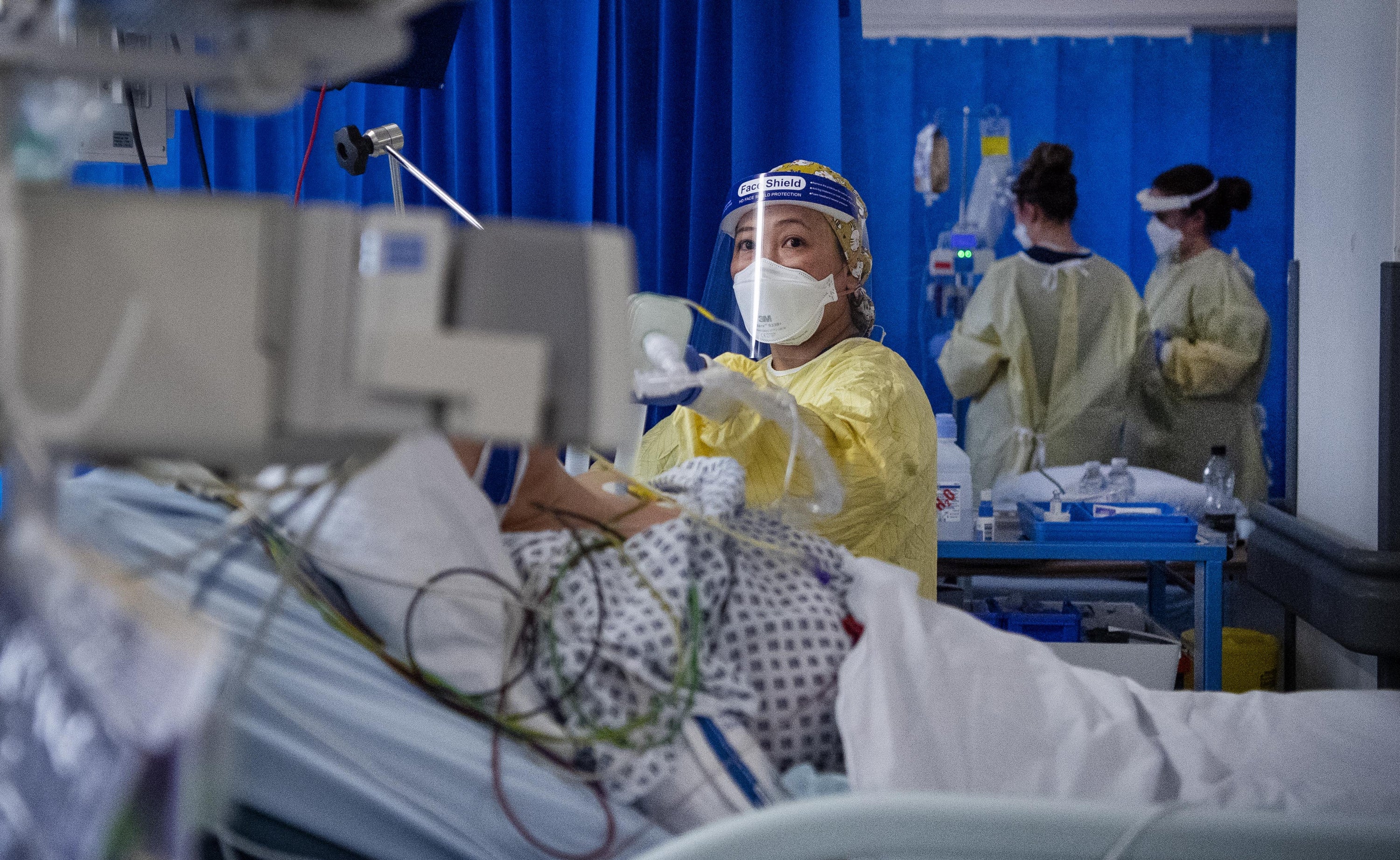 Leer en Español
Seven out of 10 patients who were admitted to hospital with coronavirus in the UK still had symptoms five months after being discharged, a new study has found.
The research underlines the challenge of long Covid for health services across the UK, with hundreds of thousands of survivors likely to be affected to some degree. Some experts warn that more than a million patients could experience some lasting effects.
More than 300,000 patients with Covid have been treated in hospital since the pandemic began, with the UK-wide post-hospitalisation study examining more than 1,000 patients who were discharged between March and November 2020.
It found 71 per cent had not fully recovered from the disease, with patients reporting an average of nine separate symptoms. White women aged between 40 and 60 were worst affected.
Of those who were employed before catching the virus, 18 per cent were no longer working five months after being discharged. One in five patients reported a new disability and a quarter had anxiety and depression. More than one in 10 showed signs of post-traumatic stress disorder, with 17 per cent having some form of "brain fog".
Read more:
Other common symptoms included muscle pain, fatigue, difficulty sleeping, joint pain or swelling, limb weakness, breathlessness, pain, short-term memory loss, and slowed thinking.
Dr Rachael Evans, an associate professor at the University of Leicester and respiratory consultant at Leicester's hospitals, said: "Our results show a large burden of symptoms, mental and physical health problems and evidence of organ damage five months after discharge with Covid-19."
The study, funded by the National Institute for Health Research (NIHR), found the severity of symptoms was not explained by patients having experienced a worse infection, although patients who had been treated in intensive care took longer to recover.
The scientists may also have found a clue to the underlying cause for the physical problems experienced by Covid survivors, thought to be linked to the body's inflammatory response to the infection.
Professor Louise Wain, from the University of Leicester, said: "When we looked at the symptom severity of patients five months after they were discharged from hospital, we found that in all but the mildest cases of persistent post-Covid symptoms, levels of a chemical called C-reactive protein [CRP], which is associated with inflammation, were elevated."
She said it is known that systemic inflammation makes recovery more difficult, and that it is more common in middle-aged women.
Dr Elaine Maxwell, clinical adviser at the NIHR and author of a separate review of more than 300 long-Covid studies, told The Independent time was running out to get services in place for patients affected by long Covid.
She said estimates of the scale of the problem varied from between 10 per cent and 30 per cent of Covid patients, which in the UK could mean between 430,000 and 1.3 million patients being affected by long Covid.
"A lot of the evidence we have so far has been describing the problem – how many people have got it, and what sort of symptoms they have got – which was a reasonable thing to do at the start. We now need to move on to asking why are they getting the symptoms, and how can we treat those patients?
"We can't wait two years to better understand the mechanisms, because we've got potentially up to 1.3 million people who are suffering for months, and some people are now in their second year of long Covid.
"I think people still don't understand quite how seriously debilitated some people with long Covid actually are."
Responding to the latest research, chief medical officer Chris Whitty said: "We are in the foothills of our understanding of long-term effects of Covid. This research provides useful information on the debilitating effects of Covid that some people are living with months after being hospitalised.
"It is important that we work out what exactly the various elements of what is currently termed 'long Covid' are, so that we can target actions to prevent and treat people suffering with long-term effects."
NHS England's medical director Stephen Powis said: "Long Covid can have a significant impact on someone's quality of life, which is exactly why, in addition to funding and driving world-leading research into the condition, the NHS has invested millions in opening dozens of long-Covid clinics to help people get back to good health.
"As we have done throughout the pandemic as new evidence and treatments emerge, the NHS will respond quickly and get the latest treatments to patients quickly, as we did with dexamethasone, which was used on the front line of patient care on the day it was approved and which has since saved one million lives around the world."
Join our commenting forum
Join thought-provoking conversations, follow other Independent readers and see their replies