NHS told to identify patients actually sick from Covid-19 separately to those testing positive
Exclusive: Changes to the way hospitals collect data will make the impact of the virus on the NHS look better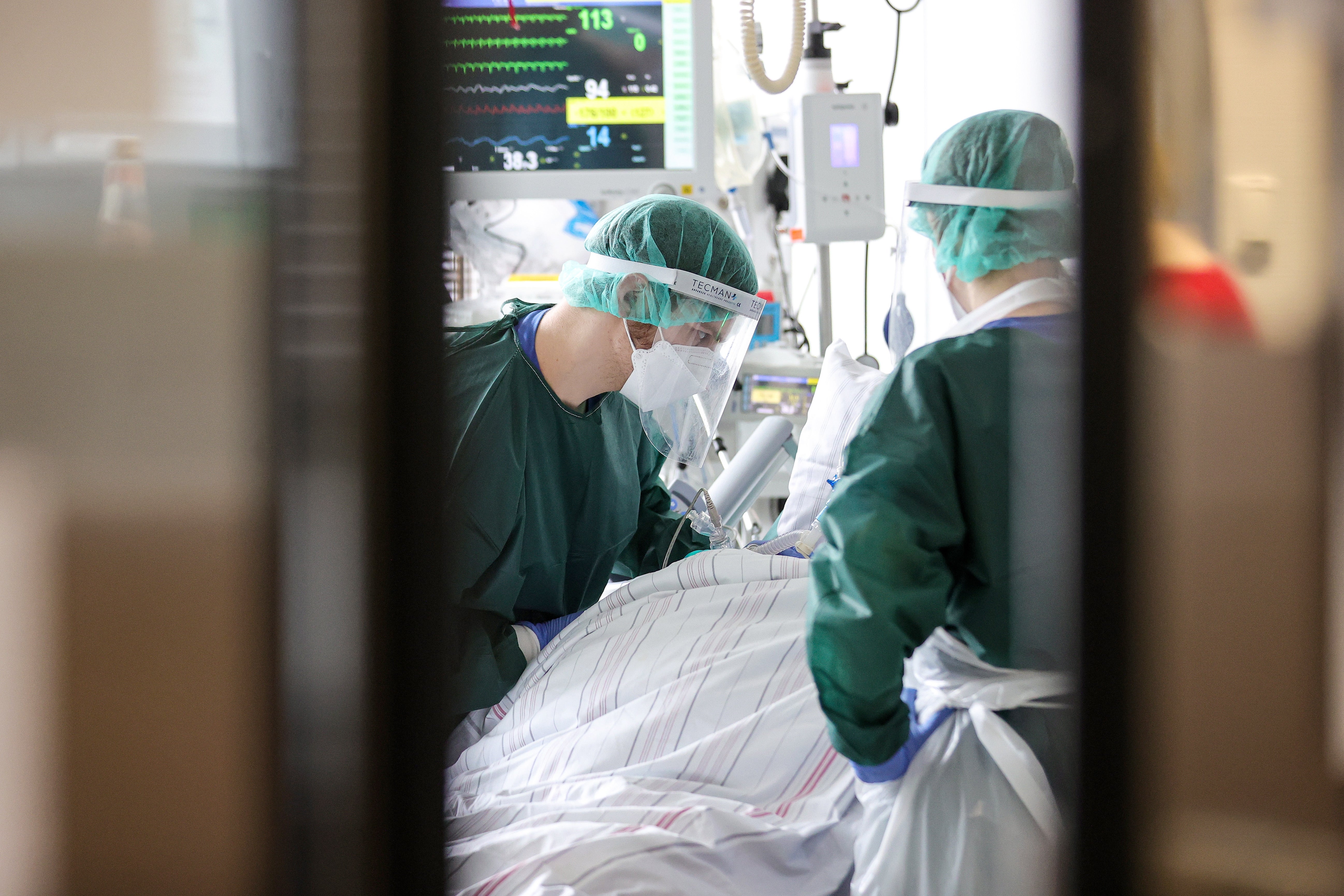 Hospitals have been told to change the way they collect data on patients infected with coronavirus to differentiate between those actually sick with symptoms and those who test positive while seeking treatment for something else.
The move would reduce the overall number of patients in hospital for coronavirus as until now data from hospitals has included all patients who tested positive for Covid-19, regardless of whether they had symptoms or not.
NHS England has instructed hospitals to make the change to the daily flow of data sent by NHS trusts and told The Independent that the move was being done to help analyse the effect of the vaccine programme and whether it was successfully reducing Covid-19 sickness.
It has not yet committed to publishing the data but the change could prove crucial to the government's decision to end lockdown on 21 June.
The Lib Dem MP Layla Moran, chair of the All-Party Parliamentary Group on Coronavirus, warned the government must not use the data to "massage" the figures as the 21 June decision nears.
One NHS source said the new data would be "more realistic" as not all patients were sick with the virus, adding: "But it will make figures look better as there have always been some, for example stroke [patients], who also had Covid as an incidental finding".
In a letter to hospital bosses on 7 June, shared with The Independent, NHS England's Covid incident director, Professor Keith Willett, said that from now on NHS England wanted a "a breakdown of the current stock of Covid patients into those who are in hospital with acute Covid-19 symptoms (and for whom Covid-19 is the primary reason for being in hospital); and those who are primarily in hospital for a reason other than Covid-19 (but for whom the hospital is having to manage and treat the Covid-19 symptoms alongside their primary condition)."
He added: "In lay terms this could be considered as a binary split between those in hospital 'for Covid-19' and those in hospital 'with Covid-19'. We are asking for this binary split for those patients newly admitted to hospital and those newly diagnosed with Covid while in hospital."
During the coronavirus crisis many patients in hospital were sick from the virus, with intensive care units forced to double or triple their capacity and the vast majority of patients needing oxygen.
It has always been the case that as the virus spreads in the community some patients would be likely to test positive.
One clinician said: "As the community prevalence goes up, the in-hospital rate will go up in line with that. But if a proportion of that younger cohort are in hospital for other reasons, then the story is completely different. This change will give a much better view of this."
NHS England data on hospital admissions is published daily at a regional level and several days later on the government's dashboard. An internal daily dashboard of Covid data tracks infections across hospitals but is not made public.
Professor Ian Douglas from the London School of Hygiene and Tropical Medicine said: "I think there are good arguments for presenting these data separately – people in hospital 'with' vs 'for' Covid, as it does partly address the burden to health services due to the virus. Not completely though, because people in hospital with Covid will presumably also need to be treated differently to avoid further spread, which places some extra burden on the hospitals.
"I've got no idea what the split is like at the moment, and importantly we won't know retrospectively what the trend is. Following on from that, there are only a few days before any announcement about 21 June, which may not give us long enough to be sure about what direction the 'for Covid' numbers are going. What we shouldn't do is draw any inference about numbers being lower once the 'with Covid' numbers are stripped out."
Layla Moran told The Independent: "If this provides a more accurate picture of the impact of Covid on our hospitals then that should be welcomed. However, we need to be cautious about the government using this as a way to massage the figures as we approach 21 June.
"It's also crucial that ministers start counting cases of people with long Covid, rather than only focusing on hospitalisations and deaths. The latest estimates are that over one million people in the UK are living with long Covid; the government must stop ignoring these hidden victims of the pandemic."
A spokesperson for NHS England said: "Throughout the pandemic, the NHS has published daily, weekly, monthly and up-to-date information on Covid hospital activity, and this is a further update for operational reasons as it is obviously important for the NHS to continue to monitor cases of Covid in hospitals, alongside the success and impact of the vaccine programme."
They added that the data was used for planning and operational reasons and would need to be checked and verified before it was published.
Join our commenting forum
Join thought-provoking conversations, follow other Independent readers and see their replies