'We are making difficult choices': Italian doctor tells of struggle against coronavirus
'Covid-19 is changing everyone's life in Italy...The whole country is on standby'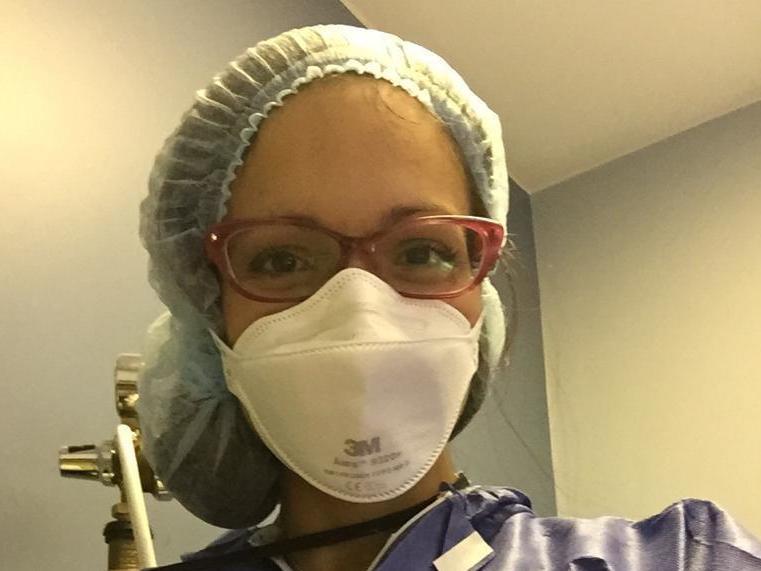 A doctor in Italy has told The Independent how medics there are being forced to ration care to patients in the wake of the coronavirus outbreak with elderly patients being denied care based on their age and whether they have other conditions.
Consultant anaesthetist and intensive care specialist Maria, who works at the Sant'Orsola-Malpighi Hospital in Bologna, described the relentless influx of coronavirus patients with medics working round the clock and being forced to make difficult decisions.
She warned UK hospitals to plan now for the influx in patients stressing some of those who became sick and needed care were young and healthy.
Official guidance to doctors in Italy, seen by The Independent, have said only patients "deemed worthy of intensive care" should get it and decisions based on a "distributive justice" approach balancing the demand for care versus available resources.
Dr Maria said: "Covid-19 is changing everyone's life in Italy. Doctors are working with a lack of evidence based protocols, a lack of resources and a real risk of being infected.
"Healthy people at home can't go out, can't go to school, and can't even meet relatives. School is changing as well, my nephews are attending lesson at home via Skype. The whole country is on standby."

Describing the difficulties caring for patients she said: "We are making difficult choices."
"I know from talking to colleagues in Lombardia, the most affected region in Italy, that they are using a cut off of 65-years-old in case of pre-existing comorbidities.
"In Bologna, we are working with 80-years-old as our cut off, but between 65 and 80-years-old we still consider comorbidities."
She said it was wrong for people to assume coronavirus only affected elderly and already sick people saying her colleagues in the Lombardia region diagnosed a 38-year-old patient with Covid-19 who had to be put on a ventilator to help him breathe.
She said after the first few cases, the region including Milan and Venice saw numbers swell to hundreds in days.
Initially her hospital took patients from other cities to help but "after a few days we started having positive patients coming into A&E in respiratory arrest or already admitted for elective procedures.
"At this point we stopped all elective operations and all clinics" adding all the wards were transformed into Covid-19 areas saying: "This early decision is saving us...we do still have space for Covid-19 patients thanks to the decision to stop electives, and promptly prepare wards and intensive care rooms before the numbers were out of control."
This contrast with the NHS which has yet to cancel operations despite doctors saying they need this time to prepare and get ready for an expected surge in admissions linked to the virus.
Describing the patients with the coronavirus the doctor said many patients have no symptoms at all or were very mild but some become extremely sick.
"We had cases of young people with partial pressure of oxygen as low as 28 (normal acceptable range is over 80-100) on admission with no alarming symptoms. In our experience it is better to perform an "early intubation" and not lose time with non-invasive ventilation as the patients don't improve with that."
She said patients who were on ventilators needed two weeks to improve and she currently had 35 patients intubated and two receiving ECMO – where their blood is artificially oxygenated when ventilation is not enough.
"We are working hard," she said adding: "We stopped elective operations and all the medical and nursing staff were trained and redeployed to Covid wards and in new Covid intensive care units.
"Our directors are doing the best to respect our roles and our competencies and to redistribute us according to our experience but it is not always possible and some anaesthetists are working in intensive care."
She said theatre areas were being used as makeshift intensive care wards in Milan, Lodi, Cremona, Bergamo and across the region with some patients being airlifted using military airplanes to other hospitals elsewhere in the country.
She said the Italian military and its medical teams were now providing relief to doctors in the worst hit areas with military hospitals being converted into coronavirus wards.
"They are transferring Covid sick patients by military ambulances and airplanes from cities with full intensive care units to city's with beds still available,"
"We were lucky in Bologna, we had more time than Milan and Lombardia to get ready.
"I am getting enough food and rest. Supermarket are still open, but only one member of the family is allowed to go out. Schools, universities, gyms, cinemas, restaurants are all suspended since we had 500 cases. We are not celebrating weddings and funerals across Italy. Supermarkets are the only normal activity still going on."
She warned the NHS to stop all elective activities in the biggest cities now before the surge comes and said all hospital staff should be wearing protective equipment.
Hospitals needed to be split into "covid-19" hospitals and clean hospitals to limit the spread of the virus between patients, she stressed.
She urged people to stay at home to stay safe adding: "I can't: I am a doctor with my passion and my mission, but everybody else, stay home please.
"People should now be ready to sacrifice a couple of weeks in the name of public health. No holidays, no restaurant, no schools, no gym. With a few weeks of restrictions, we can save thousands of lives."
Join our commenting forum
Join thought-provoking conversations, follow other Independent readers and see their replies