Patients unable to get help to eat on dangerously understaffed NHS wards at centre of second wave
Exclusive: CQC inspectors find just two nurses responsible for 36 patients on a ward at Liverpool University Hospitals Trust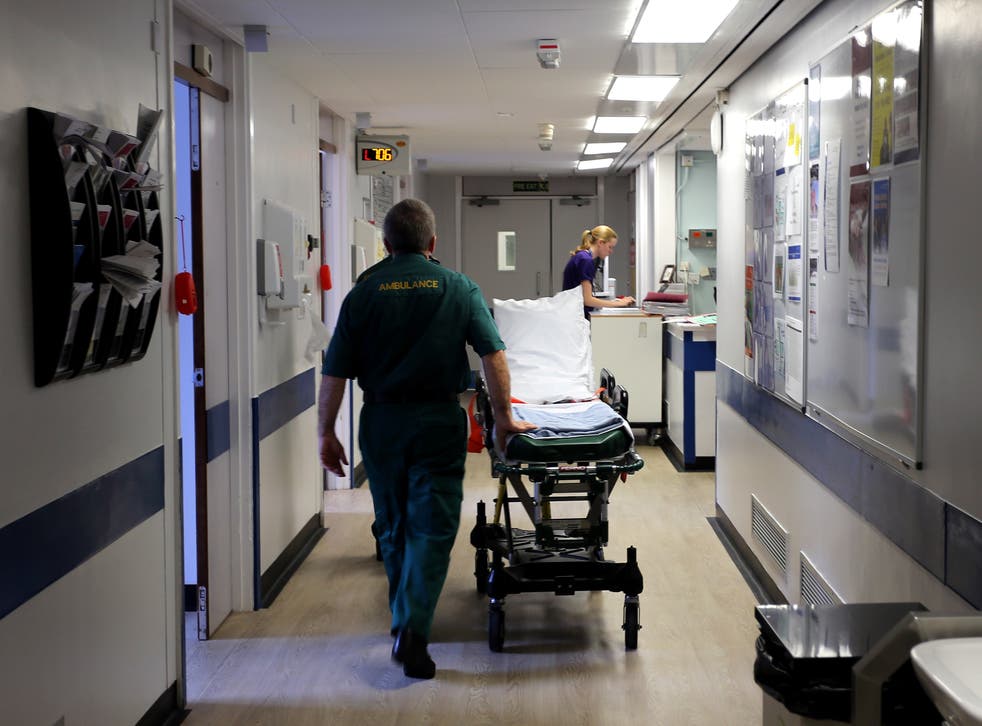 Vulnerable patients at a major NHS hospital at the centre of England's coronavirus second wave have been left without help to eat or drink because wards are so dangerously understaffed, The Independent can reveal.
Dozens of safety incidents have been reported by doctors and nurses at the Liverpool University Hospitals Trust since April, citing the lack of nurses as a key patient safety risk.
Across several wards, just two registered nurses per ward were being expected to look after dozens of sick patients – a ratio of nurses to patients far below recommended safe levels.
On one ward there were 36 patients to two registered nurses – with the nurse in charge of the ward having only qualified six months earlier.
The safety concerns also include a diabetic patient – where there was no evidence nurses had monitored their blood glucose levels and insulin medication, which if left unchecked could prove fatal.
Other patients have been forced to eat food and drink which has gone cold by the time staff are ready to help them.
The hospital is among the worst affected by the surge in coronavirus cases in the north of England. It's medical director warned on Friday that it was at 100 per cent capacity and unable to maintain standards of care.
The Independent can now reveal that the details of the patient safety concerns at the trust, which runs the Royal Liverpool University Hospital and Aintree University Hospital, were behind the decision of the Care Quality Commission to launch a rapid inspection last week and threaten the trust with enforcement action on Friday.
In a statement, the trust told The Independent the virus had caused hundreds of staff to be off sick – either because they were infected or were being forced to self-isolate.
In total the trust has more than 800 staff currently off work due to coronavirus, including around 400 nurses.
The Royal College of Nursing's director for England, Mike Adams, told The Independent the concerns meant lives were at risk.
He said: "Nursing staff and their senior leaders are now being made to work in impossible situations. Staffing levels this poor undoubtedly put lives at risk but also put the professional registration and safety of experienced nurses in jeopardy."
UK news in pictures

Show all 50
He said the concerns were "another reminder that steps that should have been taken to mitigate the workforce crisis in England have been consistently missed over the past decade."
Hospitals must be allowed to manage patient demand to maintain safety, he said adding that meaningful investment in nursing was needed to reverse the workforce crisis.
Leaked extracts from the CQC's warning to the Liverpool trust reveal the widespread safety fears among inspectors.
The letter sent to the trust on Friday by the regulator said: "During our inspection we observed that whilst food and drinks were available for patients there was not always enough staff to support patients to meet their nutritional and hydration needs.
"Staff we spoke to confirmed this and told us that due to staffing challenges some patients requiring assistance were left to manage and this impacted on them receiving adequate nutrition and hydration."
It added that on one ward by the time staff were able to help "any hot food or drink was often cold."
The inspection was triggered after more than a dozen concerns were raised with the regulator by doctors and nurses from the trust and members of the public.
In a letter to trust bosses after its inspection last week the CQC said the concerns included "the care of vulnerable patients due to staff shortages".
On one acute medical ward which was at full capacity inspectors found 36 patients being care for by just two registered nurses and four healthcare assistants. Official guidelines state hospitals should have less than one nurse to eight patients to prevent poor care.
Repeated research has show the number of registered nurses is linked to few patient deats.
On two wards at Aintree University Hospital, the CQC found just two nurses looking after 27 patients and 29 patients respectively with two assistants on each ward.
Between April 1 and October this year the CQC said there had been 59 safety incidents involving staffing on ward 3 at the Royal Liverpool Hospital and 43 incidents on ward 9. At the Aintree hospital site it said there were 26 incidents on ward 22 and 29 on ward 20 which all mentioned staffing issues being involved in safety incidents.
The CQC's letter to the trust said staff had escalated their concerns multiple times "and felt that the ward was unsafe due to inadequate numbers of registered nurses and that planned against actual staffing figures did not always meet the needs of patients."
The CQC said staffing levels on the trust's hyper acute stroke unit for severe stroke patients was not monitored and the trust could not show that it meant the guidelines of no fewer than one nurse to two patients.
When news of the CQC inspection broke on Monday some criticised the regulator for not doing more to support the trust.
But professor Ted Baker, chief inspector of hospitals, said: "We are only too aware of the extreme pressure that NHS trusts and the wider health and social care system are operating under, and we will continue to support services in their efforts to provide the best possible care in these challenging times. However, when staff and patients raise serious concerns with us about the safety of care, we have a clear responsibility to act on these.
"We received a number of very serious concerns from staff and patients about the safety and quality of patient care at Liverpool University Trust which led to our decision to inspect. As a result of that inspection we have made clear to the trust where they must take immediate action. We are monitoring the trust closely and will report on the full findings from our inspection in due course."
A spokesperson for Liverpool University Hospitals NHS Foundation Trust said: "Safety is our top priority, and the trust cooperated fully with the CQC on their inspection. These are unprecedented times - the rates of Covid infection in Liverpool mean that we currently have more than 800 staff off either with Covid infection or self-isolating. The CQC have highlighted the impact staff absence is having on our services.  
"We actively encourage our workforce to speak up about any concerns.
"We are submitting an action plan in response to issues flagged by the CQC. The main way in which people can support our superb staff is by reducing the spread of Covid in the community, by following government guidance, washing their hands, wearing masks and observing social distance."
Join our new commenting forum
Join thought-provoking conversations, follow other Independent readers and see their replies