Coronavirus: Deaths of hundreds of frontline NHS and care workers to be investigated
Exclusive: More than 620 NHS staff and social care worker deaths have been linked to coronavirus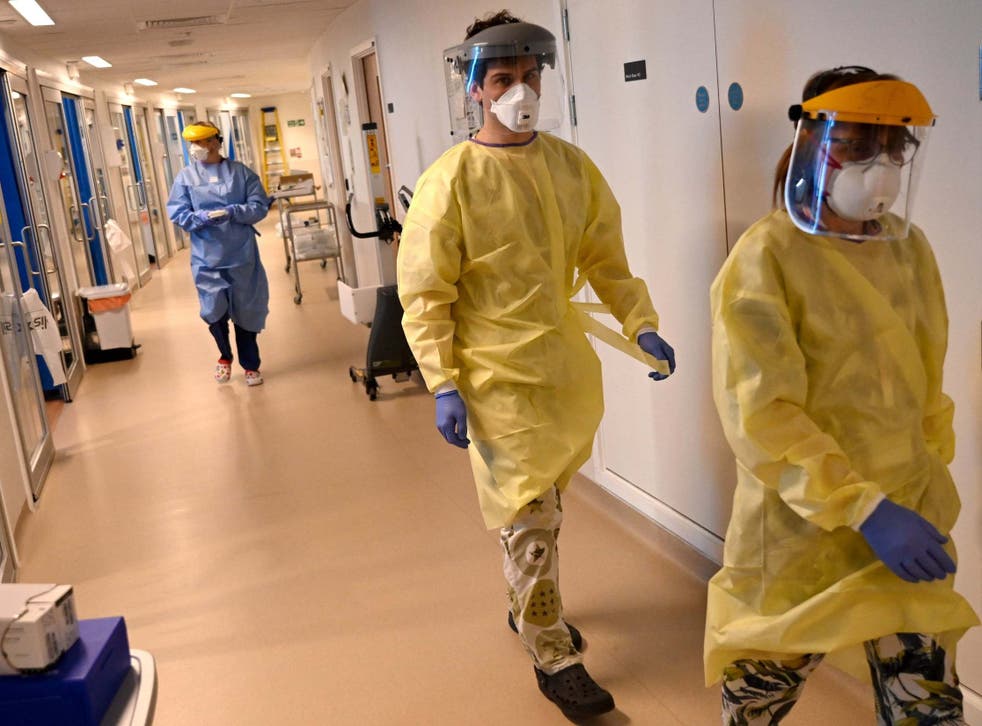 The deaths of hundreds of NHS and social care workers infected with coronavirus are under investigation by medical examiners, The Independent has learnt.
Ministers have asked medical examiners in England and Wales to review all deaths of frontline health and social care staff infected with the virus to determine whether the infection was caught as a result of their work.
The review, which started last month, is likely to cover more than 620 deaths including nurses, doctors and care home staff across England and Wales, since the beginning of March.
It could trigger a number of investigations by hospitals, the Health and Safety Executive, and coroners into the protection, or lack of, for staff during the pandemic when many hospitals ran out of protective masks and clothing for staff.
Hospitals have already been ordered to risk assess workers who may be more susceptible to the virus, such as those from a black and minority ethnic backgrounds or those with existing health conditions.
The review of deaths comes as experts urged more testing of NHS staff after a study of two London maternity units found one in six staff who had not previously been diagnosed with the virus tested positive for Covid-19 – with 60 per cent having no symptoms and continuing to work and commute.
Under pressure over the rising death toll of frontline staff, health secretary Matt Hancock announced in April a lump sum of £60,000 for the families of health and care workers who died from the virus as a result of their duties.
Now medical examiners, who are senior doctors employed in hospitals to independently review all deaths to verify the correct cause of death and identify any treatment concerns, will retrospectively review all frontline worker deaths and where necessary report deaths to the coroner.
As well as double checking the cause of death the medical examiners, which were introduced in the NHS last year, will be asked to indicate whether the worker was tested for Covid-19 and record the test result, and to state whether they "have reason to suspect the Covid-19 infection was acquired in employment".
Where someone may have died as a result of catching coronavirus at work, hospitals will be required to report that to the Health and Safety Executive (HSE) under Riddor, or the Reporting of Injuries, Diseases and Dangerous Occurrences Regulations. This could trigger an investigation by the HSE.
The process will be overseen by regional medical examiners who will where necessary challenge the local findings and refer cases on for investigation.
Medical examiners were originally recommended following the public inquiry into serial killer GP Harold Shipman and were due to be independent of the NHS. Proposals for a national service were watered down, with medical examiners being employed by their local NHS trusts rather than local councils but made accountable to a national medical examiner.
Dr Rinesh Parmar, chair of the Doctors' Association UK, said: "It's a positive step that the government is recognising these deaths need investigation, but we would ask that they take the next step with a full coroner's investigation into all health worker deaths.
"Coroners are best placed to carry out independent investigations. They have the experience and they are not directly employed by hospital trusts so there is less of a chance of them being persuaded to make certain decisions or recommendations."
One medical examiner working in England told The Independent: "It definitely is the right thing to do. There is a hope it could help develop ways to protect staff in the future."
They added that determining whether someone caught the virus at work was not necessarily easy once the pandemic had become widespread, but added: "The intention is that no death will be left unscrutinised. There is an expectation medical examiners will have a low threshold to suspect the virus was occupationally acquired."
Another medical examiner added: "This is exactly the kind of work we should be doing. Ensuring the right outcome for families and the deceased and helping the wider system to learn and potentially improve."
According to the Office for National Statistics a total of 625 health and social care workers' deaths across England and Wales have been linked to coronavirus up to 20 July, with an almost equal split between the two sectors. In total 370 women have died, compared to 255 men.
Male healthcare workers had a higher mortality rate than the general population, with a rate of 34 deaths per 100,000 people, compared with 22 deaths in men generally.
Women in healthcare also had a higher risk, with a death rate from coronavirus of 13 per 100,000 compared with 11 in the general population.
In social care men had a death rate from coronavirus of 57 per 100,000 while women had a mortality rate of 22, double the risk of women generally.
An NHS England spokesperson said: "NHS and other care staff have gone to extraordinary lengths to treat people during the Covid-19 pandemic, it's absolutely right that we seek to understand the circumstances of every death, which is why all NHS employers will work with the Health and Safety Executive, as well as local and regional medical examiners, to ensure any lessons are learned to protect frontline staff."
Register for free to continue reading
Registration is a free and easy way to support our truly independent journalism
By registering, you will also enjoy limited access to Premium articles, exclusive newsletters, commenting, and virtual events with our leading journalists
Already have an account? sign in
Register for free to continue reading
Registration is a free and easy way to support our truly independent journalism
By registering, you will also enjoy limited access to Premium articles, exclusive newsletters, commenting, and virtual events with our leading journalists
Already have an account? sign in
Join our new commenting forum
Join thought-provoking conversations, follow other Independent readers and see their replies