Coronavirus: NHS Nightingale hospital reopens for CT scans to help cut waiting lists
Seven field hospitals opened in anticipation of surge of Covid-19 cases have barely been used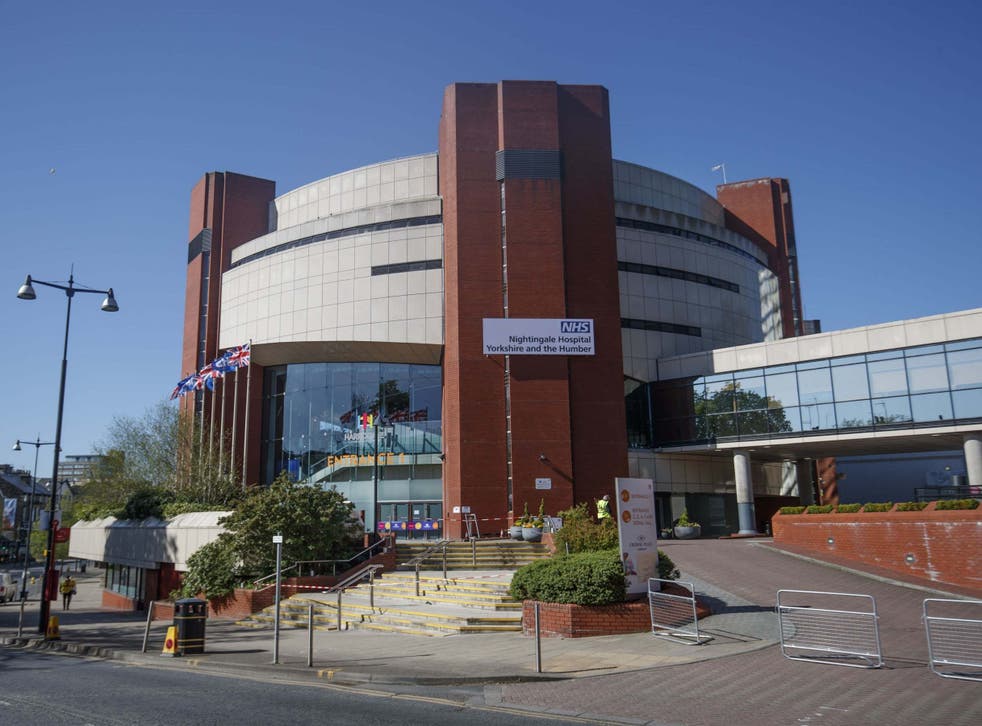 One of the UK's field hospitals set up to cope with an expected surge in coronavirus patients is being reopened to offer CT scans for hundreds of patients a week.
Yorkshire's 500-bed Nightingale hospital, based in Harrogate, never treated a patient after it was officially opened by Captain Tom Moore at the end of April.
Now two local NHS trusts are planning to make use of the hospital's scanners – which can be used to detect cancer and heart disease – seven days a week, with around 120 patients expected weekly to help reduce waiting lists.
The network of seven critical care Nightingale hospitals was barely needed during the first wave of the Covid-19 crisis, with London's hospital at the Excel Centre only treating 54 patients.
All have been on standby as the numbers of coronavirus patients in hospitals continues to drop, but each has CT scanners that could be used to help reduce diagnostic waiting times as the NHS looks to resume normal services paused because of the pandemic.
Leeds Teaching Hospitals Trust and Harrogate and District NHS Trust will be the first to use the Harrogate facility seven days a week, starting on Thursday with an initial nine patients booked for scans.
The scanner will be used for patients referred for a diagnostic scan as well as patients being monitored for existing disease.
Steve Russell, chief executive of the Nightingale and the local Humber and Harrogate and District NHS Trust, said: "A number of NHS services have been significantly affected by the Covid-19 pandemic as hospitals have had to prioritise the care of patients with the virus.
"The measures taken to introduce social distancing and manage hospital demand have meant that we've not yet needed to use the NHS Nightingale hospital for its original intended purpose. We've therefore taken the decision to utilise the equipment and begin offering CT scans at the facility so that we can get patients seen quickly."
Every patient who attends the facility will be screened before their appointment to check that they don't have the symptoms of Covid-19 and appointments will only be offered to those who are not isolating or shielding.
Register for free to continue reading
Registration is a free and easy way to support our truly independent journalism
By registering, you will also enjoy limited access to Premium articles, exclusive newsletters, commenting, and virtual events with our leading journalists
Already have an account? sign in
Register for free to continue reading
Registration is a free and easy way to support our truly independent journalism
By registering, you will also enjoy limited access to Premium articles, exclusive newsletters, commenting, and virtual events with our leading journalists
Already have an account? sign in
Join our new commenting forum
Join thought-provoking conversations, follow other Independent readers and see their replies