Special Report
Inside NHS Nightingale: Staff speak out about the reality of care in London's coronavirus field hospital
Ministers declare the project a great success, but staff tell health correspondent Shaun Lintern they want to do more – and they fear prominent PR is doing more harm than good
Thursday 23 April 2020 17:32 BST
Comments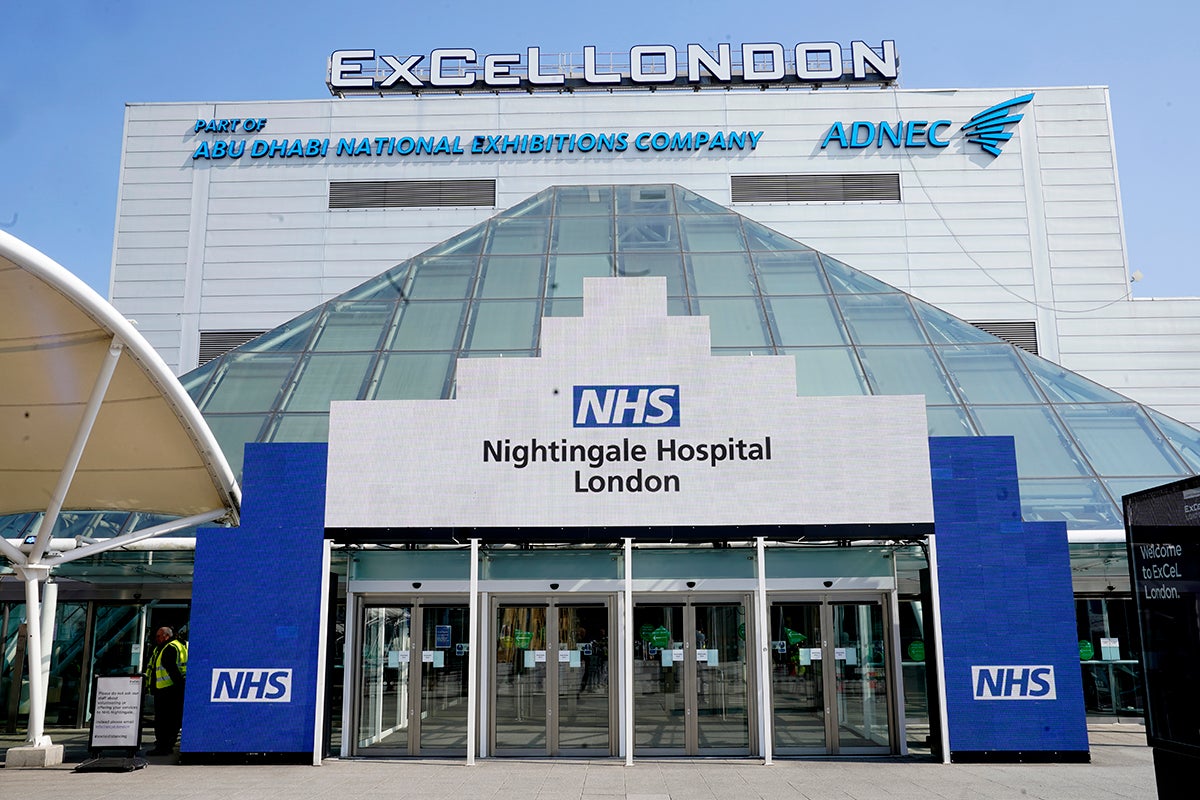 A 4,000-patient hospital constructed in just 10 days, NHS Nightingale in east London was set up as a key part of the preparations for a coronavirus surge – and has been highlighted as a crowning achievement by ministers and officials at every turn, from the House of Commons to countless press releases and PR videos.
But at the 100-acre ExCel centre in London Docklands, the number of patients fighting for their lives in the field hospital is approximately 30. Questions are being asked about why the Nightingale isn't taking more patients from London's hospitals, which have carried the burden of the surge in patients needing intensive care, cancelling operations, creating makeshift intensive care units in overspill areas and stretching staffing to unsafe levels.
Up to 3,800 staff were needed for the initial creation of the hospital, although The Independent has been told only around a third of that number had been recruited and trained. NHS England refused to provide any staffing details, but denies there are shortages.
Insiders who work at varying levels in the hospital, who have spoken to The Independent on condition of anonymity, also criticise the "political spin" and portrayal of the Nightingale which they say has given a "false perception" of what it is like, with social media posts doing "more harm than good".
"The PR has not helped. When people see TikToks and things like that I can understand why they ask questions. The impression people seem to have gained is that we are fully staffed and have plenty of equipment. But we are not immune to the challenges of every other hospital," one insider says.
The staff praise the culture of the new hospital and all of them support its creation: "When they set this up we were talking about 7,500 patients in London needing critical care. We haven't had to go anywhere near that. Not using it all is not a reason to criticise it."
Another one explains: "It's difficult to hear our mates struggling and not being able to expand at the pace we would want to. We know what they are going through. Our goal is to relieve the pressure on London and if we had the staff, we would be more than happy to take more patients. The only rate-limiting step is staffing."
While one insider says there are thankful it hasn't been needed in full, all the staff say they share the view that it would not be possible to expand the hospital without pulling more staff from already stretched hospitals.
Staffing levels
The Nightingale Hospital, spread across the equivalent of a dozen football pitches, houses 500 beds for patients and has space for another 3,500.
It admitted its first patient on 7 April and in the weeks since then has had approximately 30-35 patients at any one time. Although it discharged its first patient on 19 April, before that point several patients had been transferred back to London hospitals because they became sicker than could be safely managed.
Concerns have been raised that while some hospitals in London have struggled to cope in recent weeks, the Nightingale has not been as much help as many NHS managers in the capital had hoped it would be. Some trusts have been told they would need to send staff to the Nightingale when requesting to transfer patients there. One worker says: "They have had lots of issues with staffing. For a variety of reasons, staffing has been quite poor. They had to rejig it in the early days as they realised staff rostered onto shifts had not been released by their hospitals, so there were underfilled shifts which were only found out quite late on.
"It's pretty well acknowledged that staffing is the issue. Not many people have been able to get released from their trusts. There is no shortage of people who want to send patients to the Nightingale. Everyone here knows some hospitals around London are on their knees, but unless you have staff you can't expand the capacity. That is the limiting factor."
Another says: "The Nightingale just doesn't have the staff. Many of those who volunteered are stuck with their main employers."
They say that to expand the number of patients, staff would need to be pulled from across the country, adding: "We are all fishing from the same pond and we started this crisis with significant ICU nurse shortages."
The 42-bed ward used for patients – split into bays of six – has a mix of staff, including some with no intensive care experience such as GPs, obstetricians and research doctors who never normally treat patients.
The staffing is split into clinical support workers who cover between one to three patients, provide patient-level care and record the patient's condition regularly, as well as registered nurses who oversee up to four patients with support from critical care nurses and matrons.
The ward also has six ward doctors, three intermediate doctors and intensive care or anaesthetic consultants as the senior decision makers. There are also separate teams looking after the specific needs of the patients and providing specialist support. Families are given daily updates on their relatives.
If the Nightingale was to take more patients, one clinician says this would inevitably mean poorer staffing levels: "If it did expand, the idea would be to stretch staff ratios from one nurse to six patients, one junior doctor to six patients and one consultant for 42 beds. Thank goodness we haven't had to do that."
One worker says they enjoy the working environment and the care being given to patients is good. They add that senior clinical managers have done shifts alongside other staff.
Another says: "It is a really flat hierarchy. There is no blame. People are positive about the work they are doing. Every day the care we are giving is getting better. There is a real team effort to improve."
The future of the Nightingale
The number of patients in hospital with coronavirus has begun to fall steadily in the last few days and data on intensive care capacity shows these figures have started to stabilise.
"One of the big water cooler conversations is what Nightingale will look like in the future. A lot of people think it will be a resource for London to start doing all the other things London needs to be doing. But none of us know yet."
Another adds: "The question is what do we do with the Nightingale now? Will we have a second surge? There is talk of it being used as a stepdown facility and rehabilitation service but it would need to be redesigned. It's a big massive space and in order for people to rehab properly you need quiet, day and night cycles and specific spaces. We would have to make some pretty significant changes."
A copy of the Nightingale's standard operating procedures, shared by one member of staff with The Independent, reveals the field hospital was never designed to take the sickest patients.
The exclusion criteria says any patient with significant complications or serious intensive care needs such as renal replacement therapy, or filtering blood in place of the kidneys, are automatically not eligible to be taken there, leaving many of the sickest patients with London hospitals.
Some staff feel that the hospital is the right place for those patients to be while others suggest it was a move to protect the reputation of the new hospital and has left many London units struggling to cope.
One intensive care doctor from the north of England who examined the criteria document tells The Independent it "means they are only taking those who are well into the recovery phase".
One Nightingale staff member says: "People are aware that we should have more patients and we are keen to have them.
"All the patients are sick. The problem with Covid patients is they get better and then they get sick again. Some patients have been transferred back to London hospitals."
Facilities and equipment
All those interviewed by The Independent say the Nightingale has enough protective equipment. However, staff have been asked to use it carefully and to reuse visors. There have also been some drug shortages in line with supplies running low across the country.
The Nightingale, in line with many makeshift ICUs across the country, is also using anaesthetic ventilators with only a small number of normal intensive care ventilators. Anaesthetic machines are not designed for long-term use and need regular checks. One insider says this is far from ideal, adding: "I don't feel we are delivering the standard of ITU care you would expect in a non-pandemic situation."
Another says: "I don't think we are awash with any equipment, but we seem to have what we need. We are being asked to reuse visors."
One member of the team says: "It is hard work, but the patients are getting good care. We have five or six models of anaesthetic machines. Some of them are good and some of them are less good. The sicker patients go on the better ventilators
"Patients are transferred out when they are no longer safe to be on an anaesthetic machine. It was a little disingenuous to say that the patient on Sunday was our first to leave the Nightingale. There were a number of patients who left before the weekend as transfers to other units because the patients were too sick to remain here."
One employee also noted that the hospital "does have all the facilities you need" but adds that when it comes to services for the patients: "It is not a normal hospital, it is a field hospital."
There is a CT scanner which has been installed some distance from the ward area to help identify whether patients have internal problems such as blood clots on their lungs which can be a life-threatening complication.
It also has two dialysis stations to support several patients a day. Up to a third of Covid-19 patients need to have their blood filtered because they can suffer organ failure including their kidneys.
Another worker praises the facilities and efforts to maintain staff wellbeing. They describe fridges that are regularly placed along the main conference centre boulevard "filled with soft drinks that you can just help yourself to which is important for staff to stay hydrated".
"There is lots of food and chocolate available. We don't have to queue. We don't have to pay – it's all been donated."
They say staff tend to congregate in a coffee shop opposite the main ward during their breaks, adding: "There is a real focus on taking your breaks. It's the little things that make a difference and make you feel valued. A lot of us hope when this is all over the NHS takes away a lot of what has been done at the Nightingale."
There is an emphasis on education and training and support for people not to go beyond what is safe for them to do with patients.
For those staff who can't or don't want to travel after completing their 12-hour shifts, they have been given free hotel accommodation.
Another colleague says the "place has been well designed" and "its quite impressive what they have been able to achieve. Morale is high".
Many of the staff feel the Nightingale had been misrepresented in publicity produced by the NHS to promote the hospital. One worker says a lot of what had been produced amounted to "virtue signalling and humble bragging" rather than explaining the real work that was happening.
Another says the publicity about the hospital had been superficial and "given people the wrong impression".
"We are not communicating the good stuff, it is so vague as to be unhelpful," says another.
"We need to be much more open about what we are doing and there would be a better understanding of why we only have a small number of patients. The comms, tweets and videos are doing more harm than good."
Nicki Credland, chair of the British Association of Critical Care Nurses, tells The Independent the testimony of staff is not a surprise to her: "It's not the staff at the Nightingale's fault. They will want to do everything they can to help their colleagues.
"Building more beds does not equal more staff. You cannot make intensive care staff overnight."
She says the exclusion criteria shows the sickest patients are not being treated at the Nightingale, adding that staff around London have told her they are not coping because of the extra patients and stretched staffing levels. She says: "They are in a whole world of pain.
"You can't say something is spare when you have had to stop something to provide it. That's not extra capacity. It's only been created by dropping your standards and reducing safety."
NHS England refuse to confirm how many patients are being treated or how many staff are employed at the field hospital. In a statement, it said: "The clinical models for each of the Nightingale hospitals have been designed by highly experienced and distinguished clinicians from across the regions they serve, and work as part of regional critical care networks to ensure that patients get the right treatment for them in the right place.
"As we have always said, it will be very good news for the health of our country if the Nightingale hospitals are not used to their capacity, as it will show that the NHS has prepared successfully, and that the public following government advice has been effective in slowing spread of the virus."
Join our commenting forum
Join thought-provoking conversations, follow other Independent readers and see their replies