More than 4 in 10 NHS staff 'made ill by stress' during pandemic
More than half of staff said they were working extra unpaid hours each week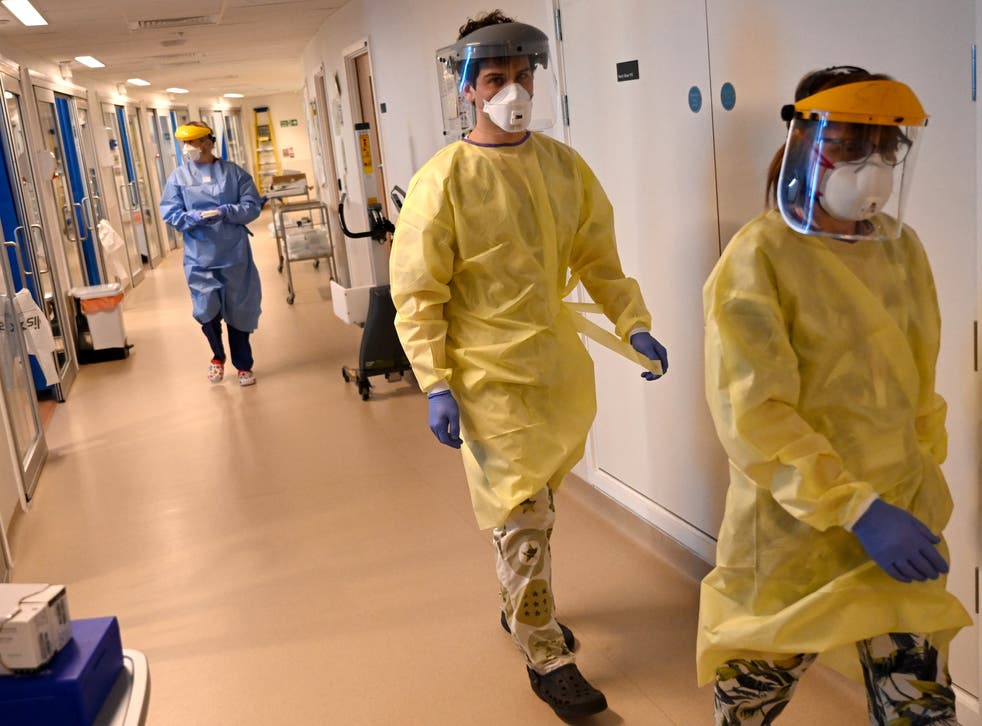 More than a quarter of million NHS staff have reported being ill as a result of work related stress during the coronavirus pandemic, with one in five thinking of leaving the health service.
Almost 600,000 NHS employees in England responded to the annual NHS Staff Survey last year, giving the first large scale assessment of the impact of the pandemic on health workers.
While the survey showed morale among staff had broadly held up during 2020, there was a marked increase in the levels of stress with 44 per cent, or 261,000 staff, saying they had felt unwell as a result of work-related stress in the previous 12 months, up from 40 per cent in 2019.
The increase in stress was worse for frontline staff who reported a 5 per cent jump in stress compared to 2019 with half of working on Covid wards reporting stress.
An increasing proportion of workers were unhappy over their pay and this was ahead of the government's proposal to give staff only a 1 per cent pay rise from April.
Among nurses pay satisfaction dropped almost 4 percentage points to just over 32 per cent. The numbers of doctors reporting they were satisfied with their pay hit 57 per cent, an increase of almost 2 percentage points on the year before.
The survey, carried out between September and December last year, revealed almost a fifth of staff said they were considering leaving the NHS, although this was an improvement since 2019, up from 19.6 per cent to 18.2 per cent.
Nuffield Trust director of strategy Helen Buckingham said: "Today's staff survey shows the astonishing resilience of the NHS, and reminds us that Covid-19 has hit certain parts of the workforce far more than others.
"These aren't encouraging results for the drive to grow nursing numbers by 50,000 which is both a government promise and a front line necessity."
She added: "Another very concerning set of responses is those from staff of ethnic minority backgrounds. The survey shows they bore the brunt of Covid-19, with 47 per cent working in Covid-19 roles compared to 31 per cent of all staff. It is especially sad and troubling that the proportion of staff saying they faced discrimination has risen from 16.5 per cent to 19.4 er cent for those from black ethnic groups, and from 13.7 per cent 15.6 per cent for those from Asian ethnicities."
Other key findings in the survey include:
82 per cent of staff were satisfied with the quality of care they gave patients
72.5 per cent said they would feel secure raising concerns about unsafe care
60 per cent said they were confident their NHS trust would act on concerns
55 per cent of staff were working additional unpaid hours every week
38.4 per cent of staff said there were enough of them to do their job properly, a rise of six per cent on 2019.
Two thirds of staff said they would recommend their organisation as a place to work.
Almost three quarters of staff said they would be happy to see a friend or relative cared for in their organisation.
More than a quarter of staff experienced bullying or abuse from patients in the last 12 months while 18.7 per cent said they were bullied, harassed or abused by colleagues.
14 per cent of staff reported experiencing violence from patients
Danny Mortimer, chief executive of the NHS Confederation, said the general findings were encouraging but there were "significant areas of concern".
He said: "The overall picture is encouraging given the unprecedented and most challenging of times NHS staff have worked through over the past 12 months.
"There are, though, significant areas of concern and the recent data on the continued poorer experience of ethnic minority staff starkly reminds NHS leaders that staff experience varies unacceptably in their organisations."
He said with nearly one in five people thinking of leaving the health service, there can be "no room for complacency", as he cited the government's "intention to offer only a 1 per cent pay rise" to NHS workers, a move which has prompted strong criticism.
The survey, which has been conducted every year since 2003, was sent out to more than 1.2 million NHS staff in England between September and December last year.
Some 280 NHS organisations took part, including all 220 trusts in England, but it does not cover primary care care staff.
Chris Graham, from the Picker Institute who managed the survey for NHS England said: "Results from the NHS Staff Survey illustrate the profound impact of the Covid pandemic on the NHS workforce – and the strength and resilience it has shown in maintaining services throughout the crisis.
"Incredibly, morale has remained high and measures related to staff engagement show the deep commitment of NHS personnel. At the same time, results around work-related stress and pay satisfaction show the toll that 2020 has taken on front-line staff, particularly in front-line and non-medical roles.
"Whilst the results do indicate improvements in efforts to support staff wellbeing, there is a need to accelerate this and to focus on ensuring that NHS staff are looked after and supported. This will be all the more important after the second peak in Covid cases, which has come after the survey was completed. We urge all employers to carefully and thoroughly review their results and to work with staff to identify supporting actions."
Minister for care Helen Whately said results on health and wellbeing of staff and those satisfied with the quality of care at their organisation were encouraging and reflected the recruitment of an extra 10,600 nurses in the NHS compared to last year with a rise of a third in applications to study nursing at universities.
She added: "There has been a welcome fall in the number of staff experiencing abhorrent harassment, bullying or abuse. However I am disappointed to see a small rise in the number of staff who have experienced discrimination because of their ethnic background. We have zero tolerance for any kind of violence or discrimination in the NHS and I'm determined to put a stop to this.
"Areas do remain where we need to do more. We will help staff recover from this pandemic, with investments in mental health support and professional development, along with our commitment to recruiting more doctors, nurses and health support workers so our NHS has the staff it needs."
Join our new commenting forum
Join thought-provoking conversations, follow other Independent readers and see their replies