Coronavirus delays putting patients' lives at risk, warn ambulance chiefs
Ambulances are being delayed responding to emergencies because of waiting times at hospital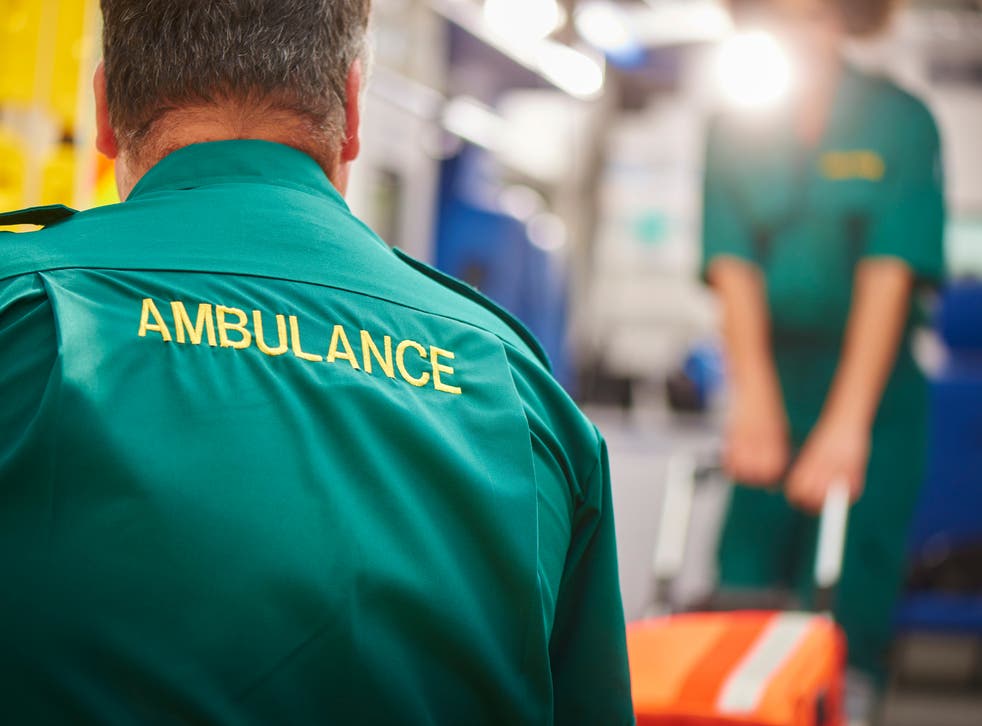 Ambulance chiefs have warned coronavirus precautions in hospital emergency departments are putting patients' lives at risk because of long delays before patients are being treated.
West Midlands Ambulance Service has written a formal warning to three hospitals in the region over the delays to handing over patients from ambulance to hospital staff.
In one case, a patient was left waiting with ambulance crews for up to three and a half hours.
According to the letter, obtained by the Health Service Journal, the delays are being caused because of tougher infection control measures with ambulance bosses warning the situation is "dangerous".
University Hospitals Birmingham Trust has already warned the public that they will not be seen at its three A&E departments if they are not a genuine emergency and could be turned away.
West Midlands Ambulance Service wrote to the University Hospitals North Midlands Trust, Dudley Group Foundation Trust and Shrewsbury and Telford Hospital Trust last month.
Director of nursing Mark Docherty said the delays meant ambulances could not be sent to "life threatening emergencies", and warned: "Lives will be put at risk and patients will come to harm as a result".
He added: "I alerted you to a serious concern about patients being kept on ambulances outside your hospital. Of great concern is the fact that a hospital risk assessment identifies this process as a mitigation to reduce risk in your hospital…
UK news in pictures

Show all 50
"The situation is dangerous for patients. There is no running water or toilet facilities on the ambulance and the heating is only operative when the engine is running, so this is not an environment where we can keep a patient."
Because of the risks of coronavirus infection if large numbers of patients are kept on trolleys in corridors, hospitals are reluctant to accept patients from paramedics if it will lead to crowding in the A&E.
It is another example of coronavirus exacerbating the usual problems experienced by hospitals during winter when A&E crowding and patients waiting on trolleys has become commonplace in recent years.
According to the letter from WMAS, the average wait for an ambulance to hand over on 28 September was 42 minutes for UHNM and Dudley, while Shrewsbury and Telford it was 56 minutes.
The national standard is for handovers to take place within 15 minutes. UHNM recorded one wait of three and half hours on 28 September, according to the letter.
A spokeswoman for UHNM told the Health Service Journal: "Previously we have been able to achieve some of the best ambulance turnaround times locally, however, at times we are now facing extreme pressure in our emergency department and we were unable to do this as fast as we would want."
Nigel Lee, chief operating officer at the Shrewsbury and Telford Trust, said A&E attendances were back to pre-pandemic levels, and the need to segregate patients was adding to the delays.
Diane Wake, chief executive for the Dudley Group added: "Managing Covid and infection prevention is a challenge but generally our performance around ambulance waits is good.
"Demand for our emergency services continues to be a challenge in line with other hospitals across the Black Country, and observing social distancing reduces our ability to see as many patients in an area."
She said the letter was the result of a "challenging weekend" when the trust had high numbers of ambulances arriving over a four to five-hour period.
A spokesman for West Midlands Ambulance Service said: "As winter draws in, we're seeing NHS pressure and demand for services increasing across the West Midlands. Unfortunately, that has meant that some ambulance crews are having to wait before being able to hand their patient over to hospital clinicians, which is regrettable."
Register for free to continue reading
Registration is a free and easy way to support our truly independent journalism
By registering, you will also enjoy limited access to Premium articles, exclusive newsletters, commenting, and virtual events with our leading journalists
Already have an account? sign in
Register for free to continue reading
Registration is a free and easy way to support our truly independent journalism
By registering, you will also enjoy limited access to Premium articles, exclusive newsletters, commenting, and virtual events with our leading journalists
Already have an account? sign in
Join our new commenting forum
Join thought-provoking conversations, follow other Independent readers and see their replies