Coronavirus: Elderly Dutch woman dies after Covid-19 reinfection
89-year-old cancer patient developed new symptoms 59 days after start of first Covid-19 episode
Samuel Lovett
Tuesday 13 October 2020 15:19 Comments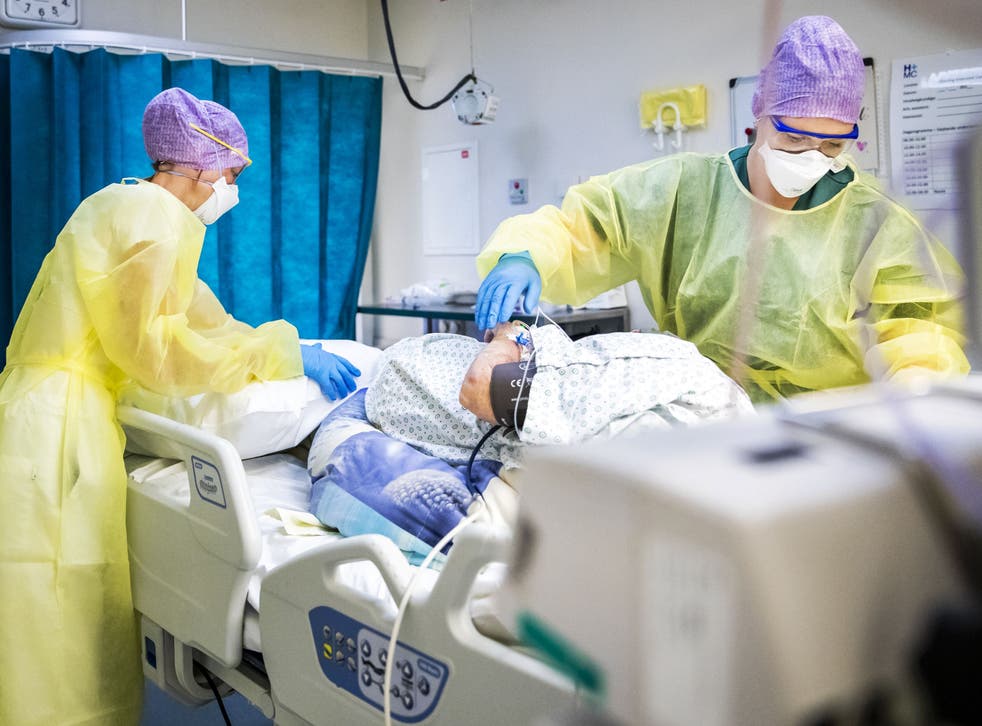 An elderly woman with blood cancer has died after being reinfected with Covid-19, according to a group of Dutch scientists.
The 89-year-old Dutch patient suffered from Waldenström's macroglobulinemia, a rare type of blood cancer which is treatable but incurable.
In a report published by the Oxford University Press, the researchers said that the patient was first admitted to hospital earlier this year with a fever and severe cough. She tested positive for Covid-19 before being discharged five days later.
Following chemotherapy treatment - and 59 days after the start of her first Covid-19 episode - the woman developed fever, cough and a shortness of breath.
When she was readmitted to hospital, her oxygen saturation was 90 percent with a respiratory rate of 40 breaths per minute.
She once again tested positive for Covid-19, while blood analysis showed that she did not have any coronavirus antibodies.
After eight days in hospital, her condition deteriorated before she died two weeks later, the researchers said.
Genome sequencing of the patient's virus samples displayed genetic differences, implying she had been infected by two distinct versions of Sars-CoV-2.
"It is likely that the second episode was a reinfection rather than prolonged shedding [of the virus]," the researchers said.
The Dutch scientists acknowledged that their "patient was immunocompromised, because of Waldenström's macroglobulinemia treated with B-cell-depleting therapy, resulting in a declined humoral immunity".
They added that reinfections are "expected to occur" once antibody levels decrease and "immunity wanes" among patients.
On Monday, scientists in the US reported the country's first case of Covid-19 reinfection, heightening concerns that exposure to the virus may not guarantee total immunity.
A study published by The Lancet showed that a 25-year-old man from Nevada was infected with two distinct variants of Sars-CoV-2 within a 48-day span.
The patient's second infection was more severe, the researchers at the University of Nevada said, resulting in hospitalisation with oxygen support.
Akiko Iwasaki, a professor of immunobiology and molecular, cellular and developmental biology at Yale University, said the emergence of reinfection cases presented an opportunity for the scientific community to "understand better" how the body's immune system works in response to the virus.
"This information is key to understanding which vaccines are capable of crossing that threshold to confer individual and herd immunity," she said.
Register for free to continue reading
Registration is a free and easy way to support our truly independent journalism
By registering, you will also enjoy limited access to Premium articles, exclusive newsletters, commenting, and virtual events with our leading journalists
Already have an account? sign in
Join our new commenting forum
Join thought-provoking conversations, follow other Independent readers and see their replies