Coronavirus test results not shared with local NHS or health officials 'disappearing into data black hole'
'The system remains a mess – multiple routes to test, multiple command structures via the NHS. How are directors of public health expected to manage and direct testing'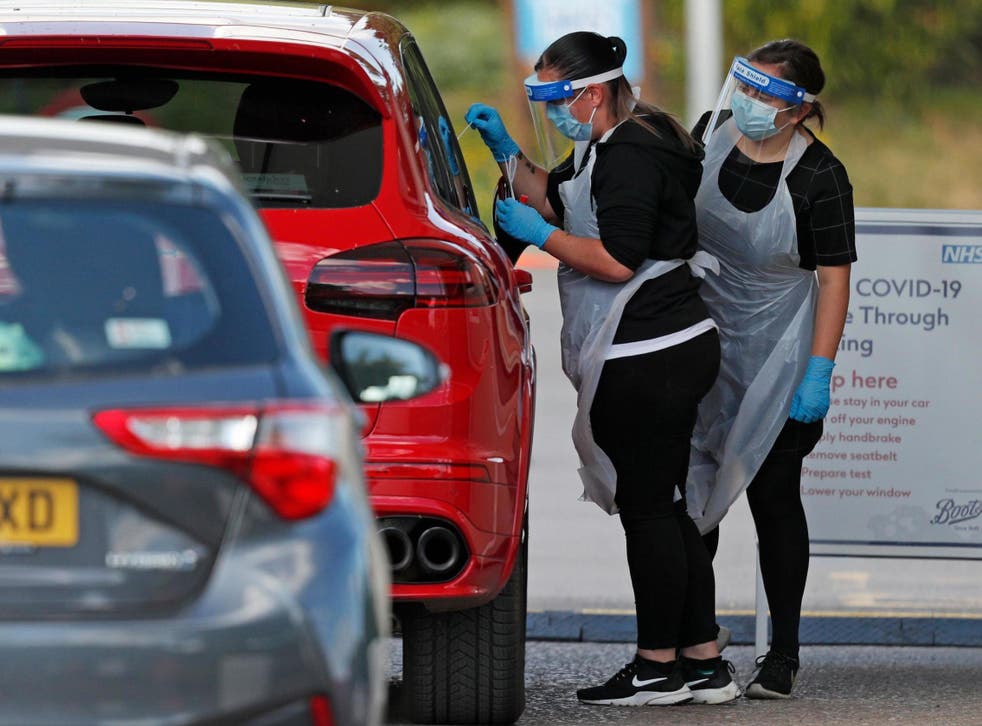 The results of tens of thousands of coronavirus tests carried out by the government's new network of test centres are not being shared with local NHS hospitals or councils, hampering their efforts to fight the virus, it has emerged.
A leaked NHS email, seen by the Health Service Journal (HSJ), said the data from the test centres, set up by the government and managed by consultancy firm Deloitte, was "increasingly becoming unavailable" and will not be reported to local organisations "until further notice".
The results of tests are still being fed into the national totals but only data from NHS lab results, which make up less than half of tests being carried out, are being reported locally.
One source told the HSJ the local intelligence which should be produced from the testing system was instead "disappearing into a data black hole".
A public health director from the south of England, which has been badly hit by the virus, said they had no access to testing data from non-NHS lab tests.
The government said the issue was linked to a postcode error and had now been fixed, and it was misleading to suggest results were disappearing.
The source said: "The system remains a mess – multiple routes to test, multiple command structures via the NHS. How are directors of public health expected to manage and direct testing?
"We need to arrange testing for staff and for residents. But the NHS does some of it, mobile testing sites run by military do other bits, regional testing sites do others – but travel is a challenge."
The need to get clear information on the regional spread of the virus will be increasingly important as lockdown restrictions ease, with some regions already seeing different rates of infection to others.
Last week Allan Wilson, the president of the Institute of Biomedical Science, criticised the government's testing strategy and said it had led to a "wild west" environment with NHS labs competing with the government's three new lighthouse labs set up to carry out tens of thousands of tests a day.
The drive to increase testing, with a new target of 200,000 a day, is a vital part of the government's test, track and isolate policy.
The internal email, sent at the weekend from a regional NHS incident centre, said: "No new national testing programme data will be reported in this brief from 4 May until further notice. This is due to the [national testing programme] testing numbers increasingly becoming unavailable.
"A reporting solution for NTP data is being built into the [Department of Health and Social Care] portal – once available, it will be captured in this testing brief again."
HSJ said around two-thirds of tests have taken place under the commercial lab testing scheme which includes more than 7,000 positive test results in the past three days, and tens of thousands in recent weeks.
Previously the service reported how many people were visiting each drive-through testing centre every day as well as how many home test kits had been sent out to people.
Last week chief medical officer Chris Whitty and Public Health England's testing lead John Newton apologised that data from the commercial tests was not available to local public health directors, citing "data quality issues".
NHS Improvement chair Baroness Dido Harding has been asked to lead the government's test, track and isolate scheme.
A Department of Health and Social Care spokesperson said: "Claims that the data of tens of thousands of tests is disappearing is factually wrong and highly misleading. The vast majority of people receive a clear result to their test within 48 hours.
"There was a recent technical error relating to postcode data, but this has now been fixed, and a fully corrected data flow was issued last week. This did not prevent public health bodies from undertaking contact tracing of those with positive results."​
Register for free to continue reading
Registration is a free and easy way to support our truly independent journalism
By registering, you will also enjoy limited access to Premium articles, exclusive newsletters, commenting, and virtual events with our leading journalists
Already have an account? sign in
Register for free to continue reading
Registration is a free and easy way to support our truly independent journalism
By registering, you will also enjoy limited access to Premium articles, exclusive newsletters, commenting, and virtual events with our leading journalists
Already have an account? sign in
Join our new commenting forum
Join thought-provoking conversations, follow other Independent readers and see their replies