Coronavirus could be used by authoritarian leaders as excuse to undermine democracy, experts warn
Worries coronavirus could reshape politics by eroding democracy in some countries, writes Borzou Daragahi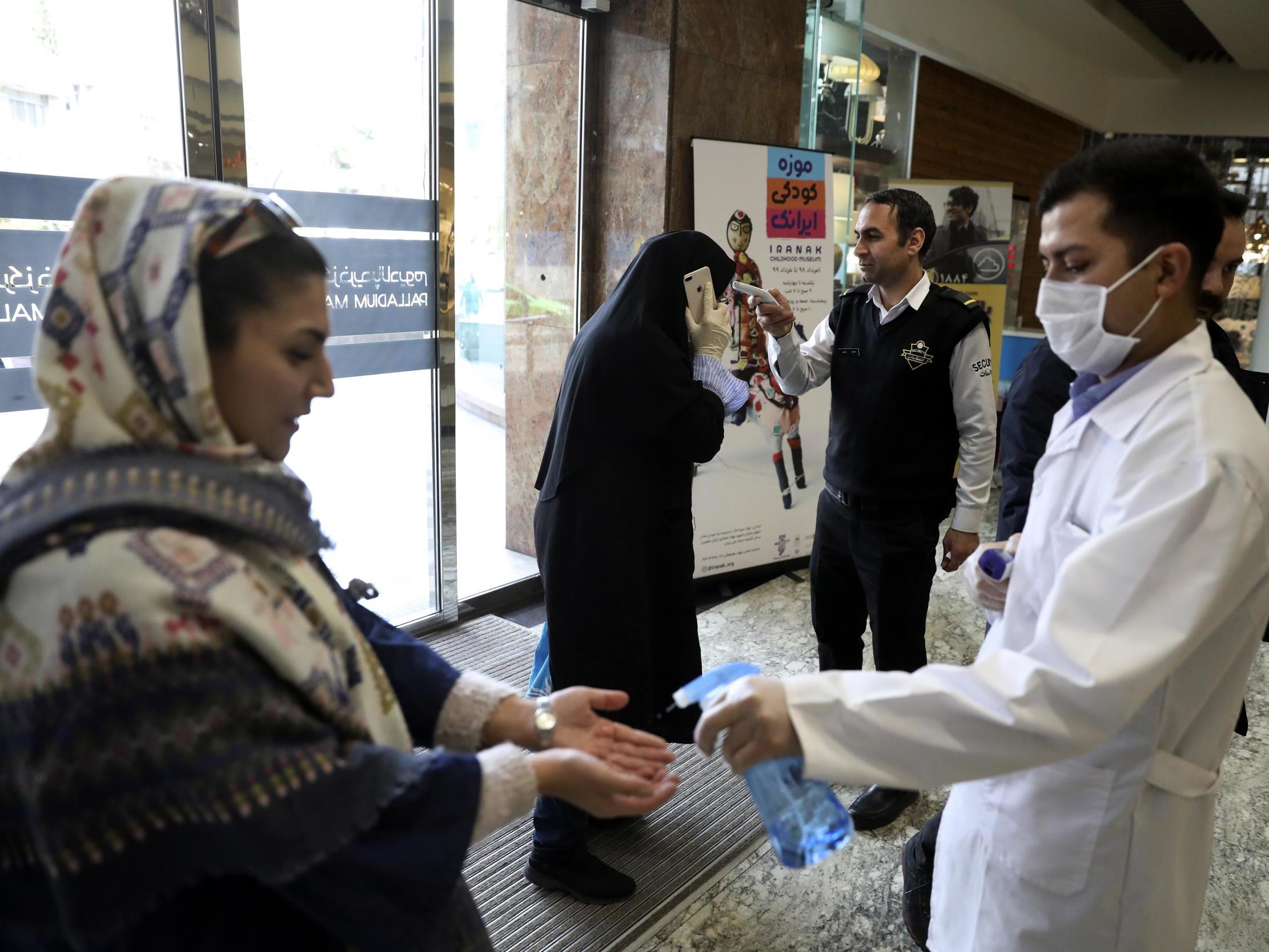 In the United States, a White House staffed by xenophobes is using the coronavirus to strengthen border controls it has long wanted to embrace. In Israel and Singapore, governments are invoking the crisis over Covid-19 to track movements of people on cell phones.
In Iran, a government obsessed with control has used the epidemic to deploy security forces around the country to clear the streets. Meanwhile in Hungary, a right-wing leader who has built his political career on demonising immigrants told his counterparts there was a "clear link" between migrants and the coronavirus.
Across the world, public health officials, frontline medical professionals and local politicians are attempting to contain one of the worst pandemics in modern history.
But they are often brushing up against ideologically-minded national leaders who appear to be attempting to exploit coronavirus to impose measures they've long sought, even if it imperils lives.
World news in pictures
Show all 50
"This is unacceptable," Chicago Mayor Lori Lightfoot wrote in response to reports of waits as long as eight hours for travellers crowded at the city's international airport. "The reactionary, poorly planned travel ban has left thousands of travellers at [O'Hare Airport] forced into even greater health risk.
"No one has time for your incompetence," she wrote, addressing Donald Trump and the Customs and Border Protection service.
The coronavirus crisis has severely strained health services across the world and is posing a grave challenge to the world economy, with stock markets collapsing and businesses idling workers. But experts are warning that it could also reshape politics by hardening authoritarian systems and eroding democracy in some countries, especially in fragile nations where would-be tyrants have been seeking to consolidate their power.
On Monday, a group of United Nations-affiliated experts issued a stark warning that emergency measures over coronavirus should not be used by governments for political ends.
"While we recognise the severity of the current health crisis and acknowledge that the use of emergency powers is allowed by international law in response to significant threats, we urgently remind states that any emergency responses to the coronavirus must be proportionate, necessary and non-discriminatory," said the experts, who include nearly a dozen UN special rapporteurs on protections of human rights and democratic freedoms.
"Emergency declarations based on the Covid-19 outbreak should not be used as a basis to target particular groups, minorities, or individuals," said the statement. "It should not function as a cover for repressive action under the guise of protecting health nor should it be used to silence the work of human rights defenders."
There are already numerous signs that governments are potentially exploiting the epidemic for their own advantage. Months-long anti-government protests in Iraq, Algeria, and Lebanon that have been a severe thorn in the side of the elites have been suspended.
In Turkey, the conservative Islamist-rooted government has ordered bars, nightclubs and libraries to close over coronavirus fears, but is allowing shopping malls, stores and restaurants to remain open.
In India, the coronavirus outbreak is being used by members of Narendra Modi's ruling Hindu nationalist party to demonise peaceful mostly Muslim protesters who have staged a sit-in against controversial new citizenship laws since mid-December. On Tuesday, prominent local party figure Kapil Mishra said the protesters' failure to disband immediately made them "like terrorists on a suicide mission" and "a direct threat to the lives of millions of Delhi citizens".
Leaders facing critical leadership challenges such as Benjamin Netanyahu in Israel and Romania's prime minister Ludovic Orban found their political problems vanishing, at least temporarily.
"It was a vote carried under extraordinary circumstances, where there was no room for opposition or debate," Vlad Alexandrescu, a Romanian parliamentarian, said of an emergency vote on Saturday to give the embattled premier full powers.
Mr Netanyahu, meanwhile, was spared the indignity of appearing in court on Tuesday across three corruption cases after his hearings have been postponed for two months due to coronavirus restrictions on large gatherings.
Although his chief elections rival ex-army chief Benny Gantz has been awarded the task of attempting to build the next government, Mr Netanyahu has not squandered the platform a national emergency brings.
He has dominated TV screens, giving almost daily primetime addresses updating the country on new restrictions as well as reassuring his citizens. In a decision pushed through overnight on Tuesday, the cabinet sidestepped the parliament to allow Shin Bet to use technology developed to target Palestinian militants to tap the metadata of mobile phones used by suspected Coronavirus patients, and anyone "within the vicinity" of them.
"Not only is it an invasion of privacy but also the executive branch bypassed the legislative branch, we will file our petition tomorrow," said Maya Fried, a spokesman for the Association for Civil Rights, which is challenging the move in court. "The expansion of its powers to a strictly civilian issue is a dangerous precedent and a slippery slope."
Numerous countries have meanwhile tightened controls on the media, issuing stark warnings against and threatening to revoke accreditation of anyone questioning official numbers as spreading misinformation. Egypt on Tuesday revoked the press credentials of The Guardian's Cairo correspondent over a piece that reported research questioning the state's numbers on coronavirus cases.
The monarchy in Jordan on Tuesday ordered the closure of all print news outlets, and a curfew deploying the army to the entrance of the cities, citing coronavirus.
Citing coronavirus fears, some countries have barred family visits for prisoners, including those held on political or security charges.
"What you're seeing is autocratic regimes that are using traditional autocratic methods because that's what they've always used and autocracy is what brought them to their failures," says Rami Khouri, a scholar at the American University of Beirut. "They falsify numbers of corona cases just as they falsify election returns, saying everything is fine and the few cases we have are all foreigners."
To be sure, some of the panic and reaction over coronavirus is well founded. The coronavirus pandemic is a unique crisis, and there is understandable confusion over how governments ought to respond. Public health experts have praised the efforts of some authoritarian systems such as Singapore in responding to the crisis.
The monarchy in Morocco, a developing country especially vulnerable to coronavirus because of its strong ties to pandemic-stricken France and Spain, has reacted forcefully to the crisis, with a population submitting to drastic measures quickly enacted to contain the virus. "People are generally obedient and respectful of the monarchy," says Nassim Assef, a public health specialist in Rabat.
"Autocratic governments have the advantage to respond appropriately because they don't have to deal with checks and balances," says Erica Frantz, a professor of political science at Michigan State University and the author of the 2018 book, Authoritarianism: What Everyone Needs to Know.
But autocratic leaders often don't have the people's best interests in mind, she says, citing Mr Trump's initial decision to exclude the United Kingdom from a Europe-wide travel ban to reward fellow traveller Boris Johnson.
"You see miracles and disasters happening more often in autocracies," she says. "All the events in the US over coronavirus are indicative of the dangers of concentration of powers. He has hollowed out institutions, and filled them in with people who are his friends. They have very little experience and competence, and that leads to policies that are erratic and not well informed."
Just as dictators have used crises such as the 1933 burning of the German Reichstag to concentrate power throughout history, there are grave concerns that the coronavirus pandemic could be used to impose permanent measures.
In the Philippines, for example, opposition lawmakers and critics have voiced fear the authoritarian right-wing government of Rodrigo Duterte will be loath to remove restrictions on the freedom of movement and assembly that appear in synch with his goals. On Tuesday he declared a "state of calamity" for six months, far longer than any other country has suspended public life.
Political scientists say that while crises sometimes bring people together and unify them for a common cause, they also present an opportunity for authoritarian leaders to impose policies they've long sought on otherwise reluctant people.
"These crises are risky for democracies more than anything," says Frantz. "I see these crises as opportunities for governments to crack down. We really need to pay attention to crisis events that can be used for transitions from democracy to take place."
Bel Trew in Beirut and Adam Withnall in Delhi contributed to this report.
Join our commenting forum
Join thought-provoking conversations, follow other Independent readers and see their replies