More than 80% of people who were reluctant to accept vaccine in December change their mind
Study finds 86 per cent of adults who were hesitant about jab at the end of 2020 either planned on getting or had already accepted the inoculation two months later
Chiara Giordano
Wednesday 24 March 2021 19:08 Comments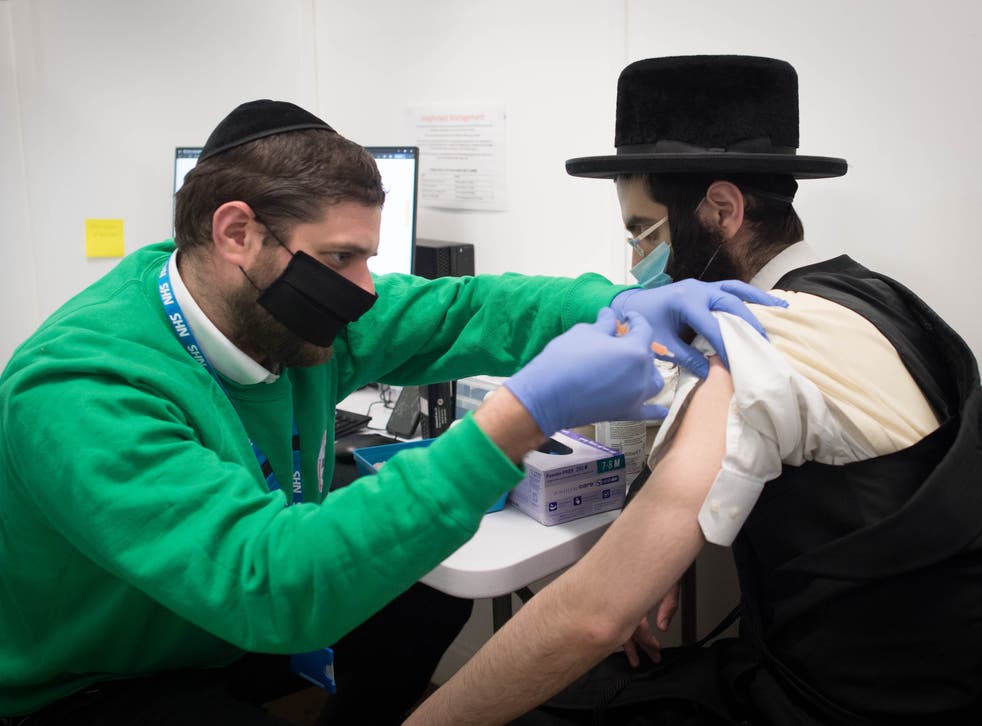 Leer en Español
More than four in five people who were hesitant about receiving a Covid-19 vaccine in December had changed their mind by February, a study has found.
Eighty-six per cent of survey respondents who said they were either uncertain about or intending to refuse a jab in December 2020 either planned on getting, or had already accepted, a vaccine in February 2021.
Researchers analysed the responses of 14,713 adults who reported across both time points and found the shift in attitude was consistent across all ethnic groups and levels of social deprivation.
The findings of the University College London's Virus Watch study revealed 87 per cent of White British people who were hesitant about the vaccine in December had changed their minds two months later.
That figure rose to 88 per cent for people from Black backgrounds, and 90 per cent of those from South Asian backgrounds.
Read more:
However disparities still exist, the study's authors said, with age most strongly associated with vaccination intention.
The research found 25 to 35 year olds were almost nine times more likely to intend to refuse a Covid-19 vaccine compared to over 75 year olds, after adjusting for other factors such as sex, ethnicity, deprivation and underlying health condition.
Study author Dr Parth Patel, of University College London, told Times Radio: "We haven't collected data on why people have changed their minds just yet but what we can see is the overwhelming majority of people who were reluctant just a few months ago have changed their minds.
"Most people are considering the vaccine and saying "yes" when it's their turn.
"This shift we're seeing in vaccine intention, it's consistent across all ethnic groups we mention and across all levels of social deprivation.
"So that does mean that disparities in vaccine hesitancy or intention then narrowing – that doesn't mean they've completely disappeared.
UK news in pictures

Show all 50
"Everyone started from a different point in December but we're seeing that everyone is overwhelmingly moving in this direction where they want the vaccine or have already had the vaccine so that's great news."
Virus Watch began recruiting people in June 2020 and as of today, 47,618 people across England and Wales have joined the study.
The survey response rate was 56 per cent (20,792 out of 36,998 people) in December 2020 and 52 per cent (20,284/38,727) in February 2021.
The authors noted that participation in the study, which has not yet been peer-reviewed, is voluntary and that "as the sampling is non-random, the cohort is likely biased toward people concerned about Covid-19 and participants may not be representative of the national population".
They added: "Whilst we found encouraging increases in vaccine confidence, there remains a need to work with communities where uptake rates are low to address concerns and improve accessibility of vaccines."
Register for free to continue reading
Registration is a free and easy way to support our truly independent journalism
By registering, you will also enjoy limited access to Premium articles, exclusive newsletters, commenting, and virtual events with our leading journalists
Already have an account? sign in
Join our new commenting forum
Join thought-provoking conversations, follow other Independent readers and see their replies