special report
Science breakthroughs and risks in the race to bring the world a coronavirus vaccine
There are 86 projects across the globe trying to find a solution to the Covid-19 crisis. But, experts tell health correspondent Shaun Lintern, there are challenges ahead – and safety concerns to be addressed
Saturday 18 April 2020 17:32 BST
Comments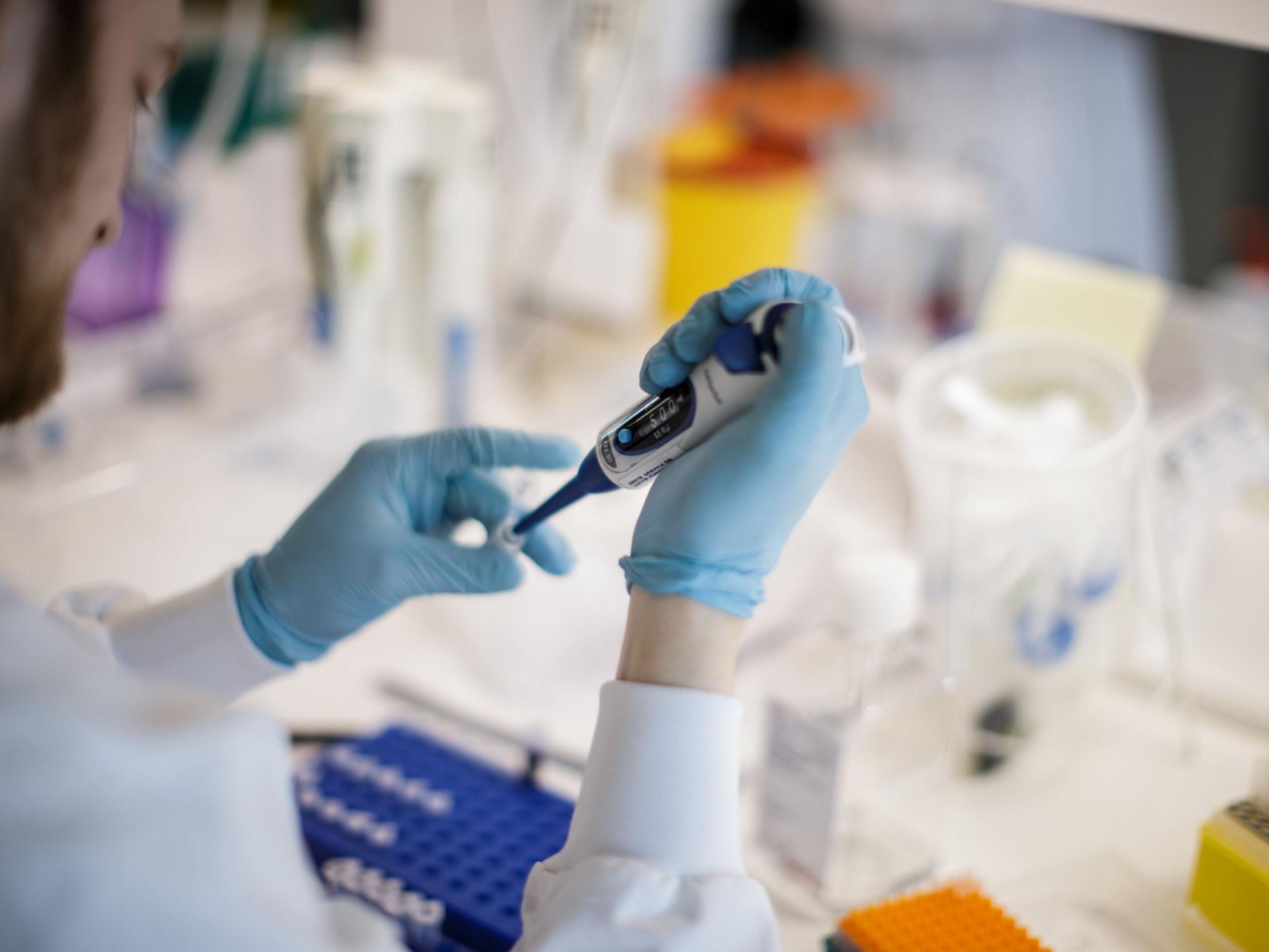 With countries across the planet grappling with lockdowns, it's clear that there's only one way to return to life as we knew it. As Sir Patrick Vallance, the UK's chief scientific adviser, put it this week, vaccines are "the way out" of this global crisis.
There were, at last count, 86 teams across the world working to combat the SARS-CoV-2 virus, with an Oxford University project hoping to have a million doses of its vaccine by September. With millions of cases across almost 200 countries, more than one vaccine candidate will need to be successful in order to properly immunise the planet, experts say.
But there are also safety dangers from the rush to produce a solution to the crisis. One scientist told The Independent issues with vaccines may not be seen until they have been administered to 100,000 people, which would only be seen in controlled clinical trials after years of tests – time that the world cannot afford.
The last pandemic vaccine, against swine flu in 2009, was linked to hundreds of cases of the debilitating condition narcolepsy. The vaccine Pandemrix was rushed into use as an emergency but is no longer licensed for use, with GlaxoSmithKline and the UK government facing compensation claims worth millions from affected children and adults.
Important calculations will have to be made by regulators, pharmaceutical companies and governments as they consider rolling out any potential treatments. A false step, in a world where anti-vaccination conspiracies spread like an infection of their own, could devastate legitimate efforts to tackle the Covid-19 pandemic.
Finding a solution
Weeks after the virus emerged in Wuhan, China, the genetic code of the SARS-CoV-2 virus was made available to scientists around the world. Immediately pharmaceutical companies, governments and scientific institutes rushed to find a workable vaccine.
On Friday, the UK government set up a new taskforce, led by Sir Patrick Vallance and deputy chief medical officer Jonathan Van-Tam, to spearhead efforts to develop a vaccine and help support industry to deliver a treatment sooner. While the science of immunisation has been around for centuries, many of the 86 potential vaccine candidates use different methods to try to generate an immune response from the body.
The main purpose of a vaccine is to teach the body how to recognise a virus and how to kill it, and the ways in which scientists are now exploring how to achieve this have gone far beyond the traditional method of using either dead copies of viruses, as in the seasonal flu vaccines, or modified versions of viruses, used in measles jabs, that do not make people sick.
Some Covid-19 candidates are using just the "protein spikes" on the surface of the virus – the part that allows it to effectively "dock" with human cells and start to infect them. For coronavirus, these are the crown-shaped spikes that give the virus its name, corona being latin for crown.
Other projects use bits of genetic code from the Covid-19 virus that can be replicated many times over and added to a vaccine for the body to recognise.
One promising UK candidate is being developed by experts at the Jenner Institute and Oxford University, using a previously existing vaccine containing the spike protein from the coronavirus.
Volunteers could be given the first dose of the vaccine within days, and scientists behind the research say if it all goes well they could have a million doses by September with the treatment approved for use as early as October.
Sarah Gilbert, professor of vaccinology and lead researcher for the work, warned there were still many unknowns but said she believed the Oxford candidate "had a very strong chance of working".
Professor Adrian Hill, director of the Jenner Institute at the university, emphasised the need to be able to manufacture large numbers of doses. "It's pretty clear the world is going to need hundreds of millions of doses, ideally by the end of this year, to end this pandemic, to let us out of lockdown," he said.
"A vaccine is the exit strategy for this pandemic and then we're very likely to need a vaccine in future years because it's unlikely we'll be able to eradicate this virus."
A special ingredient
One of the biggest problems with vaccines is the need to manufacture enough of the ingredients for each dose to work. This is where adjuvants come in. These are added to a vaccine as a way to boost the body's immune response, meaning less of the active ingredient, the antigen, is needed.
Dr Martin Howell Friede​, co-ordinator of the Initiative for Vaccine Research at the World Health Organisation, said this was particularly important in a pandemic, when demand was high and antigen production could produce a bottleneck in supply. He told The Independent: "The adjuvant gives the body the signal that it is 'under attack' and for it to mount an immune response. Some adjuvants are simply purified parts of bacterial membranes, some are synthetic fragments of viral or bacterial DNA, some are simply microparticles – but most function through a similar pathway of triggering the signal that there is a pathogen, without there actually being a pathogen."
Dr Friede said adjuvants meant protection could be generated after one or two injections whereas without them it may need three, four or more. During the 2006 bird flu outbreak the use of an adjuvant meant a far smaller amount of antigen was needed, boosting vaccine supplies by up to 20 times.
Pharmaceutical giant GlaxoSmithKline (GSK) is one of the world's leading vaccine manufacturers and a specialist in the use of adjuvant technology.
The company has announced plans to work with its global rival Sanofi on a treatment for Covid-19 that could see a vaccine ready to go next year with hundreds of millions of doses available. Sanofi has a Covid-19 antigen and GSK aims to boost this using an adjuvant called AS03, made using squalene, or shark's liver.
Dr Anita Milicic, who runs the vaccine adjuvant programme at the Jenner Institute in Oxford, said the way adjuvants work were not "fully understood". She added: "The adjuvant that GSK are planning to use for Covid-19 vaccine development is AS03, which has been shown to offer a dose-sparing effect. This is an important aspect to consider in a pandemic where billions of vaccine doses will be needed."
She said this could also prove crucial among the elderly population: "Our immune responses weaken with age and adjuvants can be particularly important in offering the additional immune help the vaccine needs in order to be effective in the elderly."
The swine flu vaccine
In 2009 governments around the world were gripped by the fear that swine flu was going to kill thousands. A decision was made by the European Medicines Agency (EMA) to licence a vaccine called Pandemrix, created by GSK, under "exceptional circumstances" using "mock vaccines" which did not include the actual ingredients injected into people. This was a unique approach.
The then-Labour government had granted GSK an indemnity for using the vaccine and ordered enough doses for the whole population. The details of the indemnity deal have never been made public.
Vaccinations started in October 2009 even though, by that stage, the UK government knew the pandemic was not likely to be as deadly as first thought. Publicity failed to mention the indemnity or the unique approval of the vaccine.
In the years since, Pandemrix has been linked by numerous studies to instances of narcolepsy, an incurable condition that leads to chronic fatigue and difficulty sleeping, and with effects including night terrors, hallucinations and a range of mental health problems. Some sufferers can suddenly lose consciousness and collapse without warning.
Around 1,800 cases of narcolepsy across Europe were linked to Pandemrix, and although the exact cause has never been firmly established, the government and GSK settled compensation claims worth millions of pounds with around 100 people affected in the UK. GSK did not renew the licence for Pandemrix and the vaccine is no longer authorised by the EMA.
Peter Todd, partner at Hodge Jones & Allen law firm, which represented many of the claimants, declined to comment on the legal action but said that, as the UK faced another pandemic, it would be important to be transparent about how any potential vaccine was tested and used.
He said: "It is about informed consent. When anyone is undergoing any form of medical treatment it's important they are informed of all material risks, which should include whether clinical trials were completed or not and whether the manufacturers have been given an indemnity."
He added that rare adverse reactions to vaccines do happen and the government does compensate people with a one-off payment of £120,000 under the Vaccine Damages Payments Act.
Mr Todd described the amount as "paltry" but stressed any Covid-19 vaccine should be added to the schedule of vaccines under the act, and the level of compensation reviewed.
"People are vaccinated not only to protect themselves but other people and it's really important that society stands behind them if something goes wrong."
A spokesperson for GSK said scientific data suggested narcolepsy had been triggered by the flu and there had been spikes in narcolepsy among unvaccinated people as well.
They added: "Patient safety is GSK's number-one priority. During the development and introduction of Pandemrix, we worked closely with authorities to meet all requirements set out by them. During the deployment of Pandemrix, we continuously evaluated all available safety data and shared it with the European Medicines Agency and other relevant regulatory authorities to allow them to make their own independent assessments, and the EMA assessments are published.
"At all times, GSK and the EMA independently reached the same conclusion: the benefit/risk profile of Pandemrix remained positive."
They added that the timeline for its Covid-19 vaccine "allows for the necessary safety and efficacy data to be generated and fully evaluated".​
The question of safety
The issue of vaccine safety will almost certainly become a major topic as potential vaccines against coronavirus are developed.
Dr Friede, of the WHO, said that, regardless of clinical trials and tests carried out, there would still be a chance of complications once the vaccine had been used on large numbers of people.
He said: "In an outbreak setting we can test the vaccine on 100, 1,000, 10,000 people and not pick up a safety signal that may become apparent when the vaccine is used on 100,000 people.
"For vaccines that are being introduced outside of pandemics, the time is taken to test them broadly – this luxury is not feasible in a pandemic. Safety testing will be essential – but we can't spend four to five years proving absolute safety when the population is dying at a rate of 1 per cent."
The Jenner Institute's Dr Milicic agreed: "Some very rare adverse events can only become apparent after tens of thousands of people have been vaccinated.
"All vaccines undergo rigorous and tightly controlled pre-clinical and clinical testing before they can be licensed for general use."
Stephen Evans, professor of pharmacoepidemiology at the London School of Hygiene and Tropical Medicine, said: "Safety is the absence of harm. We cannot test safety, we can only detect harms. We look for harms and when we can't find any we call it safety."
He said the use of a Covid-19 vaccine should be used regionally in mass-population randomised controlled trials, which had been used in countries like Pakistan but were difficult to do in countries like the UK that require individual consent.
Without this type of mass trial, he said the monitoring of any adverse reactions would be essential.
The confidence of the public in any vaccine will be crucial. A survey by the Royal Society for Public Health revealed one in five people would either not have the jab or were unsure.
Across Britain, vaccination rates have been declining and last year the UK lost its measles-free status due to the rate of infections and lower number of vaccinations.
Dr Friede said: "We will have a vaccine, and probably multiple vaccines, using different types of technologies. The question my crystal ball will not answer is when these will have enough data to enable the regulatory authorities to permit their use in the general population."
A spokesperson for the Medicines and Healthcare Products Regulatory Agency, which will approve any new vaccines for use, told The Independent it was being "as flexible and pragmatic as possible with regard to regulatory requirements for clinical trials, whilst keeping patient safety as our first priority".
The spokesperson said the agency was working with scientists to help them through the regulatory process, adding: "As with all new vaccines, measures will be in place to ensure continuous safety surveillance of any vaccines used."
Producing enough to protect the planet
If a successful vaccine is developed and approved for use, the next question will be making enough doses for the population – not just of the UK but of the world.
With so many candidate vaccines and different technologies, it is not possible to predict which vaccine will succeed. Most experts agree there will likely be several vaccines used at the same time. Professor Adrian Hill said: "No one company is going to be able to supply the entire world."
He said discussions were ongoing between global alliances and organisations on how best to organise vaccine supplies, but added: "No one has the solution at the moment."
Dr Milicic said: "For the vaccines that enter clinical trials, if all of the testing goes well and a good candidate is identified, the process of mass manufacture and distribution will heavily depend on various supply chains and take time to complete. This is why having more than one vaccine candidate, especially if they contain different ingredients and use different manufacturing processes, would be beneficial."
Dr Richard Torbett, chief executive of the Association of the British Pharmaceutical Industry, said: "We want to see the UK build more vaccine manufacturing capacity but that's slightly separate from the situation we face with this pandemic.
"There are a number of different technologies being investigated in the race to find a Covid-19 vaccine. These have different manufacturing processes and it is not yet obvious what is going to work and which manufacturing technology should be scaled up.
"Vaccines and medicines supply chains are global, and the UK must be a voice for global cooperation and fair distribution of any vaccine around the world."
Join our commenting forum
Join thought-provoking conversations, follow other Independent readers and see their replies