UK pre-orders highest rate of coronavirus vaccines in the world at five doses per person
British government has so far secured 380 million doses from a variety of global manufacturers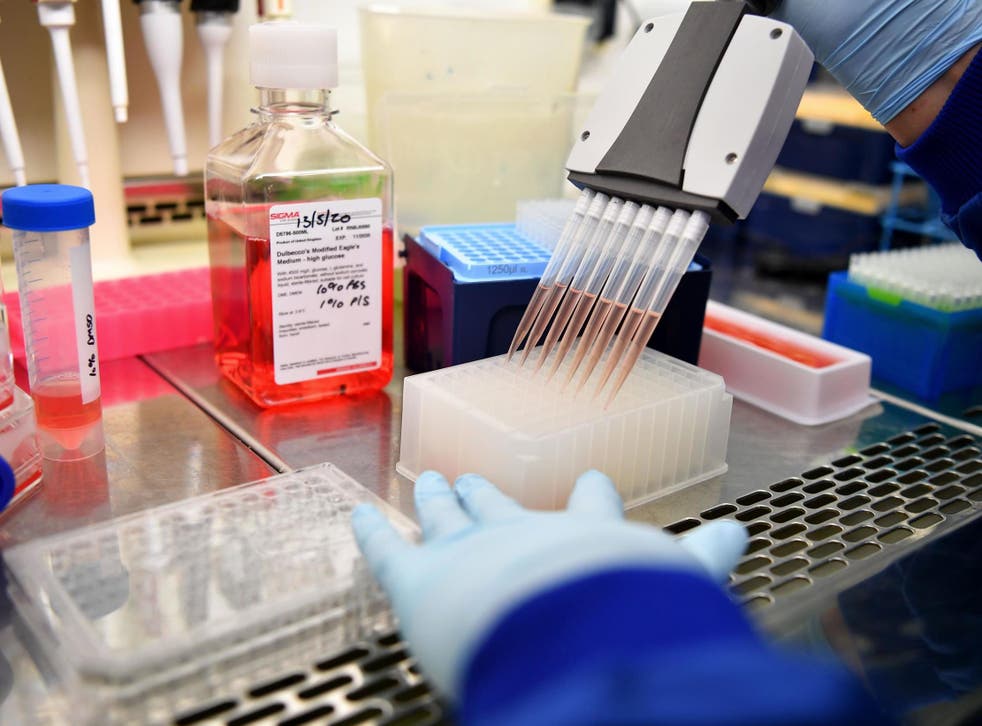 The UK has pre-ordered enough coronavirus vaccines for more than five doses per person, the highest rate in the world, analysis shows.
Research by Airfinity, a data-based science analysis agency, found that the British government has so far secured 380 million doses from a variety of global manufacturers, equating to 5.7 shots per person.
In contrast, low and middle-income countries operating through the World Health Organisation's Covax scheme — which aims to buy and fairly distribute vaccines — have yet to surpass the one dose per capita mark.
Collectively, the world's wealthiest countries, including the likes of the UK, US and Japan, have struck deals to buy more than two billion doses in a scramble that could leave limited supplies in the months to come.
"The UK is ahead globally for most advanced purchases per capita, and ahead of the US and the EU," Rasmus Hansen, the chief executive of Airfinity, told The Independent. "There are multiple deals under discussion, so it's a moving target. These numbers, even if they're changing, they're relevant.
"The production forecast shows that it'll take quite a while for the whole supply chain and production capacity to ramp up to meet the global need. It's very likely there'll be a long time where there aren't enough vaccines for everyone.
"That's why getting these advance orders are important and typically involve supporting clinical trials and carrying part of the risk with these companies."
The UK has added six different candidates to its vaccine portfolio, and intends to double this number to increase the country's chances of having access to a shot which proves effective.
The US, meanwhile, has so far placed orders for up to 1.6 billion vaccine doses, which equates to 4.88 shots per capita. The EU has secured 1.49 billion, amounting to 3.33 doses per person.
Mr Hansen added that Airfinity has identified almost 300 vaccines in development across the world.
He said that a number of smaller, lower-income countries were also developing their own vaccines, though he questioned whether they would eventually prove effective. "Not all of these countries have fully established R&D set-ups to fully develop these vaccines," he explained.
The strategy of vaccine nationalism adopted by countries like the UK has been widely criticised by health campaigners, who have advocated a more equitable approach to the buying and sharing of Covid-19 vaccines.
Medecins Sans Frontieres (MSF), a humanitarian medical NGO, warned that "many countries will be left with none" if wealthier nations were allowed to keep buying up promising candidates.
"Rich countries like the UK are hoarding potential future Covid-19 vaccines, leaving other countries with limited or no resources to go without," Roz Scourse, a research and policy officer at MSF, told The Independent. "Given that there will be limited global supplies of any future vaccine at least initially, many countries will be left with none or very little of the remaining supply.
Rankin unveils portraits of NHS workers on the coronavirus frontline

Show all 12
"There are key populations that need to be protected and prioritised for a future Covid-19 vaccine through global collaboration and equitable access — these must include frontline healthcare workers and people at greatest risk worldwide. The UK has stockpiled more potential future Covid-19 vaccines than any other country in the world — this is vaccine nationalism at its worst."
British hopes are resting on the Oxford University, which has been shown to include a strong immune response in people. Phase three trials for the candidate are currently underway, with the efficacy data expected to be presented to regulators by the end of year.
The UK government has already secured 100 million doses of the vaccine, while the EU, Germany and the US have placed similar advance orders.
Health experts have estimated that the first vaccine candidates are likely to be approved and rolled out by late 2020, or early next year.
Register for free to continue reading
Registration is a free and easy way to support our truly independent journalism
By registering, you will also enjoy limited access to Premium articles, exclusive newsletters, commenting, and virtual events with our leading journalists
Already have an account? sign in
Register for free to continue reading
Registration is a free and easy way to support our truly independent journalism
By registering, you will also enjoy limited access to Premium articles, exclusive newsletters, commenting, and virtual events with our leading journalists
Already have an account? sign in
Join our new commenting forum
Join thought-provoking conversations, follow other Independent readers and see their replies