Coronavirus: Vaccinators could lose their licences for giving second doses prematurely
'There is a complete refusal at the highest levels to grant permission for second doses before 12 weeks'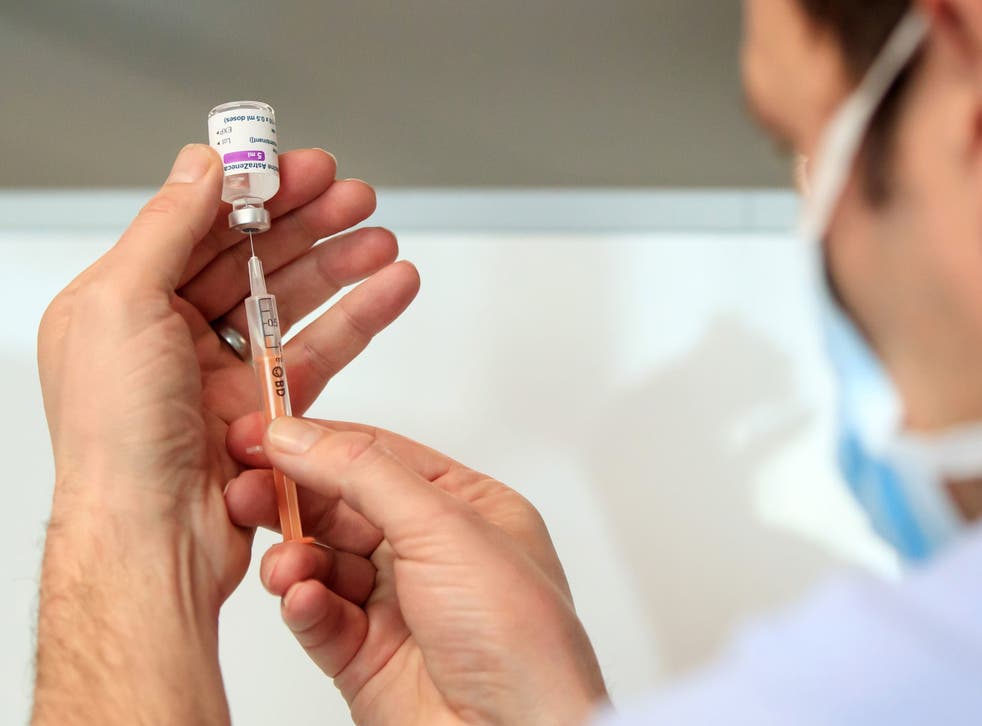 Hospitals say they have been told they could lose their licence to deliver coronavirus vaccines if they give second doses to anyone before 12 weeks have passed since their first jab.
In a message sent to vaccinators at the University Hospital Southampton Foundation Trust and seen by The Independent, staff were told the hospital's chief executive had been given a "crystal clear" instruction that no second doses should be given to anyone before 12-week mark.
There is mounting criticism of the delays in giving frontline NHS staff a second dose of the vaccine amid concerns that these could leave them more at risk. Emerging data from Israel suggested on Wednesday that the effectiveness of the Pfizer/BioNTech vaccine could be as low as 33 per cent after only the first dose.
The government had said it thought the vaccine's efficacy would reach 89 per cent with just one dose, meaning it was more important to vaccinate as many people as possible with the first jab.
Caroline Marshall, former chief operating officer at the trust, who has returned to work during the pandemic, told staff on Tuesday: "This has become of the highest political import. David French, our CEO, has been sent a letter which is absolutely crystal clear and leaves nothing to the imagination – we are not to offer any second vaccines before 12 weeks under any circumstances, at risk of losing our licence.
"This is not at the present time negotiable in any way. A region near us has given 34 second doses and are being investigated centrally."
She said the trust's chief pharmacist had received examples of bids for compassionate exceptions including the case of a soldier being deployed to a country without vaccines. She said this was not allowed and that the soldier had been deployed without the second dose.
She added: "At the moment there is a complete refusal at the highest levels of the NHS/government to grant permission for second doses before 12 weeks."
She said the trust management had been given no room for manoeuvre.
There have been anecdotal reports from across the country of vaccination slots going empty while NHS staff have been refused second-dose jabs.
One clinician said: "I had heard rumours, which I did not honestly believe, of places throwing away vaccines rather than give second doses early, but if the letters sent out centrally are aggressive/strong enough, then I can believe hospitals would feel pressured into doing it."
Ronni Gamzu, who runs Tel Aviv's Sourasky hospital, said that the claim by British scientists that the jab was 89 per cent effective even after only one dose was "very optimistic" and not matched in Israel's "real-world findings".
Israel is following Pfizer's advice to give the second dose of the vaccine three weeks after the first.
Professor Stephen Evans, from the London School of Hygiene and Tropical Medicine, said the data from Israel was not yet good enough to prove the UK's policy was wrong.
He said: "The reported efficacy of one dose has not been compared using the same methods and patients with the efficacy of two doses at 84 days. The details of the different studies have only been released, it seems, at a press conference, the reasons for which are unclear.
"It is not sensible to compare efficacy derived from an observational study of this type, which is subject to many biases, with the efficacy derived from randomised trials.
"The UK will soon have its own data showing efficacy after the first dose for the different vaccines currently in use and any policy changes should await more robust data."
Dr Helen Fiddler, deputy chair of the British Medical Association's consultant committee, said staff across the NHS were having their second-dose appointments cancelled, which she warned was "terrible for morale".
The Hospital Consultants and Specialists Association (HCSA) has criticised the delays in giving NHS staff the second dose of the vaccine.
The HCSA's general secretary, Paul Donaldson, said there was no evidence that the Pfizer vaccine would work past 28 days.
"While a planned and orderly deployment of the Oxford vaccination, including longer timelines, makes epidemiological sense, the decision to throw a spanner in the works of the existing Pfizer rollout appears simply bizarre unless there is an unknown hitch in supply.
"We are hearing that vulnerable hospital doctors at high risk from Covid have been told not to turn up for their second dose and therefore will not receive full protection. They are now left in limbo by a hastily formulated policy which seems extremely ill thought out."
A spokesperson for University Hospital Southampton Foundation Trust said: "We have been successfully rolling out a vaccination programme to the priority cohorts as determined by the JCVI [Joint Committee on Vaccination and Immunisation].
"No vaccine has been wasted as we have progressed through our first dose programme, offering a second dose 12 weeks after the first, which is in line with national guidance."
NHS England declined to offer a statement. 
Register for free to continue reading
Registration is a free and easy way to support our truly independent journalism
By registering, you will also enjoy limited access to Premium articles, exclusive newsletters, commenting, and virtual events with our leading journalists
Already have an account? sign in
Register for free to continue reading
Registration is a free and easy way to support our truly independent journalism
By registering, you will also enjoy limited access to Premium articles, exclusive newsletters, commenting, and virtual events with our leading journalists
Already have an account? sign in
Join our new commenting forum
Join thought-provoking conversations, follow other Independent readers and see their replies